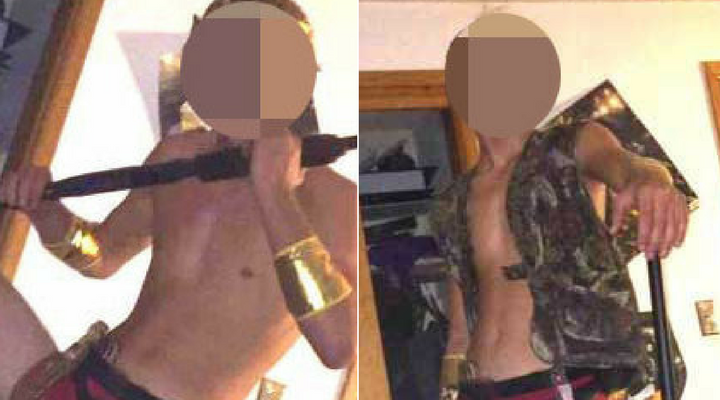 Two stepsisters have allegedly endured months of racially charged bullying from classmates at a rural Nevada school. The ongoing torment — including abusive language, some of which appears uncensored below — escalated to death threats when the teens' parents pressed school officials to act, according to a lawsuit filed last week.
The death threats, Reno attorney Terri Keyser-Cooper told HuffPost, came in the form of Snapchat messages that were shared with 14-year-olds Jayla Tolliver and Taylissa Marriot.
The messages show a bare-chested white male posing with knives and a shotgun. Lyon County Sheriff Alvin McNeil acknowledged to the Reno Gazette Journal that the boy pictured in the Snapchat messages is the son of one of his deputies. He reportedly called the messages a foolish mistake that did not amount to a credible threat.
"The redneck god of all gods 'we bout to go n****r huntin,'" reads one of them. "Porch monkeys here I come," reads another.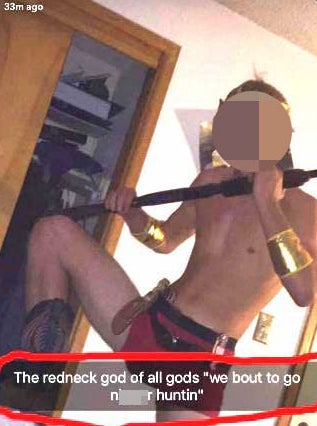 Jayla's father, Charles Tolliver, and stepmother, Nancy Marriott-Tolliver, told HuffPost the messages are part of an ongoing campaign of hate and discrimination that has included racial slurs, harassment and ridicule since just before the start of the school year. They said the relentless torment has made the girls afraid of certain students at Yerington High School, a predominantly white school in the town of Yerington, located 90 minutes from Reno.
Inaction from school officials prompted Marriott-Tolliver and her husband to seek out Keyser-Cooper, who filed suit against the school district and the city in U.S. District Court in Reno on Thursday.
"This has broken them," Marriott-Tolliver told HuffPost. "They've sobbed and sobbed. They can't understand why this is happening. They've said, 'We're 14 years old, why do people hate us for the color of our skin?'"
Another classmate, using Snapchat, allegedly wrote, "If y'all get offended over words such as n****r or porch monkey then you just need to learn to grow the fuck up and quit being such a libtarted piece of shit. That's all I gotta say to you n****rs."
Someone also allegedly hacked Tolliver's Snapchat account and sent out a humiliating message to all of her contacts, which read, "I like to fuck boys on quads and I am the biggest and most hated slut in Yerington."
Charles Tolliver said he and his wife have complained to school officials, the Department of Education and local police, all of whom he claims have declined to act.
"I know kids can be mean and it happens, but we've tried to go in and talk to the principal, vice principal and everyone else and they've done nothing," he said.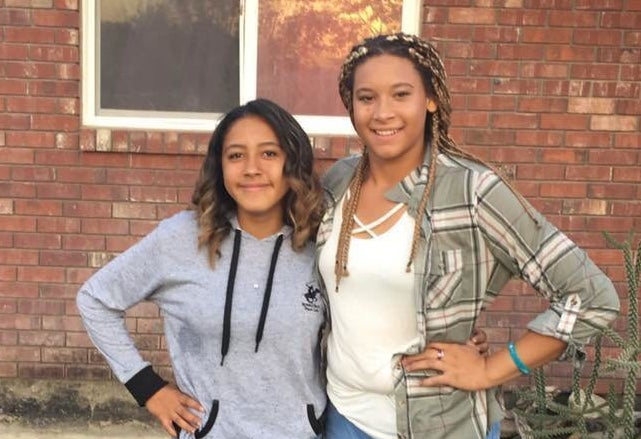 "I've been a civil rights attorney for more 30 years and this is the worst race case I've ever seen," Keyser-Cooper told HuffPost. "It's awful and very disturbing."
The lawsuit cites multiple incidents of alleged racial bullying, not only against the teenagers, but also their parents.
Marriott-Tolliver said she has ample evidence to support the claims, including a video that shows one of her daughter's tormentors confronting her and her kids outside the school. The girl, a classmate, can allegedly be heard on the video screaming profanities at Marriott-Tolliver's children.
The cruel remarks, according to the lawsuit, were made within earshot of the female antagonist's stepfather, Trinity Eriksen, who is a Yerington High School employee and football coach. When Marriott-Tolliver asked Eriksen why he permitted his daughter to talk like that, he responded by calling her a "fucking bitch," the lawsuit alleges. Another man at the scene, Jeff Miller, who helps to coach football and is employed as a Lyon County Sheriff's deputy, told Marriott-Tolliver, "Get the fuck out of here," court documents state.
Marriot-Tolliver said she was barred from school property after the elder Eriksen told Assistant Principal Monie Byers that it was Marriot-Tolliver, and not his stepdaughter, who had been confrontational.
The next morning, Charles Tolliver said he went to see Principal Duane Mattice to determine what was being done to stop students from harassing his daughter and stepdaughter.
"Mattice belittled the seriousness of the issues Tolliver was raising" and refused to discuss "race-based bullying of the girls," the lawsuit alleges. "Tolliver was so angered by Mattice's refusal to address the racism running rampant in his school, Tolliver called Mattice a bigot, excused himself from the meeting and left the school."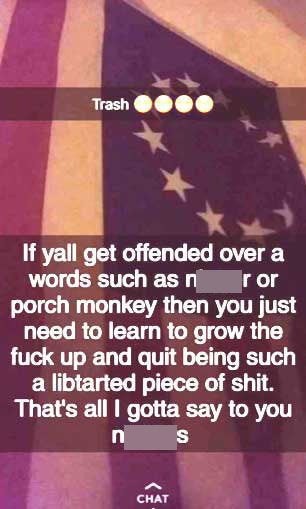 Marriott-Tolliver said she was later given an opportunity to show her video evidence to school officials, who then lifted the trespass order. However, she said it was not long before her husband found himself in the same situation.
In early October, Tolliver, his wife and their daughter again went to the school to speak with administrators. After emerging from their vehicle, several students allegedly blocked the sidewalk, and one of them told Tolliver, "You don't even know the definition of a n****r!"
Jayla Tolliver, outraged the comment had been directed toward her father, threw down her backpack and charged at the teens, the suit claims. Charles Tolliver said he yelled at his daughter, and she backed off. The same teen then allegedly continued verbally assaulting him, saying, "N****r means ignorant; your daughter is ignorant." Tolliver then told the teen, "If you call my daughter a n****r again, there will be consequences."
Instead of addressing the students, Mattice trespassed Charles Tolliver, according to the lawsuit. That same day, school administrators suspended Jayla Tolliver.
"They suspended her — not the other kids — because of her throwing her backpack down and charging at the girls," Marriott-Tolliver said. "Jayla is not a fighter. These teens attacked her father and she just snapped. You poke a bear for too long and it's going to happen."
With school officials refusing to act and the alleged bullying escalating, Charles Tolliver said the family went to the Yerington Police Department, where they spoke with an officer and gave him written statements. They said they also provided police with screenshots of the Snapchat messages and other evidence.
After giving their statements, the family was told the racial slurs and Snapchat messages were free speech and therefore protected by the First Amendment, the lawsuit claims.
The next day, a deputy with the Lyon County Sheriff's Office allegedly served Charles Tolliver with a temporary restraining order based on a complaint made by Trinity Eriksen's wife, on behalf of her two daughters. The order, the lawsuit states, claims Charles Tolliver's statement to one of the girls — "If you call my daughter a n****r again, there will be consequences" — was considered a threat.
Charles Tolliver said that when he later went to the Yerington Police Department to obtain copies of the reports his family had filed, he was told the chief of police had ordered them shredded.
Yerington police did not respond to a request for comment from HuffPost, but Police Chief Darren Wagner has reportedly acknowledged the documents were shredded and that doing so is a violation of state law. He told the Reno Gazette Journal the mistake was made by a newly hired officer.
Wagner also reportedly said that his department did not open an investigation into the family's complaints.
"I wouldn't have investigated if a black child posted a picture saying he was going cracker hunting," Wagner told the Reno Gazette Journal. "I am sick of everyone saying we did something wrong. We can't police bad behavior."
Charles Tolliver told HuffPost he believes authorities did not act because the kid in the Snapchat photos is the son of a sheriff's deputy.
"That was a direct threat," he said. "If I'd done that, I guarantee I'd be in jail."
Contacted by HuffPost on Friday, the Lyon County School District declined to comment on allegations made in the lawsuit. In a later statement, sent via email, the school district said "student/staff safety" is its No. 1 priority and that "all reported matters are thoroughly investigated."
Keyser-Cooper said that since the lawsuit has been filed, the girls have received additional racist texts.
"They're young teenagers who want to live normal lives and they're devastated," she said. "This is not a problem where we're seeking damages for a bad thing that has happened. We're seeking to stop the conduct. It's ongoing and I'm now considering filing for a restraining order."
Marriott-Tolliver said Keyser-Cooper is not charging her family legal fees. However, they are responsible for fees associated with court filings, depositions and related expenses. Keyser-Cooper said those costs will total about $10,000, money the family doesn't have. Last week, they created a GoFundMe to help with costs.
"The girls don't understand all of this and they are upset, but they know they have to stand up for themselves and others, and do what's right," said Marriott-Tolliver.
Calling all HuffPost superfans!
Sign up for membership to become a founding member and help shape HuffPost's next chapter
BEFORE YOU GO