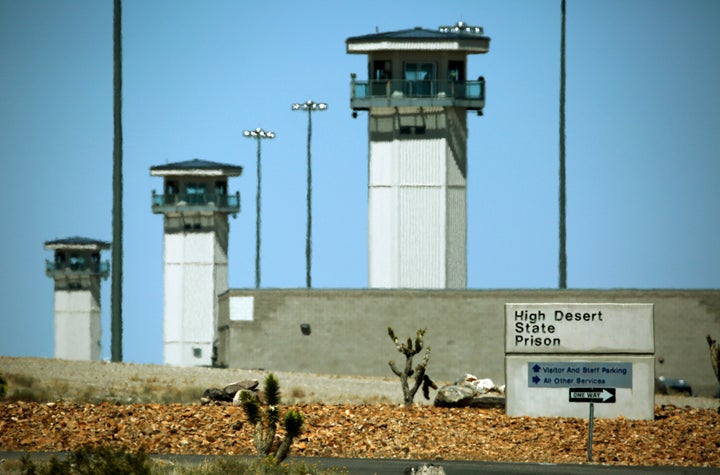 WASHINGTON -- An unarmed, handcuffed inmate died in 2014 after a Nevada Department of Corrections officer shot him with a 12-gauge shotgun loaded with 7 1/2-birdshot, the tiny pellets hunters use to kill birds and rabbits. Correctional experts urged the state to stop using shotguns to break up serious fights — a practice that's unheard of in other modern-day U.S. prisons. But Nevada officers are still shooting inmates.
An inmate at High Desert State Prison, which is less than an hour from Las Vegas, alerted The Huffington Post to another shooting in a handwritten letter dated March 24. A lieutenant told the inmate "the shotgun rounds did more damage than the fight did," he said in the letter.
NDOC spokesperson Brooke Keast confirmed last month's incident, but said the shotgun was used to stop potential injury or death. Four inmates assaulted a lone prisoner on the yard at High Desert with handmade weapons, and continued the assault despite warnings, the firing of a blank round and rubber "stingers," she said.
An officer had to skip three rounds of birdshot off the ground, she claimed, because the assailants wouldn't give up. The victim suffered multiple stab wounds. His attackers sustained multiple pellet wounds, with one hit "in his thigh, buttocks and neck" and taken to the infirmary, according to Keast.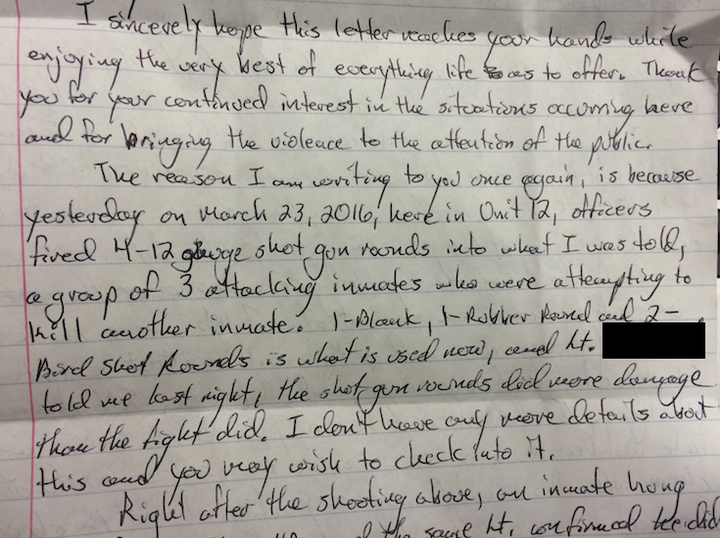 Prison fights, including those involving weapons, are certainly not unique to Nevada. But other systems typically use alternative methods to break them up, like Tasers, chemical spray or talking the inmates down. The reason most systems developed this way is simple: Prisoners are supposed to be unarmed, and they definitely aren't routinely packing guns.
Nevada officers fired a live shotgun round once every 10 days between Jan. 1, 2012, and June 26, 2015, according to a Huffington Post Highline investigation. Nevada has claimed the way it uses birdshot — skipping pellets randomly off the floor — is a non-deadly tactic used only as a last resort to prevent injury or death. But at least 22 inmates at three facilities were injured by shotgun blasts last year. Over the years, uninvolved bystanders have also been hit or blinded.
In November 2014, an officer shot at two scuffling inmates who had their hands cuffed behind their backs, killing 28-year-old Carlos Perez.
It took months for the true story of Perez's death to emerge. Initially, the prison accused the other inmate -- who was also handcuffed -- of murder, and disciplined him with solitary confinement, even though a death certificate issued later clearly stated Perez was shot to death. (NDOC's Keast disputed that his punishment, disciplinary segregation, should be defined as solitary, because inmates "can be out of their cell as much as possible depending on the unit's schedule, safety and security of the facility, staffing needs, etc.") 
The state attorney general's office has still not announced any results of the investigation into the incident, and none of the officers involved have faced charges. Months after HuffPost submitted public records requests, NDOC has not produced any photos or videos related to a number of shootings.
Perez's family is suing the state over the incident. In a February court filing, the state argued the law allows officers to fire shots in a prison setting in order to restore order. But after Perez's death, the Association of State Correctional Administrators, an independent organization, determined Nevada should phase out the routine use of birdshot. NDOC refused.
The state has taken recent measures that have led to a decrease in shootings, including adding rubber stingers, issuing chemical spray to officers, and beefing up training, including teaching officers "verbal judo." But the state still has a chronic understaffing problem — annual starting salaries are reportedly only $39,000 a year — and ASCA has said that's why the system has relied on shotguns in the past.
After the HuffPost investigation came out, Republican Gov. Brian Sandoval asked at a prison board meeting in January why more states weren't using birdshot if the practice saves lives. "Because we are right and everyone else is wrong," said interim NDOC director E.K. McDaniel — who took over after the previous director abruptly resigned — according to prison meeting notes. He added that it's been successful, and "other departments may not use it because of the perception of shooting someone with a live round."
Last month, Sandoval announced he was replacing McDaniel with a new director, James Dzurenda, who has experience in the Connecticut and New York City correctional departments, which do not use birdshot to stop fights. It is not clear whether Dzurenda will continue the birdshot policy — he started work this week — but Sandoval emphasized the system needs to focus on "humane treatment," and Dzurenda "will bring a necessary fresh perspective to our current department."
This article has been updated with comment from Keast on the prison department's definition of solitary confinement. 
Calling all HuffPost superfans!
Sign up for membership to become a founding member and help shape HuffPost's next chapter