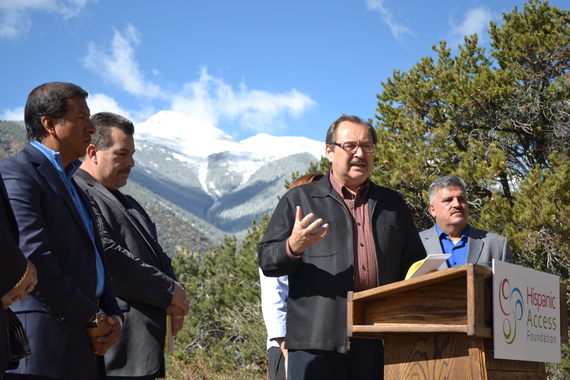 At her recent agenda-setting speech at the National Press Club, Interior Secretary Sally Jewell said, "It's important to think about what conservation legacy we will leave for the next 50 years, for the next 100 years." A new alliance of Latino faith leaders feels the same -- it is our moral responsibility to care for God's creation to benefit generations to come.
In October, Hispanic Access Foundation brought together several prominent Latino religious leaders from Western states for a summit on the environment and how we can balance conservation with energy development. As an outcome of this meeting, these leaders -- all from diverse Christian denominations -- agreed to form Por la Creación Faith-based Alliance, which will develop stewards of God's creation by engaging and educating this generation to leave a legacy for the future.
They point to the Bible as evidence of this responsibility. Psalms 8:6-8 says, "You [God] made humans ruler over the works of your hands; you put everything under our feet: All flocks and herds, and the beasts of the field, the birds of the air, and the fish of the sea, all that swim the paths of the seas." We are stewards of God's earth, ruling over that which is not ours.
These leaders give thanks for God's hand in creating the natural wonders around us -- but like the rest of us, also want to enjoy it. Their effort is intended to ensure public lands are protected for the public -- so that family traditions like hunting, camping, hiking and fishing can continue for their children's children.
The new alliance will educate and engage local congregations, the media and policy-makers. Their Western communities are on the front lines of energy development and so these leaders are eager to offer a faith-based message about the importance of finding a community-focused, compassionate, and balanced approach to our national energy policy.
"We need energy development for our nation's energy independence," said Pastor Joseito Velasquez from Healing Waters Family Center in Denver, Colo. "But we also need to protect wildlife and other aspects of God's creation in our public lands. We can do both."
Under President Obama's Administration, there has been an imbalance between the number of acres of public lands opened to oil and gas development and those protected for wildlife habitat, clear water and public recreation. Por la Creación and other groups are asking the White House and Secretary Jewell to correct the imbalance in part by requiring more thoughtful planning about where energy development happens, but also acting where Congress has failed to permanently protect public lands that local communities deem, in Secretary Jewell's words, "too special to develop."
This isn't the first group of faith leaders advocating for public lands -- but it is perhaps the first to engage Latino congregations. By speaking out, the Por la Creación Faith-based Alliance will encourage more Latino religious leaders to join them, given the myriad spiritual and cultural reasons to conserve our public lands heritage.
As Secretary Jewell said so eloquently: "They are the places we go with our families to recreate, to seek beauty or to find solitude. They are our watersheds, our wildlife habitat, and our economic engines. They are our sources of pride and history; they're where our diverse stories are celebrated."
It is our moral responsibility to protect them.
REAL LIFE. REAL NEWS. REAL VOICES.
Help us tell more of the stories that matter from voices that too often remain unheard.