It was early Wednesday morning when my phone vibrated. It was my early day at work and I had just punched in.
"Who's texting me at 8 a.m.?" I thought to myself.
I saw a message from my best friend, Eva.
"Hey, it's been a while since we've all gotten together. Are you guys free for dinner on Friday?"
It was a group message sent to myself and our mutual friend Megan, who was the first to respond.

"Sure!" she replied.
Eva and I have been best friends for 16 years, since her family moved from Arizona to Michigan, where they were from originally. We bonded from middle school through bowling birthday parties, to senior prom. Eva and Megan met in college while pursuing their accounting degrees and the three of us took Up-North girls trips and spent nights together filled with wine and "chick flicks." All three of us are 20-something, closer to 30 than we care to admit.
After a few lines of text we confirmed the time and place to meet up. We chose a restaurant that we frequented often; Pancho's in Wyandotte-- a Downriver, industrial community which offers plenty of shopping, bars and restaurants along with a view of the Detroit River. We share a mutual love for Mexican food and margaritas.
Over the next couple days, I looked forward to Friday. Eva was right: it had been a while since we all got together for a girls night. We all work so much that it was easy to get caught up in the chaos of life. I texted my friends on my first break at work on Friday.
"It's not even noon and all I can think about is margaritas!" I sent, along with a couple laughing and margarita emojis.
"I have been thinking about them since 9 a.m.," Eva replied, making me chuckle.
I went back to work, excited for the shift to be over. I left promptly at 6 o'clock and drove straight to the restaurant, calling my mom to pass the time of the 45 minute drive.
Eva and Megan arrived at the restaurant before me. I joined them at the table and we ordered a pitcher of mango margarita. After a few minutes of catching up over chips and salsa, Eva announced that she had some news. Megan and I looked at each other in anticipation.
"I'm moving to California," she declared. "In two weeks." She looked at us in anticipation.
My jaw dropped. A million questions flooded my head. It all seemed so sudden.
"Congratulations," I said. "I'm so happy for you!" I had suddenly lost my appetite for tacos. I took a gulp of margarita out of my glass.
Eva explained that she had a great job offer, too good to pass up. She was leaving her current company for a position as a Senior Financial Analyst at one of the leading global producers of wine and spirits. It was a promotion from her current position and I suspect that the free case of wine she would receive as a Christmas bonus helped sweeten the deal. She was nervous to leave her life in Michigan behind but enthusiastic about her new adventure. My eyes welled up with tears as she told us all about her new job.
"Don't cry!" she said with her lips turned into a frown. She also fought back tears.
"I'm thrilled for you, really." I said. "But I am going to miss you so much!"
I cried the entire car ride home from Pancho's. As excited I was for my friend at the amazing opportunity that awaited for her in California, I was just as sad when I thought about her being hundreds of miles away. I felt selfish for being melancholy but I couldn't shake the feeling. I text Eva to let her know I made it home from dinner per her request.
"What am I going to do without my bestie five minutes away?!" I wrote.
"I know, but I am always a phone call away!" she assured me. "I'll miss you so much but we are BFFs and we are going to stay that way!"
I was reminded of the many friends that had come and gone throughout the years. There were plenty that I hadn't seen or even talked to in years. Most of the others remained virtual friends through social media.
Then, my mind flooded with the 16 years of memories that Eva and I have experienced together. Our friendship had survived revolving boyfriends, moves to different cities, and our overloaded schedules. Eva was right; a few hundred miles didn't stand a chance at ending a friendship as strong as ours. Remembering this made saying goodbye a little easier.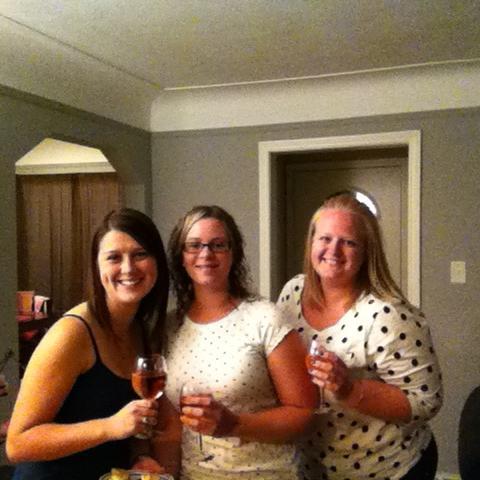 Calling all HuffPost superfans!
Sign up for membership to become a founding member and help shape HuffPost's next chapter