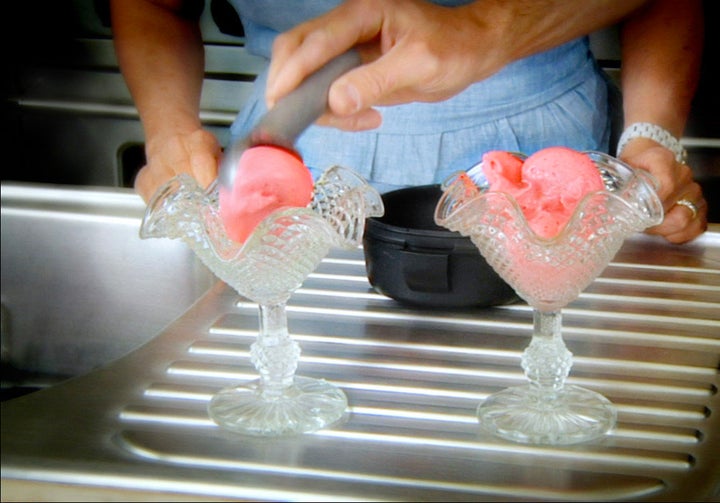 NYC restaurateur Celeste Carlesimo adored ice cream so much so that she wanted to be able to eat it every single night.
Like other New Yorkers in the early 1980s, Carlesimo was health conscious so she knew her waistline required that ice cream be an occasional treat. But she became determined to find a solution. She felt there had to be a way to develop a healthy dairy-based soft-serve ice cream.
Carlesimo's father was a food technologist, and she soon had him stationed in her kitchen whenever time permitted, with the two of them working to find the answer she sought. They eventually created a product that satisfied them both...a good-tasting, low-fat dessert that can be dispensed as soft-serve.
"I didn't reinvent the wheel; I just changed the recipe," says Carlesimo.
The product is too low in butter-fat content to be classified as ice cream, and it lacks the active cultures
that would categorize it as a frozen yogurt, but regardless of what you call it, Tasti D-Lite gained fame
nationally and internationally. It has been featured in several episodes of HBO's Sex and the City (2004), as well as mentioned on The Apprentice and 30 Rock. It made a recent 2012 appearance in HBO's series, Girls.
Originally Carlesimo sold the product only in New York. There were some free-standings stores and
the product was also licensed to other sweets businesses such as the Candy Club, Frozen Monkey, and Sweet City.
After 20 years in the business, a suitor appeared and made Carlesimo an offer that worked for her. In
2007 SPG Partners, a private equity group, purchased the company and re-structured it into a franchise operation, capitalizing on the fact that they had a good-tasting, healthy product. Their vision involved pioneering the use of social media to build the brand and expand internationally.
The Tasti Way
This fall the new owners have come out with a just-published book, The Tasti D-Lite Way: Social
Media Marketing Lessons for Building Loyalty and a Brand Customers Crave (McGraw Hill). Written by chairman and CEO James Amos with BJ Emerson, the vice president of technology, the two men trace how Tasti D-Lite became an early adopter of social media. They credit Chris Brogan and Julien Smith's well-regarded book, Trust Agents, with establishing a foundation for customer engagement.
However, Tasti D-Lite has taken customer engagement several steps farther. They were dealing with a brand that had been around for 20 years, which presented advantages and also some challenges. They also knew that in this day and age they needed to embrace social media, but with franchising, they knew they could not use one corporate mouthpiece to speak to all customers.
First They Listened
To begin to understand how to leverage the brand within social media, they started eavesdropping on
anyplace and anywhere Tasti was being discussed. They found a Yale student who blogged about the
brand, establishing his own star system for various flavors, and they followed Yelp, Flickr, and Facebook to see what people were saying.
"More Valuable Than a Customer Call Center"
That's how the authors describe Twitter, which was beginning to grow during their early listening
period.
Good comments from tweeters were met by a "follow" from @tastidlite. The response from the customer was generally to further tweet his or her excitement and being noticed: "Tasti is now following me!"
Negative remarks could be nipped in the bud with comments like "Sorry about the [whatever the
incident was]. Anything we can do to help?" or "would a coupon help? Send us an email address."
The company had fun with it, too. They discovered that Follower Number 500 worked in the Empire
State Building. Observing the fellow's tweets gave them a company location, so Tasti arranged for a Tasti D-Lite party to be taken upstairs to the customer and his fellow employees. Needless to say, a free Tasti party merited more tweets, more followers, and additional happy customers.
As they mastered the art of working social media, the business community noticed. In 2009 Mashable
listed Tasti D-Lite as one of the 40 best brands using Twitter.
What Will Separate Winners from Losers in the Digital Age?
The authors point out that cold calling (door-to-door or by phone) no longer works, if it ever did. Phone
solicitations are so strongly disliked that the government maintains a Do Not Call Registry, and many
communities outlaw door-to-door selling even for good causes.
Instead of the digital age leading to increased anonymity, the authors make clear that social media
actually offers businesses the opportunity to connect more fully with their customers. "It's giving
customers back the hugs they have been giving us for years."
The book notes that while social media takes time and that there is no good way to measure return on
investment they remind readers: "Not everything that counts can be measured. Not everything that can be measured counts."
There is a great deal of wisdom in this book. Here are just a few of the points I noted down:
• Technology is supplying the connection but only humans can supply the interactions.
• The ability to communicate instantly is perfect for a company like Tasti where various flavors are
offered at different times. Customers can sign up to receive alerts on when their favorite flavors
are being sold; or some locations send out daily emails with their flavors listed.
• Locations differ by culture. For that reason Tasti D-Lite sets up local facebook pages for
franchises and lets them manage their own voice. Franchisees can "like" or feature local
businesses, which permits them to keep the conversation local.
• The authors note that there is no way to know what the next "hot " thing will be, so businesses
need to be paying attention to what comes in their physical door as well as their cyber door.
Jade Fox, who is part of the brand management team for social media is quoted by the authors as
saying, "There is no longer a wall between you and the brand you love."
Building Loyalty
Two additional stories are worth sharing. One has to do with the loyalty cards. The new owners found that customers were very committed to the old-style punch cards. (There is an episode of 30 Rock where a crazed Tina Fey is hunting for her wallet which had "no money but a Tasti card that needed only one more punch for a free dessert.") The company is slowly switching over to a loyalty "points" program, but they have listened carefully to their customers and knew that pulling the punch cards out of the system too quickly would be a big mistake.
The other story is a great example of how a company can benefit from customer ideas and enthusiasm. Tasti sponsored a contest to name their mascot (a cartoon version of a Tasti cup).
A room full of high-priced consultants would have been hard-pressed to come up with a better name
than the winner did. Meet the new mascot: Fillmore Cups.
As for founder Celeste Carlisimo; she is still part of the family. She owns two of the franchise operations on Manhattan's Upper East Side, one of which was recently converted to be the first self-serve Tasti D-Lite store. If you stop in one day, you may even see her coming in to check with her associates.
Note: I came upon the story of Celeste Carlesimo and Tasti D-Lite because one of my daughters took part in their 25th anniversary celebration. When I attended the event and met Celeste and heard the company's story, I thought it was well worth sharing.
If you'd like to read more stories about inspirational women like Celeste, please visit my site: www.americacomesalive.com.
REAL LIFE. REAL NEWS. REAL VOICES.
Help us tell more of the stories that matter from voices that too often remain unheard.