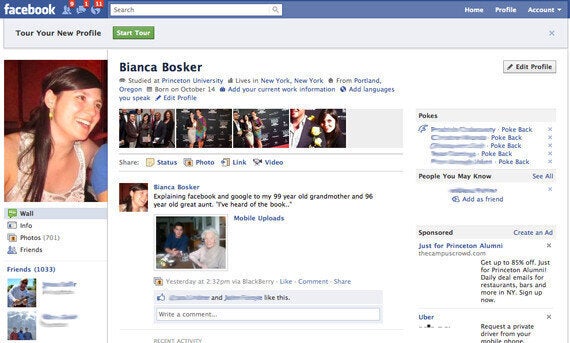 The social network is announcing a new look for users' Facebook profiles, a change that is especially significant given how central these profiles are to the Facebook experience.
As Facebook explained in a blog post, the new design aims to make it easier to quickly glean key information about a person from their profile and tries to "[make] your entire profile a more compelling visual experience" by featuring photos and images more heavily than before.
Personal information, such as your job, school, location, and hometown, and birthdate, along with recently tagged photos will now appear at the top of your profile.
"The profile begins with a quick overview of basic information such as where you're from, where you went to school, and where you work--the kinds of conversation starters you share with people you've just met or exchange with old friends as you get reacquainted," Facebook explained in a blog. Additional changes include revamped photos and Friends pages, as well as the ability to feature certain groups friends (or "highlight meaningful relationships") on your profile. (Learn more about all the changes here). Rearrangeable icons, rather than text, will now be used to represent interests and experiences, so your alma mater will appear as a logo, rather than as text only, and Facebook will include an album cover to represent your favorite artist, book, or movie.
Facebook is also making a push to encourage users to share more about themselves with the addition of two new categories of interests: Philosophy--which includes political views, religion, favorite quotations, and inspirational figures--and sports. The new profile also allows users to fill in additional information about their education and work experience, such as classes they've taken or projects with which they've been involved. In what appears an effort to collect more personal information on Facebook profiles, the redesign now highlights more explicitly categories a user has not filled in ("Share Your Interests," the site suggests next to the Arts and Entertainment field), whereas before items left blank were simply omitted.
As the screenshots below show, the new design also places a greater emphasis on advertisements, bringing them closer to user-generated content.
Facebook is beginning to roll out the new look and all users should receive the upgrade by early 2011 (Alternately, you can elect to upgrade here).
See screenshots of the new Facebook profile below.LOOK:Profile Page: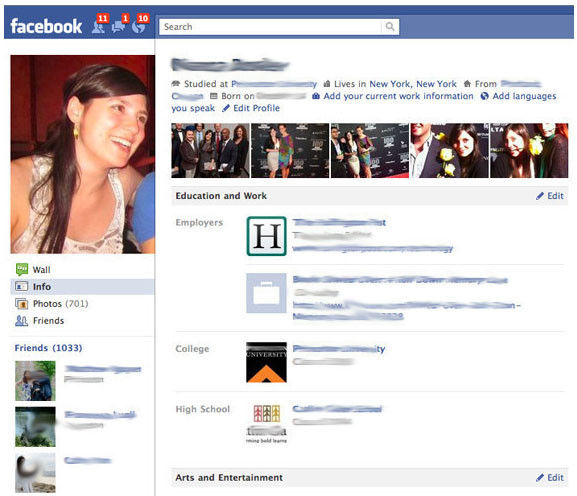 Education and Work: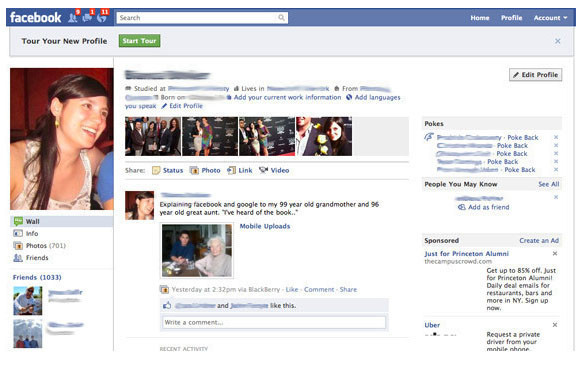 Arts & Entertainment: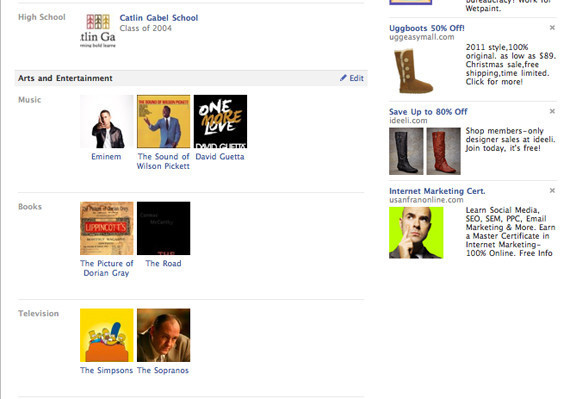 New Ads vs Old Ads:
WATCH:
Related
Popular in the Community