Sometimes it's a tough conversation with your boss. Or chest pains on your morning run. Wake up calls come in many forms; they shock us out of our comfort zone, help us realize it is time to do things differently. The planet had a big one this week.
After years of relying on the White House to push the climate change agenda forward, Washington just took a giant leap backward. President Trump's "Energy Independence" Executive Order not only undercuts our ability to compete in the clean energy economy, it puts American's prosperity and safety at stake.
Our world is made stronger through agreements between nations. But the administration just repealed the US' strategy for meeting its climate commitments under the Paris Agreement without offering any kind of a replacement.
Playing Defense is Not Enough
We must push back on what's happening. But, it's not enough to simply play defense.
More than anything else what this week should tell us is that we need an entirely new way of thinking about the big change ahead. We need to play harder where we are winning – in the real economy, in cities and states and on campuses across the country.
Washington has cast aside the baton of climate leadership. It's up to us to pick it up and lead this next stage of the race.
The good news is, there is plenty of places to look for new leadership. The administration's move to sideline climate change is out of touch with the millions of mainstream, non-partisan people demanding action. Mayors and corporate CEOs – including 1,000 US companies calling on President Trump to support the Paris Agreement and fulfill our promised carbon cuts – now stand shoulder-to-shoulder with a rising tide of young climate leaders.
Rather than at odds with each other, campus activists and university presidents are both on the same page. The Pope has even tied climate change directly to our commitment to helping the poor.
Might the extreme actions of the White House open up opportunities for moderates of both parties to work together? Even in the oft-divided US Congress, a Climate Solutions Caucus has quietly emerged with equal support from both Republicans and Democrats. Maybe they have noticed that, even after a bitterly divided election, a majority of Americans in every single Congressional district in the country agree that we should cut carbon pollution from dirty US power plants. Now.
People aren't just calling for action, they're taking it. Homeowners are driving an American revolution in rooftop solar panels. Apartment dwellers are choosing renewable electricity from their utilities, rather than just accepting the dirty mix that comes with their bill every month. And as folks look to upgrade their cars and washing machines, unprecedented numbers are choosing hybrid or electric cars and super-efficient appliances. The average American is helping usher in the 21st Century economy.
But even with all of this action, we are not moving fast enough. Too much is at stake. Vast stretches of the Great Barrier Reef are dying off from warming waters. The American West is see-sawing from drought to deluge as it faces a barrage of climate-driven extreme weather events. Communities across Africa are facing crippling food crises, driven by civil unrest and exacerbated by a changing climate. To give us the best chance of avoiding a desperately grim future for our children, we must meet the global temperature goals set under the Paris Agreement. And to do that, we must move faster towards a resilient, zero-carbon economy, here in the US and around the world.
In the end, politicians – good or not – can only take us so far. We know that in our bones. So in a way, we should thank the President for the wakeup call. It is time for all of us to step up.
A tremendous opportunity to reignite our movement and demonstrate the power of this broad movement to deliver on our Paris climate targets, is around corner. On April 29,the People's Climate Mobilization will show those in Washington and around the world that Americans from all corners of the country are ready to lead on climate change. If we look closely, we'll see that this broad movement for change touches all corners of our society.
When we act together, our momentum cannot be stopped: the businesses employing 3.3 million Americans working in the clean energy economy; the mayors building the climate-smart communities of the future; the universities inventing technologies that will power this new world. And you. Awake and ready to lead.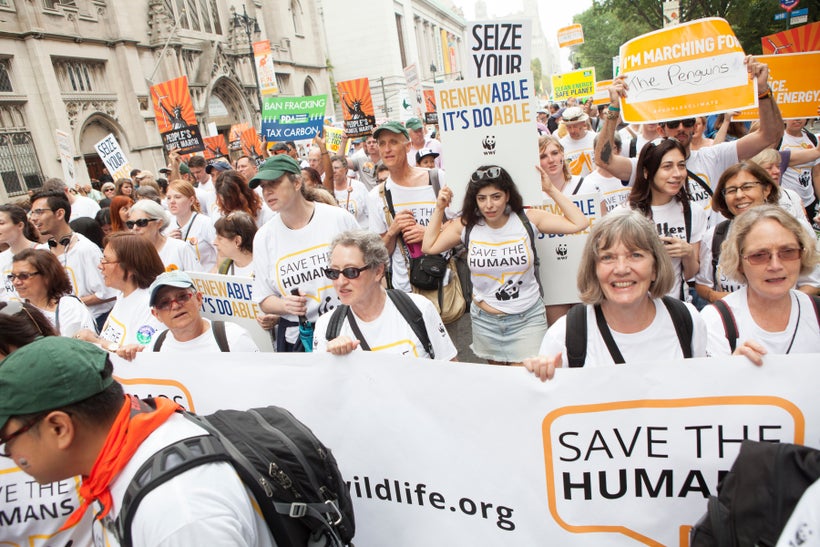 REAL LIFE. REAL NEWS. REAL VOICES.
Help us tell more of the stories that matter from voices that too often remain unheard.
This post was published on the now-closed HuffPost Contributor platform. Contributors control their own work and posted freely to our site. If you need to flag this entry as abusive,
send us an email
.