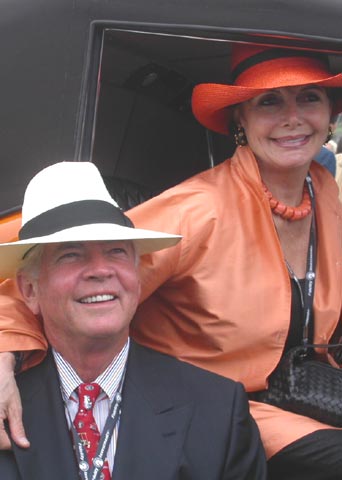 The Mullin Automotive Museum - the most exciting new museum in my world - is just a one-hour drive from Los Angeles.
There are supposedly Eight Wonders of the World... things like The Great Wall of China and the Pyramids of Ancient Egypt. But now there is a Ninth! And I am privileged to tell you about it here.
To start at the beginning... some years ago I met a fascinating couple, Peter and Merle Mullin. A successful insurance executive, he was a daredevil race car driver, skier and devilishly-handsome all-around bon vivant. She was and is a beautiful, charming and astute art collector with a highly-refined visual sense. When he heard that I was a devoted fan of old classic cars, he smiled and said, "Come by our house tomorrow." When I did, he took me down a flight of stairs into his enormous basement... and at that moment my life changed... much for the better. There, in that downstairs space, were eight of the most beautiful older automobiles I had ever seen in my life! Several Delahayes from France in the late 30s, and a trio of Bugattis, the rarest, most expensive cars in the world.
My mouth opened in wonder, tears came to my eyes, and I was literally speechless. Peter demonstrated the rotating turntable he had installed at the front of the space leading up to his driveway, so the cars could be taken out and returned safely. After I had recovered and taken some pictures, he invited me to meet him the following morning at another building in the neighborhood. There, in a nondescript warehouse were fifty five other cars... a collection the like of which I could never imagine even in my wildest dreams. Rare Delage, Talbot-Lago, Voisin and my favorite, Hispano-Suiza. (Because a valued mentor in my youth, Paris' Maurice Dolfuss, had once been President of that car company.)
Peter explained that these examples of French cars manufactured from 1918 to '41 are, to him, the apex in automotive state-of-the-art, not only in design but in terms of power, speed and general engineering design. Merle mentioned that this generation of design between the first and second World Wars is known as art deco. In addition to the cars (of which he had many more, he noted), they had also amassed a priceless collection of furniture and art works from that period.
Over a dinner at the Hotel Bel Air one evening, they told me of their dream: to open a state-of-the-art museum dedicated to the cars and the period. Peter revealed that he had acquired the 50,000 sq, ft. building in Oxnard which had once housed the Otis Chandler Transportation Museum. They were in the process of completely remodeling it into a "green" building, bringing it up to 21st Century standards. Electrical power would be generated by a 'green' power supply, with ducted wind turbines which took advantage of the steady breeze from the nearby ocean, and solar panels to generate electrical power. The remainder of the roof would have a white surface which would remove 20 percent of the interior heat. "We're utilizing superior construction methods and material," Merle said. "We even have a garden on the roof. These features will not only reduce the building's energy consumption, but assist in maintaining the ideal storage environment to preserve the priceless vehicles, furniture and art objects." The architect, David Hertz, is a local Santa Monica resident.
I asked when the museum would be finished, and they merely indicated, "We hope in the spring of 2010." Well, Spring has sprung, and the museum is now completed. The Mullins had a 'soft' opening for the automotive world in mid-April. Members of the Bugatti family came here to wander among the artworks-on-four wheels. It is now open to the public, and for the present they plan on having it open by reservation only on Saturdays. However, if readers of Jay Weston's Newsletter and of Huffington Post LA call (805) 385-5400, I'm told there is a good chance they may get on the coveted reservation list.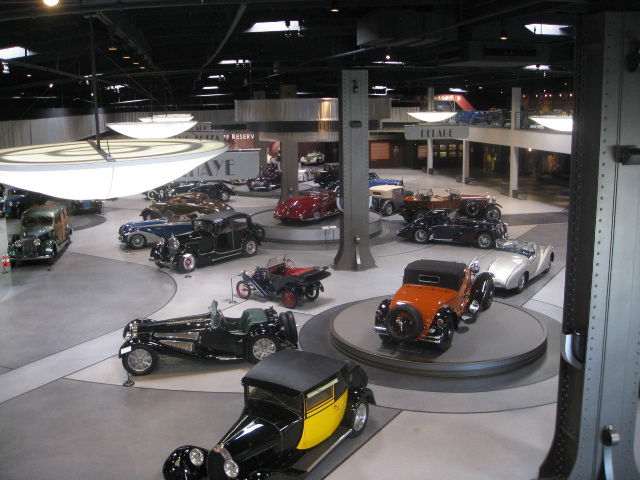 If you drive about an hour up the Ventura Freeway (101) and turn off the Pacific Coast Highway at Rose Avenue to Oxnard, this is some of what you will see in this grand building. About one hundred cars displayed much in the way they were exhibited at the 1936 Paris Auto Show. In addition to displaying some one hundred exotic restored vehicles with magnificent coachwork, there is a 90-foot diorama exhibiting 'barn-find' vehicles, some with a patina, from the famous Schlumph Bros. Reserve Collection. The second floor is 'Club Bugatti,' which features various Bugatti vehicles, as well as a re-created Le Mans track, which incidentally Peter will be racing at this July. Lots of art work and sculptures from various members of the Bugatti family. (Even the elevator is art deco or, rather, machine age.. it had to be lowered into the building by crane from a hole in the roof.)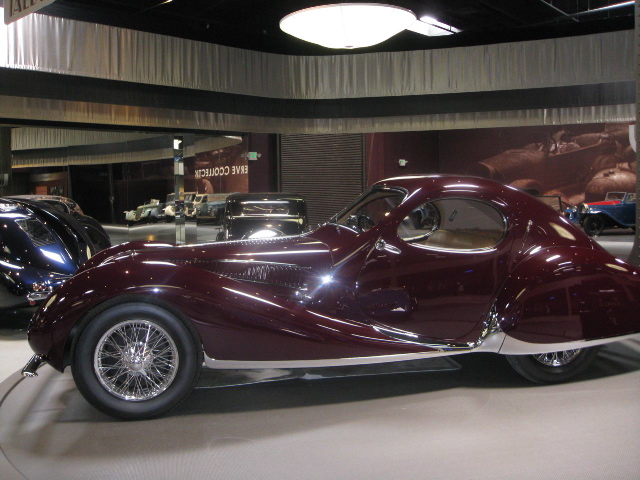 Here is the sensational 1925 Bugatti relic recently rescued after spending 76 years at the bottom of the Swiss lake, Lago di Maggiore, as well as various restored versions of the classic line, as well as several prototypes and a new Bugatti Veyron, a $1.8 million vehicle, on long-term loan from the Bugatti company. When I asked him about his plans for the future of the museum, Peter only said, "the greatest time of opportunity is the time of difficulty." He indicated that the Mullin Foundation, with a strong Board of Directors, would assure that the future of the collection remains solid for years to come.
There is a whole roster of Grand Prix and Le Mans cars. But I must confess that I am partial to the decadently curvaceous, long swooping elegant lines of the Delahayes...oh, my, they are gorgeous! I am reminded of a comment once made to me by the great actor, Sir Peter Ustinov (whom I'm told I resemble; I don't see it.) "One drives, of course, an Alfa Romeo; one is driven in a Rolls Royce; but one gives only a Delahaye to one's favorite mistress." Amen.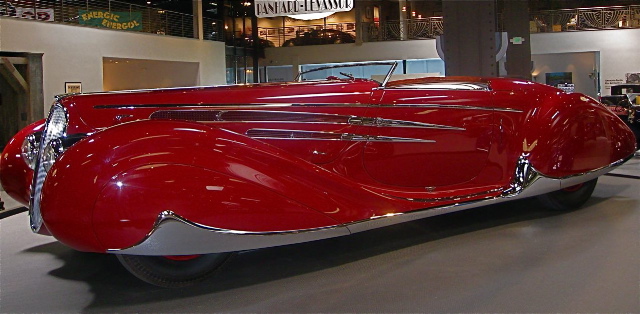 The Mullin Automotive Museum is located at 1431 Emerson St. in the coastal community of Oxnard, between L.A. and Santa Barbara. Admission is $10, $7 for seniors. For additional information, go to its website at mullinautomotivemuseum.com.
REAL LIFE. REAL NEWS. REAL VOICES.
Help us tell more of the stories that matter from voices that too often remain unheard.