River To River festival events in New York City this summer have been nudging audiences into new ways of experiencing sound and music, where no one has to sit in an assigned seat and face the music, so to speak. These "active listening" happenings invite attendees to move through physical soundscapes in unusual settings, or even to create their own sounds.
Cannon's Walk, a hidden, historic courtyard at the South Street Seaport, is the unlikely setting of Control Voltage, an expo/party celebrating the modular synthesizer, presented by Harvestworks, a nonprofit on the cutting edge of art and technology. Makers of these analog, electronic machines explain their creations by day and in the evening, musicians Richard Devine, Keith Fullerton Whitman and Lori Napoleon perform on them. If you don't recognize those names, you might recall their forerunner, Wendy Carlos, who composed "Switched-on-Bach" (1968) and soundtracks to "Clockwork Orange" (1971) and "The Shining" (1980) on the Moog synthesizer.
Abigail Echiverri unpacks synth history and its leaders in this video made for the Control Voltage festival debut in 2012:
Harvestworks Executive Director Carol Parkinson connects the new interest in analog synthesizers to the DYI movement, and the fact that musicians want to make their own music-making machines. Just like vinyl records are enjoying a resurgence, the warm sound of analog, versus digital, synthesizers is winning over younger musicians, says Parkinson.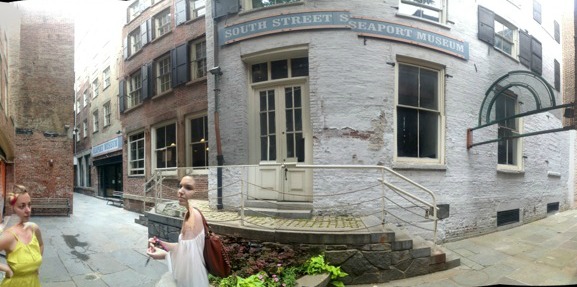 A day after the Control Voltage party leaves the tiny historic courtyard of Cannon's Walk at South Street Seaport, a single Norwegian voice will haunt its brick walls, along with "musique concrete" sounds from instruments, voices and nature, and from synthesizers. Hardly new, this electroacoustic technique practiced by composer Maja S.K. Ratkje was developed in the 1940s by the French composer Pierre Schaeffer.
"Maja does everything with her voice," marvels Ex-Situ curator Paola Prestini, a composer who relishes multimedia collaborations. "She tweaks it with electronics to expand and accentuate it. Listening to her voice is a trancelike experience." Reviewers have described Ratkje's voice as "astonishing."
Ratkje's live performance, meant to be heard while exploring the courtyard, includes a multi-track spatialized speaker installation in which gramaphonelike bells serve as amplifiers. All of the Ex-Situ performances are done in collaboration with the Original Music Workshop, a collaboration of Prestini, acoustical designer Dave Rife and architectural consultant Peter Zuspan.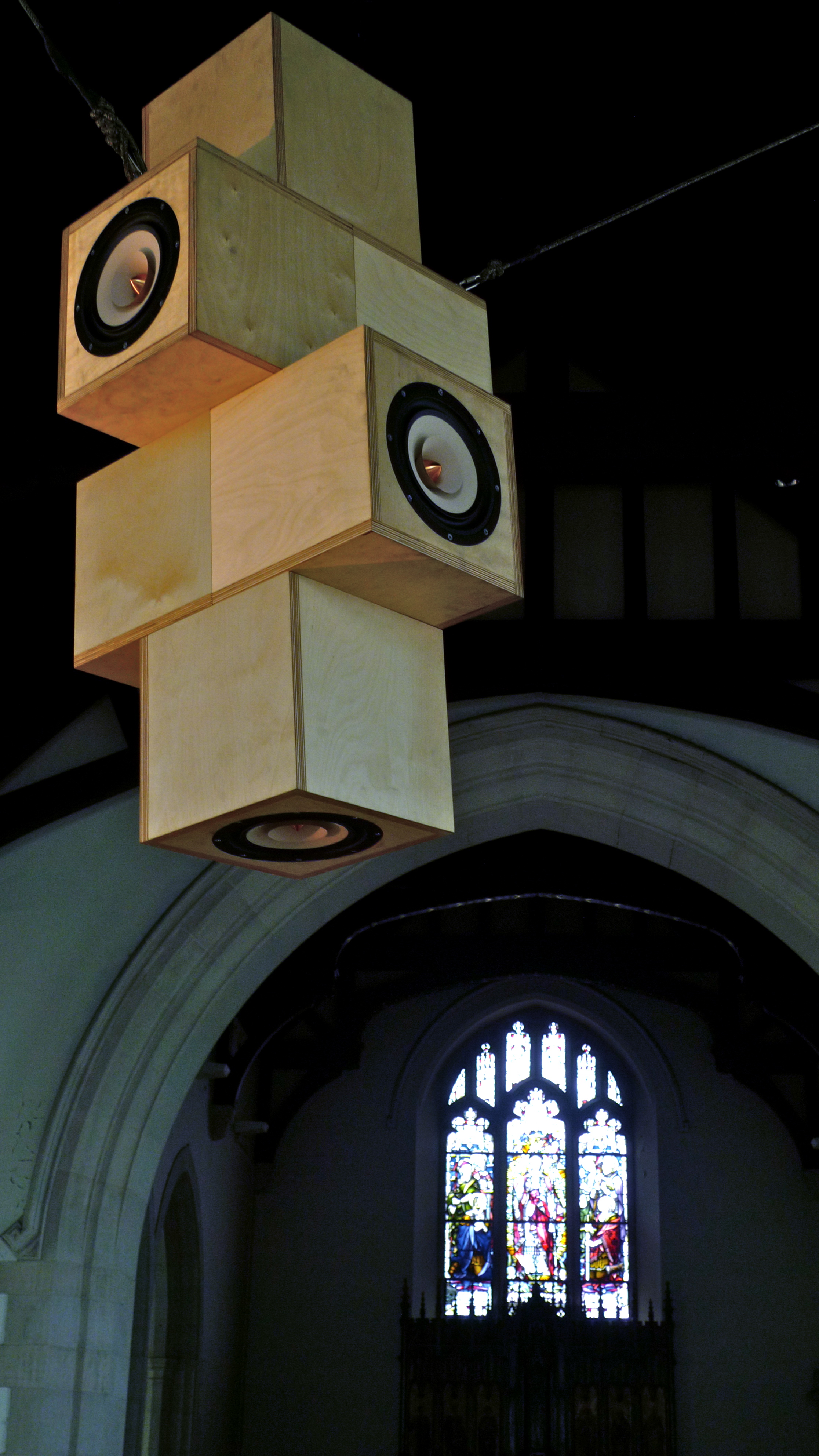 Paul Geluso and programmers at Harvestworks have created a new 3-D sound object, or "diffusion speaker system," as Harvestworks Executive Director Carol Parkinson calls the new invention. The first to test drive it is Suzanne Thorpe, whose composition "Phloq" uses recordings of birds in flight and throws sound in a way that's never been heard before.
"We engage with sound in multiple ways," explains Thorpe. "There's cognitive, the physical, and a third component, which might be spiritual. I'm trying to find the sweet spot where all three meet, to provide an experience of the piece that is immediate."
Ever since Thorpe began working with an anti-fracking group of artists and citizens upstate, she has sought out environmental components for her work. The sounds in "Phloq" were recorded in the Jamaica Bay Wildlife Preserve in Queens.
In the Governors Island chapel, "we're creating a sensory perception event with the throw of the sound of the speaker," Thorpe said during the installation phase. "The speakers hang in the space and they're pretty big. Hopefully it's disorienting in a good way. People can have a more fantasy-like experience."
'What I did was determine the function of the sound and place it within the speaker sound accordingly. I had some iterations of wing sounds that I felt were good in flyover pattern. We assigned that to particular place. I had other sounds that would be good appearing to the sides. Other sounds were lower and we felt that would be good pushed out in all directions. "
Thorpe encourages people to move around the space. "The 3-D system will be particularly poignant. Because of the way that it is designed, it will create a hologram of the sound, and it you hear the sound reflected off a source, it's like the sound is suspended behind you."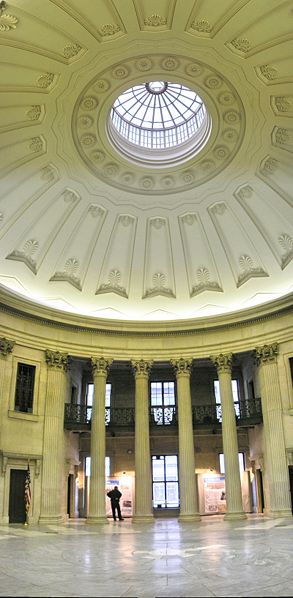 Set within Federal Hall on Wall Street, the site where President George Washington was sworn in as the nation's first president, "The Violin" transforms the Greek Revival-style rotunda. The suite for multi-tracked violins by Anna Clyne, composer-in-residence of the Chicago Symphony, will be performed live by Cornelius Dufallo and Amy Kauffman, who will be surrounded by a circle of speakers. Attendees can circle them, also viewing the animations by Josh Dorman projected onto the surfaces between the soaring columns.
Paola Prestini and the Original Workshop Music (OMW) team looked hard for the right setting for the piece. "We were looking for a cupola-like space where sound would be natural and acoustically enhance violins in most natural way. The recessions in walls feel perfect for animation."
Dorman's painterly type animations tell a story. His technique includes painting on top of antique maps to create poetic and intricate images.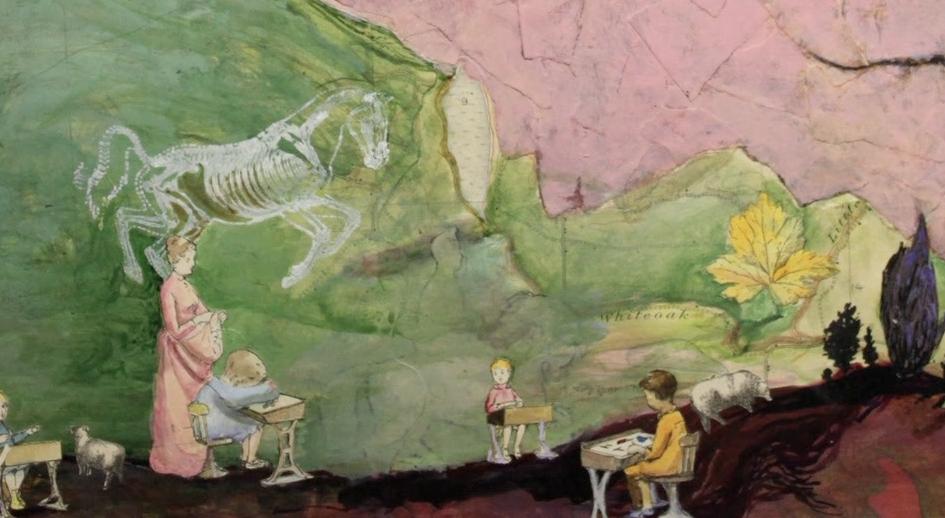 Peter Zuspan of OMW explained that the Ex-Situ series pairs the performance to the specificity of place, both visually and acoustically. "The series has a twofold agenda: to playfully challenge twentieth century music's electroacoustic divorce from place via recording and amplification technologies, and to pull an audience out of its seats and into the city---to connect people to the sometimes forgotten architectural and accidental spaces in New York City."
Calling all HuffPost superfans!
Sign up for membership to become a founding member and help shape HuffPost's next chapter