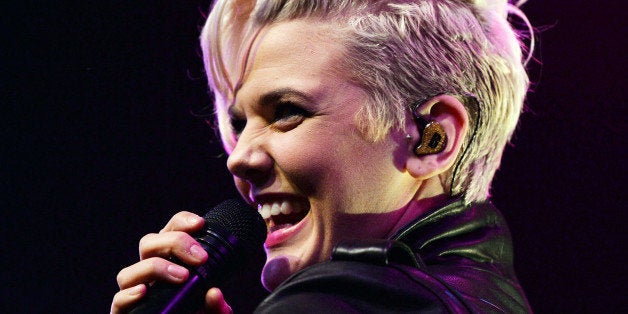 It's that time of year again: New Now Next has announced their nominees for their annual entertainment awards.
The line-up for this year's awards is especially cute, with appearances from Laverne Cox, Charli XCX, Meghan Trainor, Nick Jonas and Lance Bass. This year's event is slated to kick off Art Basel with a premiere on Sunday, Dec. 7 at 8 p.m. on LOGO.
Performing at this year's New Now Next awards is Betty Who, who is nominated for "Best Female Musician" and follows in the footsteps of Lady Gaga, who performed at the awards show in 2008 before launching to worldwide fame.
"I'm so excited to be a part of this year's New Now Next Awards, and it's such an [honor] to have been nominated alongside such powerhouse ladies," Betty Who said in a statement. "I'm such a fan of all the other women in the category so honestly just to be on the same list as them is so cool."
Check out the list below to see who's up for an award at this year's New Now Next awards. Want to be a part of the conversation? Fans can vote for their favorites here.
Television: Best New Television Series:"Broad City""How To Get Away With Murder""Looking""Outlander""Transparent" Best New Television Actor:Jay Duplass, "Transparent"Jonathan Groff, "Looking"Thomas Middleditch, "Silicon Valley"Pedro Pascal, "Game of Thrones"Justin Theroux, "The Leftovers" Best New Television Actress:Ilana Glazer, "Broad City"Gaby Hoffmann, "Transparent"Molly Parker, "House of Cards"Katie Stevens, "Faking It"Lorraine Toussaint, "Orange is the New Black" Best New Television Personality:Pete Davidson, "Saturday Night Live"Bianca Del Rio, "RuPaul's Drag Race"John Oliver, "Last Week Tonight With John Oliver"Gwen Stefani, "The Voice"Neil deGrasse Tyson, "Cosmos: A Spacetime Odyssey" Film: Best Motion Picture By a New Filmmaker:Dear White People, "Justin Simien"The Fault in Our Stars, "Josh Boone"Guardians of the Galaxy, "James Gunn"Snowpiercer, "Bong Joon-ho"The Theory of Everything, "James Marsh" Best New Screenwriter:Gillian Flynn, "Gone Girl"Craig Johnson (with Mark Heyman), "The Skeleton Twins"Gillian Robespierre, "Obvious Child"Ira Sachs & Mauricio Zacharias, "Love Is Strange"Justin Simien, "Dear White People" Best New Lead Film ActorEllar Coltrane, "Boyhood"Ansel Elgort, "The Fault In Our Stars"Dylan O'Brien, "The Maze Runner"Chris Pratt, "Guardians of the Galaxy"Miles Teller, "Whiplash" Best New Lead Film ActressCarrie Coon, "Gone Girl"Natalie Dormer, "The Hunger Games: Mockingjay Part 1"Gugu Mbatha-Raw, "Belle"Rosamund Pike, "Gone Girl"Jenny Slate, "Obvious Child" Music: Best New Musician (Male)HozierNick JonasJohn NewmanPaolo NutiniSam Smith Best New Musician (Female)Iggy AzaleaCharli XCXMary LambertMeghan TrainorBetty Who Best New Music GroupA Great Big WorldBastilleBleachersDisclosurePentatonix Theater: Best New Broadway Production (Musical)"Beautiful: The Carole King Musical""Cabaret""Hedwig and the Angry Inch""If/Then""Lady Day at Emerson's Bar and Grill" Best New Broadway Production (Play)"The Curious Incident of the Dog in the Night-Time""It's Only a Play""Mothers and Sons""A Raisin in The Sun""This Is Our Youth" Best New Broadway Lead ActorMichael Cera, "This Is Our Youth"Bryan Cranston, "All The Way"Rupert Grint, "It's Only a Play"Chris O'Dowd, "Of Mice and Men"Alexander Sharp, "The Curious Incident of the Dog in the Night-Time" Best New Broadway Lead ActressRose Byrne, "You Can't Take It With You"Tavi Gevinson, "This Is Our Youth"Maggie Gyllenhaal, "The Real Thing"Sophie Okonedo, "A Raisin in The Sun"Michelle Williams, "Cabaret"
Popular in the Community