A New Orleans judge accused of forcing defendants to pay to get out of jail before trial without considering their financial situation was sued Tuesday by civil rights groups challenging unconstitutional "wealth-based bail practices" across the country.
The lawsuit against Orleans Parish Criminal District Judge Harry Cantrell alleges that he refuses to consider non-financial conditions of release, instead requiring many poor defendants charged with low-level crimes to pay unnecessarily high bail amounts. Under this scheme, Cantrell imposes "de facto orders of pretrial detention for those unable to pay," which can lead to defendants being jailed for weeks or months before trial, the suit claims. The complaint alleges that Cantrell has a financial incentive to set high bonds, because a portion goes into the court's general fund.
The suit, brought by attorneys from the MacArthur Justice Center and Civil Rights Corps, was filed on behalf of two plaintiffs now jailed in Orleans Parish on misdemeanor drug charges. The court has not determined that either poses a substantial flight risk or a danger to the community. They remain behind bars only because they can't afford to pay the bail Cantrell has set, according to the complaint.
Cantrell routinely refuses to set bail below $2,500, regardless of the facts of a case or a defendant's ability to pay, the suit claims. In most cases, the judge forces defendants to seek the services of a commercial bail bondsman, which in Orleans Parish charge a non-refundable 12-percent or 13-percent fee on the total bond amount.
"We don't go any lower than $2,500 in this court," Cantrell told one defendant's attorney. "This court never goes any lower than $2,500," he said in another case. "I don't got any lower than $2,500 on my bonds," he said in yet another. In one instance, he told a lawyer he was going to set bond at $2,500, regardless of what information the lawyer provided.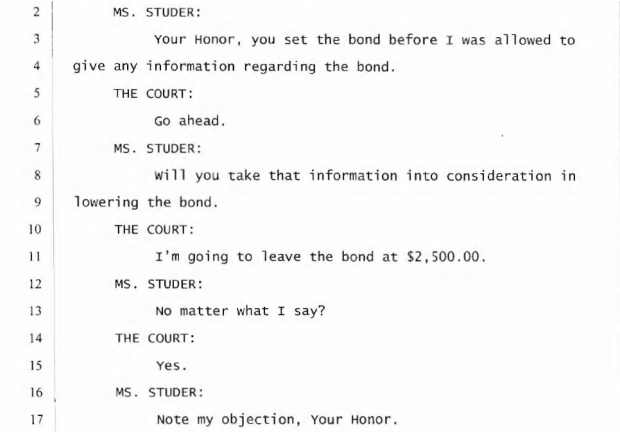 The suit provides examples of Cantrell threatening to hold defense attorneys in contempt of court for asking that their clients be released on their own recognizance, rather than on financial conditions. In one case, Cantrell pushes back against an attorney's request by warning that he'll revoke a previous release order for another of the attorney's clients.
"Defense counsel is placed in the impossible position of having to weigh her own personal freedom against her obligation to advocate for her client's constitutional right to a meaningful bail hearing," the complaint says. "The threat of jail time in retaliation for an attorney's basic oral advocacy would have a chilling effect on even the most zealous advocate and constitutes a gross abuse of authority."
The Orleans Parish Criminal District Court collects $1 million each year on fees assessed on bonds defendants pay through commercial bail bond companies, according to the suit. That money helps pay for salaries and benefits for court employees, travel to official events, office supplies, building maintenance, legal research and other day-to-day expenses.
"The infrastructure of [Cantrell's] court — from the salary of his staff to the paper in his printer — depends upon the continued generation of money from for-profit commercial surety fees, which are entirely dependent on his judicial decisions," the suit reads.
"In short, he's helping balance the court budget on the backs of those least able to afford it and most likely to fall further into debt because they are kept locked in jail," said Eric Foley, an attorney with the MacArthur Justice Center office in New Orleans.
In 2015, 97 percent of Orleans Criminal District Court defendants who were assessed a financial bail obtained their freedom through a commercial surety, according to the complaint. The suit alleges that the practices violate the Due Process and Equal Protection clauses of the Constitution's 14th Amendment.
"It's locking up people for being poor, plain and simple," said Katie Schwartzmann, co-director of the MacArthur Justice Center.
The lawsuit is the latest in a string of suits filed by groups like Civil Rights Corps that challenge what advocates call "wealth-based bail practices." One of Civil Rights Corps' lawsuits was supported by the Obama Justice Department last year. In late April, a federal judge in Texas issued a ruling against Harris County that forced the county to release those held on misdemeanors on personal bonds. The Supreme Court rejected an emergency appeal from Harris County earlier this month.
Alec Karakatsanis, of Civil Rights Corps, said the fundamental constitutional principles that no one should be locked up because they can't afford a payment and that no judge should have a financial incentive in a case they're deciding "are routinely violated every single day" in New Orleans.
Calling all HuffPost superfans!
Sign up for membership to become a founding member and help shape HuffPost's next chapter