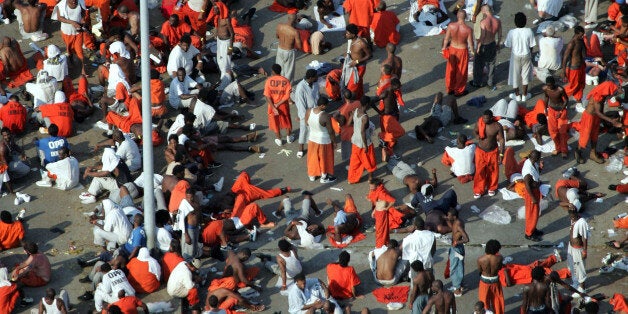 In the second season of the HBO series True Detective, Frank Semyon (played by Vince Vaughn), tells a young boy who recently lost his father, "Sometimes a thing happens, splits your life. There's a before and after." For us New Orleanians, that "thing [that] happens" was Hurricane Katrina.
Before Katrina, justice was elusive and unwelcome -- flushed out of the New Orleans criminal justice system long before Hurricane Katrina flooded the courthouse and the jail in 2005. Orleans Parish Prison was packed with more than 6,000 people the day Katrina landed and most had little to no representation in the absence of an organized and institutionally competent public defender office.
Before Katrina, public defense in New Orleans was controlled by the local public defender board. It was known as the Orleans Indigent Defender Program (OIDP). It was an office of between 40-50 contract and part-time attorneys handling a large percentage of the new criminal cases moving through the New Orleans criminal justice system -- over 100,000 cases in 2004. If the lawyers only handled half the workload, it meant a caseload average of 1,000 new cases per lawyer -- part-time. Such caseloads were excessive by any measure.
Before Katrina, dedicated OIDP lawyers fought hard, but even the most skilled were fighting with their hands tied. The office and the public defender structure provided little more than speed bumps on the way to jail and prison for the poor and overwhelmingly African-American clients moving through the system. A person who could not afford a lawyer sat in jail after an arrest for over two months before they were sent to a courtroom and assigned a public defender. Salaried, part-time lawyers were assigned to courtrooms rather than clients, and the terrible incentives created by this system were threefold. First, it caused lawyers to care more about pleasing -- or at least not angering -- judges than clients. Second, lawyers prioritized completing the day's court docket over worrying about clients' substantive cases. Third, because OIDP lawyers were part-time (and poorly paid), more attention was given to their private -- paying -- clients. Adding insult to injury, the office was poorly funded. The OIDP had no meaningful investigative resources, no organized training, and no money for experts or adequate administrative support. The chief source of OIDP income was traffic tickets -- the nation's only user-pay criminal justice system. OIDP attorneys were forced by oppressive caseloads and poor funding to brutally triage cases, making quick decisions about which cases were worth fighting. Innocent clients pleaded guilty rather than face charges represented by an under-staffed and under-resourced public defender. Given this pre-Katrina history, no one should be surprised Louisiana is a national leader in exonerations. Likewise, it was no surprise when the Department of Justice, Bureau of Justice Assistance confirmed the problems of the New Orleans court-centered, resource-starved public defense system in its 2006 report on the OIDP.
Then Hurricane Katrina hit New Orleans.
After Katrina, the New Orleans criminal justice system was literally laid bare. The flood waters forced into the open thousands of men and women in orange jumpsuits herded onto an overpass under the New Orleans summer sun -- evidence of decades of over-incarceration, failed criminal justice policies and cumulative injustice. New York Times reporter David Brooks, in his September 1, 2005 article, put it this way, "[Hurricane Katrina] wash[ed] away the surface of [New Orleans] society, [and] expose[d] the underlying power structures, the injustices, the patterns of corruption and the unacknowledged inequalities." Public defense in New Orleans was one of these exposed injustices and unacknowledged inequalities. Still, many in New Orleans dreamed of a better and more just city. Post-Katrina New Orleans presented an opportunity to rebuild the criminal justice system with justice and fairness as its cornerstones. Critical to any fair and just criminal justice system is public defense.
With the New Orleans criminal justice system in full collapse, OIDP was reborn as the Orleans Public Defenders Office (OPD), and emerged as an independent, client-centered, full-time public defender office with better training and more resources. New, progressive public defender leaders created an office capable of living up to the promise of Gideon v. Wainwright, granting all of us the right to effective counsel. In Gideon, the U.S. Supreme Court stated public defenders are fundamental to the existence of justice in our criminal courts. Justice Hugo Black wrote, "The right of one charged with crime to counsel may not be deemed fundamental and essential to fair trials in some countries, but it is in ours."
Yet, ten years after Katrina, the tension between reforming the city into something better still clashes with the powerful and innate human desire to return to the familiar, to reclaim what was lost, especially after the trauma of the worst disaster in U.S. history. Many in the criminal justice system simply want their old system back. This tension ignited multiple (and legendary) confrontations over the last ten years. Orleans Parish Criminal District Court Judge Arthur Hunter threatened to release prisoners until OPD had the resources necessary to represent them. At the same time, other judges began imprisoning public defenders. After demanding to remain present with the lawyer he supervised and the client OPD represented, Stephen Singer, then OPD Chief of Trials, was placed in a compliance hold and dragged out of the courtroom by deputies -- after the court's order of contempt. The Orleans Parish District Attorney even charged an OPD investigator with kidnapping for daring to interview a young witness in the course of her investigation. The charges were later dropped. Through these battles, OPD persevered. Louisiana passed sweeping public defender reform in August of 2007, eliminating local boards, creating a system of statewide accountability, and solidifying the independence of OPD.
Still, ten years after Katrina, OPD remains under-resourced and under-staffed. Hard fought structural and policy reforms can only be fully realized with adequate funding and resources. OPD is currently restricting public defender services for the second time in 10 years: poor people waitlisted for an attorney; staff layoffs and furloughs; lack of investigative and expert funds. This is largely a product of Louisiana's user-pay system of criminal justice, which did not change with the reform of 2007. Fueling the criminal justice system on fines, fees and costs from poor people caught in the system yields inadequate, unpredictable and unreliable revenues. More work is needed to ensure Gideon and the reforms of the past ten years are not hollowed.
Today, despite great disparities in funding and resources for our office in relation to other criminal justice agencies, justice in New Orleans is more welcome. OPD is now a local partner in managing jail population, increasing public confidence in the criminal justice system, reducing wrongful convictions, maintaining system accountability and ensuring justice is done. The New Orleans community respects and supports OPD, recognizing justice for poor people has to mean something and requires a champion to make it mean something. OPD is a far cry from the old OIDP. The best evidence of OPD's acceptance within the community as the champion of justice for poor people came on December 16, 2014. On this day, more than 250 people answered our call to protest in the wake of Ferguson and other police shootings. Our community stood with us to highlight the ordinary injustices seen every day in New Orleans criminal courts and our willingness to bear witness and fight.
Hurricane Katrina split all our lives into before and after. A decade later, OPD is now evidence of how justice reform is possible in a city once ruled by injustice. More reform is necessary; changing Louisiana's user-pay system of criminal justice is just one example. I look proudly upon these last ten years. The creation of OPD reminds us justice can prevail even through the storm.
Calling all HuffPost superfans!
Sign up for membership to become a founding member and help shape HuffPost's next chapter