Our country has a severe shortage of parks. If you don't believe me, ask the Center for Disease Control and Prevention. According to their recently released report, only one in five homes has a park within a half-mile. Half of the children surveyed said that it's difficult to get to a playground or park from their house.
For 15 years, my organization, KaBOOM!, has been working tirelessly to address this deficit by building playgrounds. We're exceedingly proud of the 1750 playgrounds we've helped build to date in communities across the country, but to realize our vision of a playground within walking distance of every child, we have a long, long way to go.
Building a playground or park is a time-consuming, costly endeavor. While we've learned how to streamline the process as much as possible, and while we freely disseminate that knowledge on our website to empower communities to build their own playgrounds, it's clear that too many children are still growing up without a suitable outdoor place to gather and play. And as every parent knows, children grow up fast. So what can we do now?
The problem isn't necessarily a lack of space, but how we use it. Sure, every child loves a swing set, but many children are just as happy with a swath of pavement and some chalk. Streets are one thing that cities and suburbs have no shortage of. We just have to find a way to re-imagine them as communal domains, where cars don't reign supreme. Here are five amazingly simple, innovative, and cost-effective initiatives to transform our streets into spaces for communities to gather, for residents to exercise, and of course, for children to play: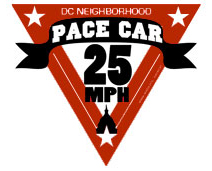 The Neighborhood Pace Car Program
The Pace Car program was born in Boise, Idaho back in 2000 and has already been implemented in a number of cities, including Reno, Nev., Davis, Calif., Greensboro, N.C., and my own hometown of Washington, D.C. Residents who sign a pledge to drive within posted speed limits help to "calm traffic" by setting the pace for other drivers. One of the main goals of the program is to rid drivers of the notion that cars "rule the road" and to promote courtesy toward pedestrians and cyclists. Ultimately the hope is that by fostering a more communal spirit on city streets, more families will be inspired to walk and bike.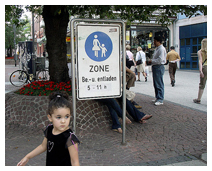 Naked Streets
The neighborhood of Nieder-Erlenbach in Frankfurt, Germany is taking a counter-intuitive approach to promoting more magnanimity on its streets--removing traffic signs, lights, and cross walks. There are only two rules on these so-called "naked" streets: Do not exceed 18 mph and give way to the person on your right. The idea is to encourage motorists to navigate amongst bikers, pedestrians, and other motorists by using eye contact and hand signals, rather than traffic lights and blaring horns. The result? As in the Pace Car program, drivers are forced to show more consideration to those around them.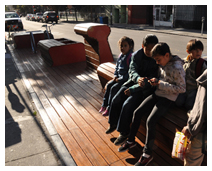 Pavement to Parks
In San Francisco, efforts are underway to quickly and inexpensively transform excess parking spaces and street lanes into public plazas and parks. As part of the Pavement to Parks program, a San Francisco art and design collective has created "Walklet" (pictured at left), a bamboo-sheathed module that extends the sidewalk surface into the street and includes benches, planters, bike racks, and tables. The project is currently in its pilot phase and is being tested on a San Francisco street for six months. It was inspired by the annual event, PARK(ing) Day, which invites citizens of towns all over the world to come together to convert parking spaces into public parks for a day. Last year, 700 temporary parks were constructed in 140 cities in 21 countries around the world.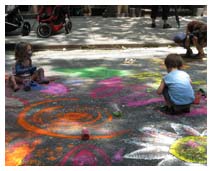 Streets Renaissance Campaign
Block parties are nothing new, but New York City residents are taking them to the next level. As part of a grassroots campaign to create a more livable and environmentally friendly city, the nonprofit Transportation Alternatives began awarding mini-grants to low-income groups interested in hosting block parties. There were more than 3,000 block parties in 2008, up 300 from 2007. Other initiatives include establishing "play streets"--that is, select streets that are closed to cars every Sunday in residential neighborhoods--as well as advocating for car-free parks.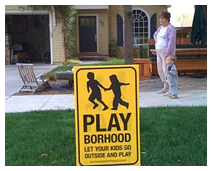 Front Lawns as Neighborhood Hangouts
While there's more space in the suburbs, that doesn't always mean the space is being well-utilized. Mike Lanza, Chief Play Officer of Playborhood.com and a resident of Palo Alto, Calif., noticed that the front yards in his neighborhood went largely unused. "This is a shame," he says, "because, assuming your back yard is fenced in like mine is, your front yard is the only place where you can be right next to your house and socialize with neighbors at the same time." Mike set about renovating his own front yard to make it into a neighborhood hangout spot. He installed an outdoor white board, a picnic table with storage benches, a fountain, a basketball hoop, and a sandbox, among other items. And of course, he proudly displays a Playborhood sign.
How can your neighborhood transform its streets? Has it pursued any of these strategies, or has it come up with any of its own? I would love to hear your stories.