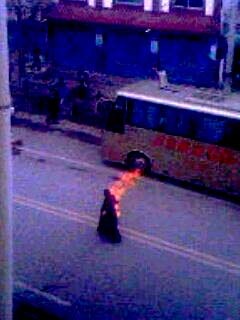 On February 27, 2009, Tapey, a Kirti monk, set himself on fire after a religious ceremony was cancelled by the Chinese authorities at his monastery in Tibet. He survived but may still be imprisoned. His protest followed a year of crackdown after major protests by monks.
Just before he was detained, well-known Tibetan essayist and editor Shogdung had visited his family outside Xining in Qinghai province where he lives. While there, he went into the mountains to make a traditional Tibetan offering, throwing 'windhorses' - prayers printed on small scraps of paper - into the sky. It was a ritual that Shogdung, a 47-year old civil servant who works for the Qinghai Nationalities Publishing House, would previously have opposed, on the grounds that such traditions are ultimately damaging to Tibetan efforts at modernizing their culture.
But that was before March, 2008, and the 'Spring protests' against the Chinese government that swept across the entire Tibetan plateau, involving every sector of society, from nomads, farmers and businesspeople to schoolchildren, teachers, and artists.
Shogdung, whose views were previously seen by many Tibetans as being close to those of the Communist Party, came to believe that this upsurge in dissent and solidarity is a new awakening for the Tibetan people and a rediscovery of pride in their identity as Tibetans. His writings about the 'peaceful revolution' since March, 2008 are among the most far-reaching indictments of Chinese policy in Tibet for 50 years. They are also likely to have been the reason why Chinese security police descended on his office on April 23, seized his books and two computers, and took him to prison.
For the first time since the Cultural Revolution, writers, intellectuals, singers and artists in Tibet are being systematically targeted for their work, and almost every expression of Tibetan identity can be accused of being 'reactionary' or 'splittist'. A popular singer from Amdo (now Qinghai), Tashi Dhondup, is in a labor camp as a result of singing songs referring to Tibetans' grief at the killings in March, 2008. The founder of a Tibetan website promoting Tibetan culture, Kunchok Tsephel, was sentenced in November to 15 years in prison. Bloggers, artists and other intellectuals, including an artist who taught the Tibetan language to nomad children, have 'disappeared'. A Tibetan author who interviewed elders about their experiences in the 1950s has lost his mind after torture in detention.
Despite, and also because of, the severity of the clampdown since the protests began, dissent continues to be expressed, particularly through the written word. As Tibet's best-known writer and poet Woeser says, Tibetans are attempting to transcend the terror by writing about it. They are daring to refute China's official narrative, presenting a more complex challenge to the Communist Party than before.
Shogdung is one of a new generation of educated Tibetans at the forefront of a literary and cultural resurgence in Tibet. This new bicultural, bilingual generation is fluent in Chinese as well as Tibetan, and familiar with digital technology. Although less well-known outside than high-profile Chinese dissidents such as Liu Xiaobo and Hu Jia, Shogdung and other Tibetan writers and bloggers detained over the past two years are famous among Tibetans, and their concerns about repression and restrictions by the state mirror those of their Chinese counterparts. This is a development of immeasurable significance to Tibet's future - and as educated Chinese build new alliances with their Tibetan counterparts - to China's.
While loyalty to the Dalai Lama remains undiminished, often this new generation of Tibetan intellectuals is secular in background and politically moderate. Many support the Dalai Lama's 'Middle Way' approach for a genuine autonomy under Chinese sovereignty. In one collection of writings, Eastern Snow Mountain - banned as soon as it was published in Tibet in 2008 - essayists from Amdo in eastern Tibet demonstrate extensive knowledge of Chinese and Tibetan law and policy, and discuss the sufferings of ordinary Chinese people as well as their own struggles against the state.
Tashi Rabten, one of the editors of the magazine, a thoughtful, determined young student at Northwest Nationalities University in Lanzhou, was detained on April 7, his room ransacked, and his current whereabouts is unknown. In Eastern Snow Mountain, he writes that the essays were published "as a sketch of history written in the blood of a generation." (English translation in A Great Mountain Burned by Fire: China's Crackdown in Tibet)
Since March 2008, the Chinese government has engaged in a systematic attempt to block news of the arrests, torture, disappearances and killings that have taken place across Tibet. As part of this rigorous approach, the Chinese authorities launched a campaign in Tibet not only against 'spreading rumors' - a term typically used to refer to dissenting views and sentiment in the PRC - but also against listening to them. One Tibetan woman, Norzin Wangmo, is serving a five-year sentence simply for talking about the situation in Tibet on the phone.
Beijing has also tightened control of the internet. In an announcement typical in its opacity, Chinese Foreign Ministry spokesperson Qin Gang said recently: "The Chinese Government manages the Internet according to the law. As for what you can and cannot watch, watch what you can watch, and don't watch what you cannot watch."
In China, as one writer observed, there is a red line between what can be said and what cannot. But you do not know where the line is until you've crossed it.
Tibetan writer Shogdung, the most high-profile writer to be detained in the current crackdown, knew he had crossed the line when he published his book, The Line between Sky and Earth. That's why he went to visit his elderly father and to pray in the mountains. His family does not know where he is, and no one knows how long he will be held. But his book, published without an ISBN number, is now a word of mouth bestseller, circulating underground, his written words about the 'peaceful revolution' now reaching Tibetans in exile all well as across Tibet.
Details of more than 50 writers, artists and intellectuals who have been imprisoned, 'disappeared' or suffered harassment for their work at: http://http://www.savetibet.org/
Related
Popular in the Community