There's no doubt that New York Fashion Week has changed tremendously since Eleanor Lambert organized it in 1943 to showcase the work of American designers. While running all over the city this past week, we caught up with some industry veterans and experts to get their take on New York Fashion Week's transformation.
1. There are more shows than ever before. When New York Fashion Week started in 1943, there were a fraction of the shows that take place today. Now, over 250 designers display their work, which makes this week hectic, to say the least. While there is something to be said for the innovation that comes out of New York Fashion Week (thanks to programs like MADE), it is difficult to navigate the intense schedule. Amanda Ross, fashion director at Departures, had this to say about the number of shows: "The amount of designers that show today is overwhelming. When I started it was like a country club; you were invited in. Today it's more democratic -- which has gotten more people excited about fashion -- but it's difficult to see everything you want to see."
2. Fashion shows take place all over New York City. Bryant Park used to be the center of New York Fashion Week, which was a breeze for the Condé Nast employees whose Times Square offices were just a stiletto-clad skip away. Now shows are spread all over town. Looking for the most innovative space, designers hold their shows in galleries in Chelsea, piers on the West Side Highway and on the Upper East Side. The diaspora of shows makes a subway pass and walkable shoes a must. As a result, editors and buyers take a more considered approach about which shows to attend. Cameron Silver, owner and founder of Decades, told us, "I go to shows when I have a relationship with the designer, or shows that I'm really curious about."
3. There are more show-goers than ever before. Thanks to the Internet, everyone is a blogger with an audience. In fact, the official Mercedes-Benz Fashion Week site states that it welcomes "more than 100,000 industry insiders" to its shows every season. Designers have been receptive to the new generation of self-made editors, and it's not uncommon to see them sitting front row. Or loitering outside, hoping to be snapped by street style photographers. But not everyone is as welcoming: Famed Vogue editor Grace Coddington told The Huffington Post that, "Bloggers sit in the front row [at the fashion shows] and all their energy seems to be spent on dressing themselves, which I find a shame."
4. Street style might be more important than the fashion going down the runway. Leah Chernikoff, editorial director of Fashionista, said, "I've been covering the industry for the past five years. It's become more of a circus. Street style has become such a scene; the crush outside the venues is a bigger show than what's going on inside. Also, there's a bigger pop cultural interest in fashion, which explains the heightened frenzy."
5. There is a wider audience thanks to bloggers, live-streaming and social media. This season, designers like Peter Som, Pierre Balmain and DKNY live-streamed their shows, giving the public access to what was once a very exclusive event. And social media offers instant access to what went down the catwalk and what's going on behind the scenes.
6. A small percentage of what goes down the runway actually shows up in stores. Silver said, "Runway fashion doesn't represent what happens in stores. Pre-collections are what really matters. Only 20 percent of this collection will be relevant to the consumer, instead, the shows have become a vanity projects that promote the brand."
7. Influence, and thus seating assignments, are based on social media clout. Leandra Medine, founder and creator of ManRepeller, told The Huffington Post, "The seating system is no longer a meritocracy. It's not about your work as an editor or as a buyer; it's not about how many accolades you can muster anymore. Instead, it's about how many Twitter and Instagram followers you have. It's about the brand getting exposure through those outlets. The front row isn't what it used to be. This is my sixth Fashion Week, and it's interesting that myself and my contemporaries are sitting front row so quickly."
See all the street style thus far from New York Fashion Week here: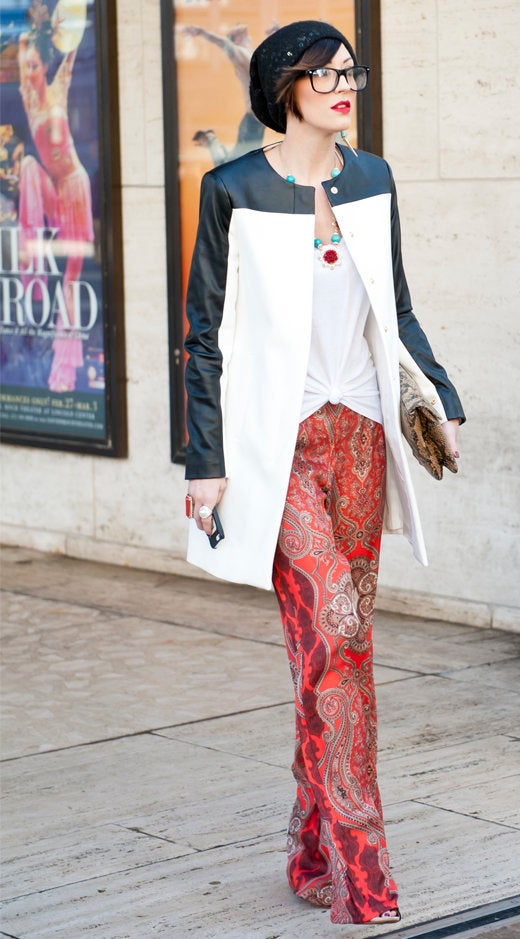 New York Fashion Week Street Style