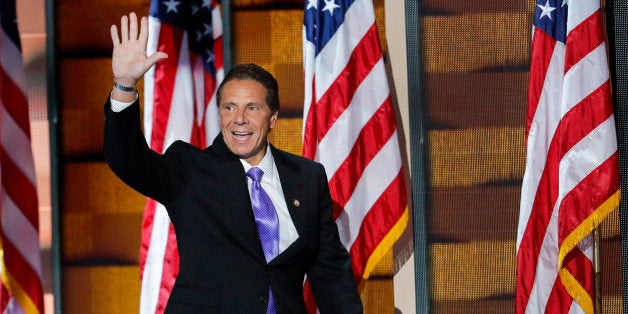 For a glimpse of what New York's just-announced clean energy standard could mean to the state's economy, look West.
New York's plan to get 50 percent of its energy from renewables by 2030, announced Monday by Gov. Cuomo, matches the renewable standard set by California in 2015. It will make New York a major leader for clean energy (only tiny Vermont and Hawaii have higher standards than New York and California), setting an example for other states.
Look to the other side of the continent at California, and the positive impacts of a 50 percent renewable standard are undeniable.
Thousands of small businesses have been started to construct, install maintain and invest in renewable energy equipment, and today more than 500,000 Californians now work in advanced energy businesses. For perspective, that's three times as many people who work in the movie and television business. It's more people than work in agriculture in the state.

Smart clean energy policies, we know from California and other states, create jobs and drive economic growth.
Clean energy, quite simply, is a tremendous economic catalyst. Smart clean energy policies, we know from California and other states, create jobs and drive economic growth.
New York already has had a taste of what clean energy can mean to the state's economy. More than 85,000 New Yorkers work in clean energy in every county of the state, according to the Clean Jobs New York report from E2 (Environmental Entrepreneurs) and partners. That's a lot. That's more than the number of New Yorkers who work in investment banking, and it's almost as many as work in the state's building construction industry. All those workers and their families should be cheering the job security and opportunities that just got a big boost by New York's new Clean Energy Standard.

But remember that 85,000 workers is less than one-fifth of the 500,000 advanced energy workers in California right now. California and New York are the No. 1 and No. 3 most populous states, respectively.
That leaves some serious room for growth for working folks and businesses in the Empire State.
Under the Clean Energy Standard announced by Gov. Cuomo and the New York Public Service Commission:
Utilities must get about 31 percent of their energy from renewables by 2021, before moving to 50 percent in 2030. That's similar to California's planned phase-in, giving utilities and clean energy companies alike the time needed to develop their business models.
NYSERDA, the state's energy research and development agency, will create a blueprint to advance offshore wind. That could create a major new job-generator for the state and help the United State catch up to other countries.
The state PSC will promote and support energy efficiency programs wherever possible. That's important in a state of 7 million households and some of the biggest office markets in the world. It's also important because 69,000 New Yorkers today work in energy efficiency -- representing about 80 percent of all clean energy workers.
Of course there are other good reasons to move to clean energy.
New York's 50 percent renewable plan is a critical part of the state's plan to reduce greenhouse gas emissions by 40 percent by 2030 (from 1990 levels). It will boost efforts to get us off of dirty fossil fuels that are contributing to climate change and nuclear energy that comes with myriad expensive environmental problems.

To be sure, New York's Clean Energy Standard could've been even better.
To be sure, New York's Clean Energy Standard could've been even better. It is still too dependent on expensive nuclear energy, and it could use more teeth when it comes to energy efficiency and offshore wind. And besides, there's no reason New York should ever want to simply tie California -- just ask any Dodgers-hating Mets fan.
E2 and other groups will keep pushing to make a good plan even better. That said, businesses, investors and everyday New Yorkers alike ought to be cheering the state's new Clean Energy Standard.
It's a big step in the right direction that will create new jobs, drive new economic growth, and -- with California to the West -- bookend the United States with another shining example of how we can move the entire country to a clean energy future.
Related
Popular in the Community