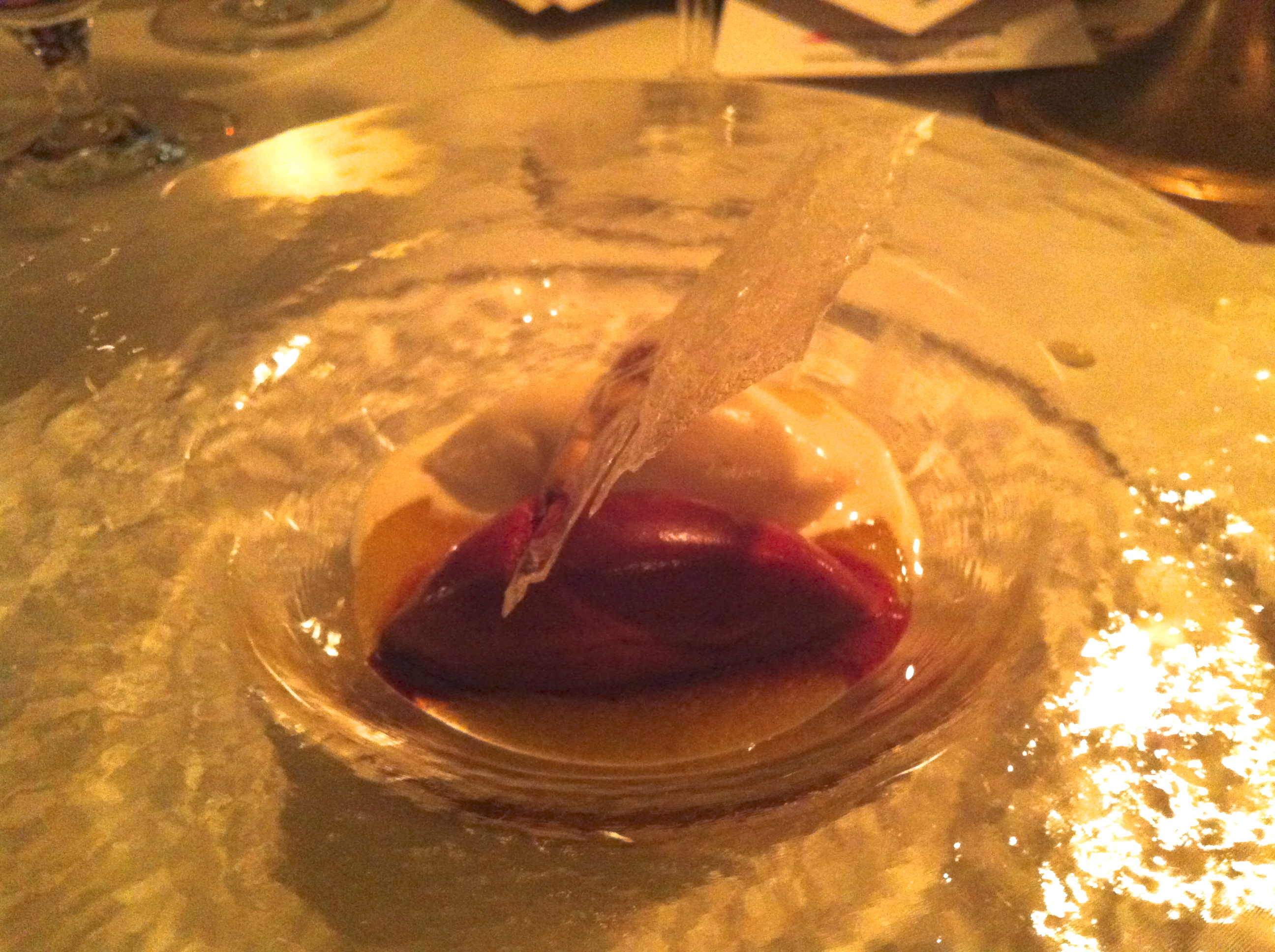 Foam dessert: White Chocolate Cloud with berries
For those curious about new directions in the culinary world, this past weekend offered views that would titillate the taste buds of any gourmet. Over the course of four days, The New York City Wine and Food Festival opened doors all over town for cooking, consuming and conversing about food.
The culinary stars represented the full breadth of gastronomic talent, which casts a wide net these days. But what they share in common is acknowledged excellence in their fields, with a plethora of awards from prestigious bodies such as the James Beard Foundation.
Like many accomplished professionals whose craft requires embracing a particular creative style, they tend to dismiss their colleagues of another persuasion. So, just as realist painters and abstractionists share no affection, classical violinists and country fiddlers avoid the same stage, high-end chefs and their down-home counterparts readily ignore or deride one another.
Events of the weekend brought these differences into focus. At one end of the spectrum, haute cuisine bows to France, with a current curtsey to Japan, another ancient and refined culture. At the other end of taste, skipping cheerfully along nodding to everyone, are the unassuming American victuals: hot dogs, baked beans and apple pie.
Of all the elevated restauranteurs at work in New York today, David Bouley may be the chef with the tallest hat. Sixty now, he has been cooking all his life. At a Friday evening dinner at his Tribeca tasting kitchen and a Saturday afternoon Times Talk with Melissa Clark, prized columnist for the NYT Dining Section, Bouley revealed both food and philosophy in his gentle, understated way.
Growing up in Connecticut with his immigrant French grandparents over in Rhode Island on a farm, he was brought up on home-cooked, fresh food. While we marvel at the recent appearance of asparagus ice cream, he found a recipe for it in his grandmother's cookbook. He tells the story of when he was a kid pulling peaches off a tree, his mother lifted him up and showed him how the ripe one separates with a push on the stem: this is the peach you want to eat.
With his bred-in-the-bone experience, food seems his paint, the medium in which he is master and magician. His plant-focused cooking begins with garden ingredients, which he transforms through the chemistry of applying heat, water, salt and air. Savory flan flavored with porcini mushroom nestles on a plate with silky sea urchin. Lavender and lemon verbena lend their aromas to chicken cooked in a pastry-sealed pot. They are so delicious, their healthiness seems ancillary.
But for Dr. Mark Hyman, who makes up the other half of the presentation dinner, The Chef and The Doctor, this is the most important aspect. He purports that nutritious food is a powerful medicine -- how could substances your body absorbs daily not be effective?
Bouley is strongly influenced by Kaiseki, a Japanese cooking style with a strong affinity for French. Both depend on living, seasonal ingredients that emphasize intrinsic flavors.
Bouley's main concern is to bring his customers closer to nature. He's into essences. And one way to present an essence is to distill the taste into a foam so it can be eaten unadulterated, reduced to its pure state. That said, foams are wild concoctions whose creation is hardly simple. Dessert serves up a mind-bending example: White Chocolate Cloud. The foam is frozen, fleeting and delicate, so when it hits the tongue it dissolves instantly, releasing flavor. It quite literally melts in your mouth.
The other end of the culinary spectrum was showcased by Mario Batali and
Michael Symon, co-hosts of ABC's The Chew. This two-man comedy team is talented, irreverent, and committed to giving people fun, enjoyable food. Batali and Symon play off each other so well, NYT interviewer Julia Moskin said, 'As you can see, I don't really need to be here.'
These chefs are definite carnivores. One of Batali's top dishes at the revered Baboo is head cheese, a delectable terrine made from bits and pieces of pig or calf head. Symon's Cleveland restaurant chain, The B Spot, prides itself on burgers, bologna, bratwurst, bourbon and beer. He is a talk-show host's dream with close to 400,000 Twitter followers. He says if anyone sends him a nasty tweet, he re-tweets it and his fans eat them alive.
Despite his stellar restaurant awards, Batali is a casually-styled, clog-sporting iconoclast. He derides 'bowing to the alter of the chef.' The combination with Symon is irrepressible. All in good spirit, nothing escapes their mocking. The Union Square Greenmarket is 'trendy' (it's been there 37 years), 'food to table' is a cliché (despite the fact that most Americans eat processed food) and foam is, well, comical. There is much hilarity over a proposal for kielbasa foam.
But really, these seeming diametrically opposed styles are not so far apart.
Mario Batali believes that food, like most things, is best when left to its own simple beauty. He serves what's in season. 'What grows together goes together.' Symon promotes regional dishes. His menu lists beef cheek pierogies. Batali nails it, displaying his marketing savvy, saying it's the 'cheek' that provokes the eater's interest, necessary to maintain loyal customers.
Batali, a self-described rock star chef, says farmers are next to be canonized. With GMO crops designed by a farmer/chef partnership on the horizon, it will indeed be interesting to see what the future holds.
Clearly, these Midwestern chefs respect traditional cooking, but like Bouley, they begin with an authentic base, then take a dish to unexplored territory. And both aim to please customers.
Despite their differences, the current crop of American chefs at the festival demonstrate remarkable accomplishments and the broad range of excellence in American cooking. In the end, there's room for everyone.