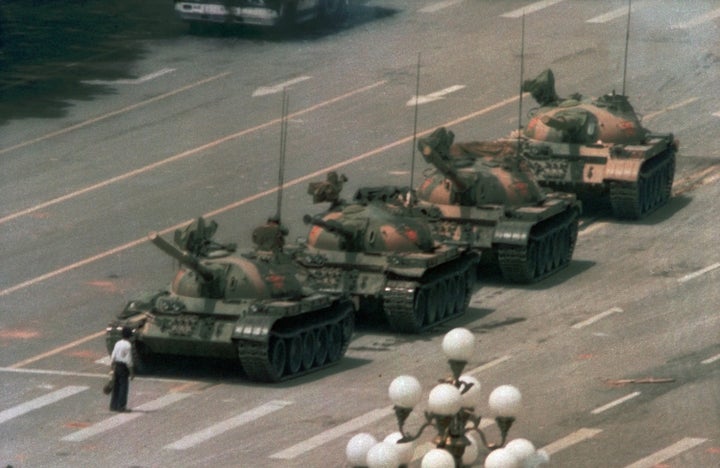 Pro-democracy protestors flooded Tiananmen Square for weeks in the spring of 1989 before they were suppressed by Chinese troops. On Wednesday, both the New York Times and the Washington Post ran through their old coverage of the crackdown, and the events leading up to it.
Nicholas Kristof and Sheryl WuDunn covered the upheaval for the Times. "By ordering soldiers to fire on the unarmed crowds, the Chinese leadership has created an incident that almost surely will haunt the Government for years to come," Kristof predicted in his account on June 4, 1989.
"That image has now become so iconic – but what drove its impact was the fact that people had seen the man moving in front of the tanks on TV, as well as footage of the violent crackdown the night before," he wrote. "The still photographs that a few of us took of that 'tank man' scene seemed unremarkable to me, only because I was so far away on that balcony."
Many journalists had missed the moment, Franklin said, after going to a hotel with better food and getting stuck by the edges of Beijing. He later snuck his film out of China in a pack of tea with a student going to Paris.
On Tuesday, CNN's former Beijing bureau chief Mike Chinoy also described what it was like reporting on the events in China. He said the coverage marked "the first time a popular uprising in an authoritarian state was broadcast live across the globe."