Nia Vardalos has stepped away from My Big Fat Greek Wedding to deal with My Big Crazy Former President. And his ambitious wife.
Vardalos is happy about it.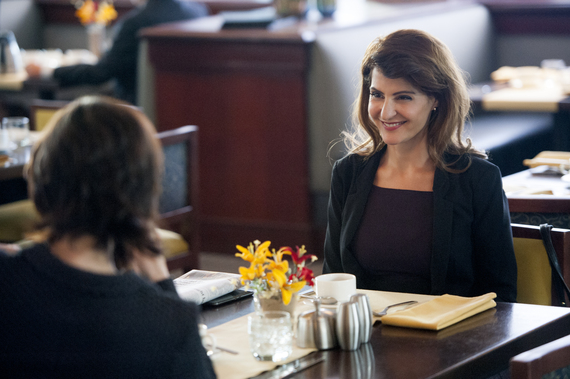 In Graves, a new satire/dramedy that premieres at 10 p.m. ET Sunday on Epix, Vardalos (above) plays Annie Novak, a Type-A, no-nonsense, high-energy, slightly jaded political operative who is hired to manage the U.S. Senate campaign of Margaret Graves (Sela Ward), wife of former President Richard Graves (Nick Nolte).
Richard Graves is 25 years out of office and tired of being shuffled around to a series of inoffensive photo-ops. He's more concerned that the consequences of some of his policies are not as positive as he had hoped and promised.
But as Margaret launches her own political career, the last thing she needs is for Graves to start getting all unfiltered, especially when it means renouncing some of what he did.
Vardalos's Novak doesn't think that's a great idea, either, since her whole job is to clear the path for Margaret - an old friend with whom Annie now must adjust to a differently defined professional relationship.
Graves is a comedy, by the way. The best political comedy since Veep.
Vardalos hails from the funny side, too, with years at Second City even before she created the My Big Fat Greek Wedding franchise. But she says this show didn't call on the same comic muscles.
"It's a different form of comedy," she says. "It wasn't easy. It was stressful.
"But I went after it hard. I loved the character because I don't usually get to play tough people."
It's also a little different because in the Greek Wedding films and TV series, Vardalos was the writer and central character. Here, she's a supporting member of a fairly sizeable ensemble.
"This role wasn't No. 1 on the call sheet," she says with a laugh. "But when I was in Second City, this is what we did. You're as strong as the actors you're working with, your partners."
In this case, she says, that was very strong.
"Nick Nolte, you seek out actors like that," she says. "It was like working with Tom Hanks [who produced both Greek Wedding films].
"And Sela was so friendly. Off the set, we became girlfriends.
"As the filming goes on, you see what's working with everyone, and you trust the writers that good stuff is coming. I got to do really fun things, the kind of things that go on in your head when you go to the movies."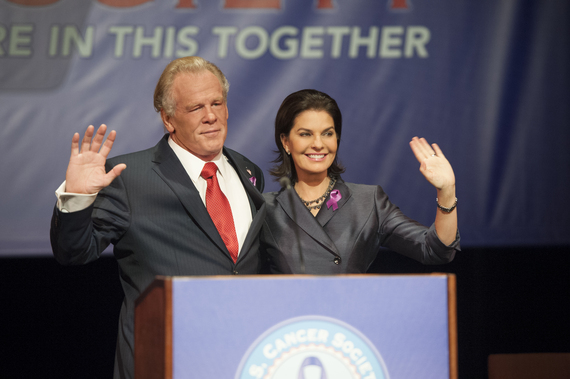 In the end, she says, Graves took a slightly different direction than she first expected. It was not unwelcome.
"I was attracted to it at first because I thought it would be a political satire," Vardalos says. "It turned out also to be a family dealing with the dysfunction we all have. People can watch it and they'll say, 'That's so my family.' "
A wacky family storyline, of course, isn't very far out of Vardalos's wheelhouse, since that's exactly what the Greek Wedding films were rooted in.
"You should always write about a family," says Vardalos. At 54, she and her husband Gomez have a 10-year-old daughter, and Vardalos readily volunteers that "I'm such a Greek mother."
Professionally, she also gets pretty involved.
"When I write something, I constantly rewrite," she says. "On My Big Fat Greek Wedding, Hanks let me watch the editing and I saw how that made it even better."
But with Graves, she says, she was happy to let take off the officer's hat and just be a soldier.
"I discovered," she says, "that I loved not being in charge."
Calling all HuffPost superfans!
Sign up for membership to become a founding member and help shape HuffPost's next chapter