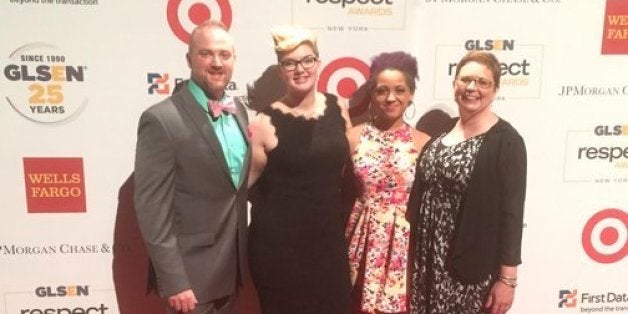 Nixa High School's Gay Straight Alliance is changing lives. In just two years, the club has lobbied state lawmakers for more LGBT-inclusive anti-bullying policies, provided meals and presents to families at Christmastime and persuaded hundreds of school community members to take a pledge against anti-LGBT language. This year, out of about 4,000 GSAs nationwide, the Missouri high school club won the Gay, Lesbian, and Straight Education Network's award for GSA of the year.
Parker Davidson, a junior at the school who will serve as the GSA president next year, said this atmosphere pushes students in the club -- which has about 60 dues-paying members -– to fight hard for acceptance of LGBT students.
"GSAs do a lot of great work but I don't think they're pushed as hard as they would be if they lived in my community," Davidson told The Huffington Post. "Living in this area, I think it gives us a push and a drive to want to change our community."
"The struggles are hard," said Davidson. "But the struggles me and the GSA go through, it makes us better people and it makes us stronger."
English teacher Jackie Swindell had started a GSA in 2007, but student interest quickly fizzled. Two years ago, Charneco-Sullivan and Swindell tried again, and formed the school's current GSA.
Charneco-Sullivan says that as a gay man, he immediately felt singled out by the administration, and that he faced barriers from the school administration in promoting the club. After Charneco-Sullivan sent out a staff e-mail in 2013 about the adoption process he and his partner were undergoing, asking for "any positive thoughts or prayers," he was approached by the Nixa High School principal, who told him "not to send anymore emails like that," he said.
"Everyone's always sending emails saying, 'Oh this is coming up, please keep us in your thoughts' ... so I did that," said Charneco-Sullivan. After sending the email, Charneco-Sullivan's "principal came in and shut the door. ... He said there are several staff members who have complained about [the email] because they don't agree with what you're going through and with your lifestyle."
Later in the conversation, he said, the principal asked him to tell "all of the teachers who were talking about the GSA with students to stop," because parents were complaining about the club's promotion.
"That was the beginning of when I felt like I needed to leave," Charneco-Sullivan said.
Administrators from the district, including the principal and superintendent, declined repeated interview requests for this story.
The teacher's clash with the district came to a head in the beginning of this academic year, after he and other members of the English department asked to teach a chapter from a book by Zach Wahls, who came to prominence after giving a speech to Iowa lawmakers about growing up with two moms. In the chapter, which Charneco-Sullivan wanted to teach as part of a unit on courage and bravery, Wahls recounts hearing anti-LGBT language at school and explains the power of these words.
Charneco-Sullivan says that while the administration approved all other pieces of literature for the unit, including books like Elie Wiesel's Night, they rejected Wahls' chapter, reportedly because it was too controversial.
In response, Charneco-Sullivan invited Wahls to come speak at the school, in an event that the district publicized. And the school will carry two copies of Wahls' book in the school library next year, according to local outlet KSPR-TV. But the incident left a deeply sour taste in the teacher's mouth.
"I won't have my daughter attend a district that won't validate her family and let her know that her family is just as valued as every other family," said Charneco-Sullivan, whose young daughter is set to enter school next year. He had previously planned for her to attend Nixa schools.
According to Swindell, students on the whole are more progressive about their attitudes toward LGBT issues than administrators and parents. Swindell said that when she started the school's first GSA in 2007, "nearly every student introduced himself or herself as 'straight' but supportive of gay and lesbian students."
"We've certainly made progress since 2007," Swindell, who will continue working with the GSA after Charneco-Sullivan leaves the district, said via e-mail. "But we are far away from tolerance -- let alone acceptance. That's why our GSA is such an important part of our school."
The kids involved in the GSA say Swindell and Charneco-Sullivan have had an immense impact on their lives.
"They're my role models," said Davidson, who believes that if it weren't for the help of the two teachers, she "would be struggling. Struggling really hard."
Student Awreon Riley, who identifies as a straight ally and served as the GSA's president this past year, echoes Davidson's sentiments about Swindell and Charneco-Sullivan.
"The administration doesn't really care, because we're such a conservative school," Riley told HuffPost. Without Swindell and Charneco-Sullivan, a lot of LGBT students would still be in the closet and "scared," she added.
Still, she's confident that with Swindell as one of two sponsors, the club will stay active and continue to make strides for the LGBT community. "She's made a huge impact on the club," Riley said of Swindell.
Davidson is also hopeful about the club's future.
"Jackie [Swindell] is fired up," she said. "I have 100 percent trust in her. We're going to stay strong."
Calling all HuffPost superfans!
Sign up for membership to become a founding member and help shape HuffPost's next chapter
BEFORE YOU GO
PHOTO GALLERY
Teachers We Wish We Had