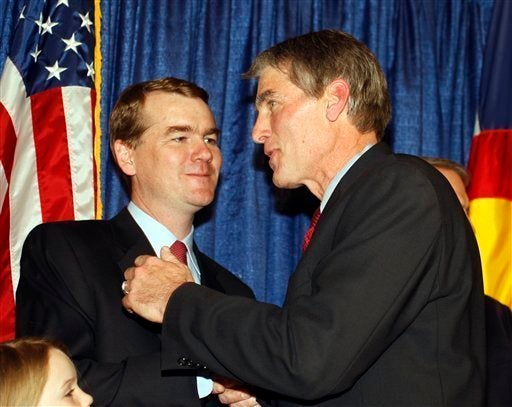 In the two-and-a-half weeks since President Barack Obama and U.S. Secretary of Education Arne Duncan announced ways in which states could overhaul No Child Left Behind without Congress's consent, lawmakers have introduced several bills that would alter the sweeping federal education law.
The latest bill, introduced Tuesday by Colorado's Democratic senators Mark Udall and Michael Bennet, would shift the measurement of student exam performance, moving from a model based on the raw number of students who pass math and reading tests to a "growth model" that would measure student growth over time.
One of NCLB's most maligned provisions requires states to report student test scores by the raw number of students who pass. The law requires that targets for percentages of students scoring above that mark, known as proficiency rates, rise annually until meeting about 100 percent proficiency in 2014. Schools and states that fail to make those targets are marked as failing under the law and face increasing sanctions.
Bennet said that a growth model that tracked student performance over an extended period would be more effective.
"The point is to create an accountability system which is actually of use to kids, parents and teachers," Bennet told The Huffington Post. "The one that's enshrined in No Child Left Behind that compares this year's fourth graders to last year's fourth graders isn't of any use to anybody who's in the field."
As superintendent of Denver's schools, Bennet helped develop a growth model now used by the state. The bill introduced Tuesday does not specify which exams would be used to set the growth benchmark, only saying that students would have to be "college and career ready," echoing the administration's own language.
The bill also allows for different variations of growth formulae. "It's not an effort to implement one growth model across the country," Bennet said.
Duncan lauded the bill after it was announced. "We need to be able to measure students based on their growth and progress, not one test taken on a single day," Duncan said. "I thank both Senator Udall for his thoughtful leadership on this issue and Senator Bennet, who has been a tireless advocate for education -- both as Denver Superintendent and in the US Senate."
The Udall-Bennet bill follows an announcement last week that Senator Tom Harkin (D-Iowa) will convene the Senate's Health, Education, Labor and Pensions Committee on October 18 to mark up a comprehensive NCLB reauthorization bill based on Harkin's negotiations with Sen. Mike Enzi (R-Wyo.).
"This reauthorization is now more than four years overdue, and our students, schools, and communities cannot afford to wait any longer," Harkin, who chairs the committee, said in a statement. "Our bill will take important steps to advance the state, local and federal partnership that is needed to improve educational equity and ensure all students graduate from high school prepared for success in college and careers."
A week prior to that, Republican senators, led by former U.S. Secretary of Education Lamar Alexander (R-Tenn.), introduced a slew of bills that would amount to a rollback of the federal government's role in NCLB.
Some believe that Duncan and Obama's Sept. 23 announcement of their waiver plan, during which they condemned Congress for failing to overhaul NCLB and offered a method to skirt Congressional approval, has prompted lawmakers to move to revamp the law. "Congress is now upset that the law is being changed by the administration and not by them," said Jack Jennings, a former education Hill staffer who now heads the Center on Education Policy. "They're hearing complaints back home that the Congress isn't doing its duty."
The Republican senate bills resemble ones that the House Education committee, chaired by Rep. John Kline (R-Minn.), has advanced. The day before Alexander announced his bills, a Kline-sponsored bill that would alter the federal government's role in creating charter schools passed the House. Other Kline bills would remove some federal controls from education spending and slash federal education programs.
Despite movement in both chambers of Congress, it remains unclear what the end game will be, given that Harkin's bill is comprehensive and Kline's measures are piecemeal.
"It's just like falling dominoes," Jennings said. "Duncan announced that he's going to give waivers, which meant bypassing Congress. That had the effect of Harkin and Enzi, the chief senators, deciding that they would make an effort to reach agreement in order to take legislative action. If they do get a bill through the Senate, that's going to have an effect on the House. People back home will say to congressmen, 'Why aren't you taking action?'"
Once the House and Senate advance their respective NCLB overhauls, a conference committee will be tasked with tying them together. "I think Kline is going to surprise everybody in the end," said Bruce Hunter of the American Association of School Adminstrators. "I see a glimmer of hope."
Calling all HuffPost superfans!
Sign up for membership to become a founding member and help shape HuffPost's next chapter