When you write about entertainment in Las Vegas you are deluged with press releases. After awhile, you can't help noticing that certain adjectives are used repeatedly and not always deservedly. Chief among these are "legend" and "legendary." Because, let's face it, those are descriptives that must be earned by the person being described. Not every 1970s one hit wonder is a legend. But in Las Vegas, the words are casually tossed around and applied to just about anyone. Of course, there are exceptions. There are some people who know the meaning and value of the words and use them most carefully.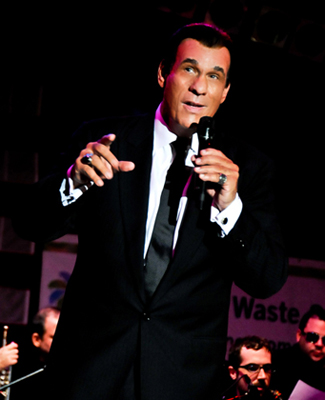 One person who knows what "legend" and "legendary" mean is Robert Davi (right) and he is doing his best to preserve the legacy of a legend while making his own dreams come true.
You probably know Davi's face, if not his name, from the scores of acting roles in which you've seen him. In addition to Franz Sanchez, the villain in the Bond movie Licence to Kill and his own 1990s TV series The Profiler, Davi is known to a generation of kids (and the parents who took them to the movie) as Jake Fratelli -- the
Fratelli brother who sings -- in The Goonies. Today, more than a quarter century after it opened, people still recognize Davi as Jake and stop him anywhere to tell him what the movie means to them.
A very accomplished actor, Robert Davi played Bond villain Franz Sanchez in License To Kill:
With several films coming coming out in the next few months, Davi is now filming The Expendables 3 with Stallone, Schwarzenegger, Bandaras, Lundgren, Snipes, Statham, Ford, Gibson and lots of other actors recognizable by just their last names. He is a busy guy. Davi loves acting, but his deepest love is for singing and for burnishing the memory of Frank Sinatra, one man who is rightfully, justly and appropriately called a legend.
As Davi explains in his show, "I was raised in an Italian Catholic home. We looked up to two people -- the Pope and Frank Sinatra. Not necessarily in that order."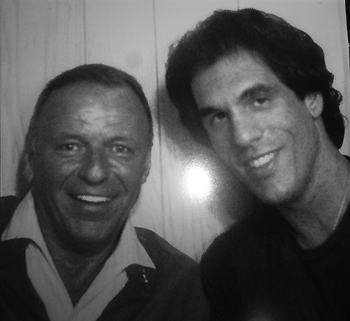 Growing up with a strong singing voice and The Great American Songbook that includes much of the music of Frank Sinatra, Davi realized a dream when Sinatra give him his first movie role in the TV film Contract On Cherry Street in 1977. (photo at left) Already enraptured with Sinatra and his career, Davi became a busy actor with well over 100 parts in film and television -- including a four-year stint starring in his own series, The Profiler (1996-2000). He is also a screenwriter and director (2007's The Dukes.)
In 2011, Davi worked with the late producer Phil Ramone on his first CD, Davi Sings Sinatra: On the Road to Romance, a collection of Sinatra's classics and, then, took his show on the road, mostly in LA and Las Vegas.
He first brought Davi Sings Sinatra to Sin City in 2012 to the Venetian Resort and Casino. He was a smash. Then, earlier this year, he was booked to open at the Orleans Hotel and Casino for legendary comedian Don Rickles. but the comedian took ill and the shows were canceled. They will finally happen this weekend at the Orleans.
"Why did I choose to do it? I wanted to pay tribute to one of the greatest entertainers of all time: Frank Sinatra, man who inspired me as a young boy. He not only sang; he also acted. He was the benchmark in music. There was an edge to Sinatra that no other singer on the Strip or anywhere has ever had. So how terrific to do my first film with him.
"Years later, when I would have lunch or dinner with him at Cubby Broccoli's house along with [lawyer] Sidney Korshak or with [SInatra's pal] Jilly Rizzo at Matteo's, I would get the lowdown first hand and the great stories of the Golden Age buried beneath the ruins of a new, emerging Las Vegas. One of the names that kept popping up in those stories was Don Rickles, and with each mention of his name, there would be an explosion of laughter."
For his part, Leach -- who's seen and known just about everyone in his 50+-year journalism career says, "You can never forget [Robert Davi]  even though the name doesn't spring to mind in an instant. He was the most villainous of villains in the James Bond movies. But in real life- and with his passion- he's a smooth as silk singer in the style of Sinatra. In fact there are many moments when he sounds uncannily like Ol' Blue Eyes and even better! 
"I bought Robert's album after seeing his YouTube performance videos. Back in the very old days when I was young I always played Sinatra when I invited a young lady to dinner at my apartment. It was always a home run. Now that I'm much older,  we have Robert and he still scores for me! It's not just the music. Its not just the words. Its not just the message. Its not just the voice. Its all of those with a splash of magic woven in- and the end result is truly astonishing: brilliant perfection!  Close your eyes, sip a champagne and kiss a lady while Davi sings. It's a passport to paradise!"
The opening with Rickles Saturday night will be the second dream in one month to come true for Robert Davi. On August 30, he returned to his native Long Island to give an outdoor concert at East Meadowin Eisenhower Park. It was attended by 10,000 people. He recalls, "As a performer you dream about reaching the biggest possible audience and you wonder how you will feel at those times. You wonder about sacrificing the intimacy with the large audience. But, the wave of response from the audience that night was tremendous.
"It was very moving. I had a great New York band. We had one rehearsal the day before and sound check. It was a wonderful New York night. I remember Sinatra at an outdoor concert in [nearby] Forest Hills. It was a great. I'll never forget it."
Of Rickles, Davi says, "Like me, he has a connection with Sinatra. In Florida, his mother Etta befriended Sinatra's mother Dolly. Etta asked her, 'Would you please ask Frank to see my son?' and that was the beginning."
"Don Rickles heard about me through Tony Oppedisao who managed him and Sinatra.. Don is just a terrific guy. He's very warm. His mind skates. He's got the mind of a 25 year-old. He'll slice you. I saw him in Westbury, New York and, backstage, after performing, he was sharp and quick-witted."
He adds, "Don Rickles is the Sinatra of comedy. He's 87 years old, one of a kind, an original. There are not many entertainers who span six decades and are continually in fashion and are respected by other comedians. There just ain't many legends around and I'm lucky to be working with one."
Davi will sing Sinatra, when he opens for Don Rickles this weekend:
High on Davi's to-do list is starring in The Voice, a script he wrote that was bought by producer Mark Canton. It's the story of a Philadelphia plumber who is "obsessed" with Frank Sinatra. The character can sing but his dreams of a career are put on hold for several reasons -- having a family and the need to earn a living, among them. Davi described it to The Hollywood Reporter as "a story with humor and heart that celebrates the Great American Songbook... and gives it modern day relevance."
He also dreams of playing Madison Square Garden and of taking Davi Sings Sinatra to Broadway.
A busily devoted dad, along with acting and music, Davi also says he wants "to affect the world." Toward that end, he often writes and serves as TV commentator on issues of the day. He serves on the steering committee of the Homeland Policy Security Institute at George Washington University and is spokesperson for i-SAFE America an educational organization concerned with cyber safety.
After checking out all Robert Davi has accomplished and all he intends to do, one might be pretty sure that, when the time is right he, too, will attain the status of "legend." It is well--deserved.
Photos: Top right of Davi performing in Eisenhower Park on August 30, 2013, courtesy of Nassau County Parks; Photo of Frank Sinatra and Robert Davi, courtesy of Robert Davi
Calling all HuffPost superfans!
Sign up for membership to become a founding member and help shape HuffPost's next chapter