 Another successful Noel Night has come to a close and I for one enjoyed it quite a bit. I got to see some holiday-themed science experiments over at the Michigan Science Center, hear Thornetta Davis at the Detroit Public Library, and view the Matisse and Picasso exhibit at the DIA. I also checked out the Scarab Club, the recently opened Auburn building on Cass Street and ate some really good chicken curry at the International Institute's downstairs café. I even got a fair amount of my holiday shopping done at places like Socra Tea and the Detroit Artists Market. My night ended with the community sing-along on Woodward and a visit to the petting zoo in front of the Cathedral Church of St. Paul. The "live nativity scene" had ducks, sheep, rabbits, an Alpaca, and what appeared to be some sort of fun-sized, novelty pony. Or maybe it was just a normal pony; I don't exactly get out to the farm very often.

In any case, Noel Night was a lot of fun; in the end my only regret was not being able to see everything I had wanted to. Of course that's to be expected with an event of that size. Noel Night has been expanding and improving for the past 40 years and long ago reached a point where there's simply no way to appreciate it all. That fact, coupled with eating way too many free holiday samples, got me thinking about how Noel Night's growth is mirrored by many of the businesses and institutions in the area.
The Detroit Historical Museum is probably one of the best examples of this. Having just reopened after extensive renovations, Noel Night was a great opportunity for the museum to show off their new and newly expanded exhibits. I stopped by towards the end of the night in the hopes of avoiding the crowds but the exhibits were still packed with visitors. Luckily people were (at least in my experience) as polite as possible when bumping into others and foot traffic moved quickly enough that I never felt as though I was about to be trapped in a quagmire of warm bodies and holiday cheer. It was actually quite a bit of fun to see The Streets of Old Detroit exhibit as crowded as the actual streets would have been.
Many of the area's businesses are also doing quite well and both retailers and restaurateurs are investing more heavily in the area as a result. In my previous Noel Night post I mentioned Rachel Lutz, owner of the Peacock Room, and her new store the Emerald. Well her retail neighbor Torya Blanchard (of Good Girls Go to Paris) has also just opened a second space in Midtown. Her new restaurant is called Rodin and it combines dancing, drinking and a uniquely Detroit take on French cuisine. From what I've heard both did brisk business during the event.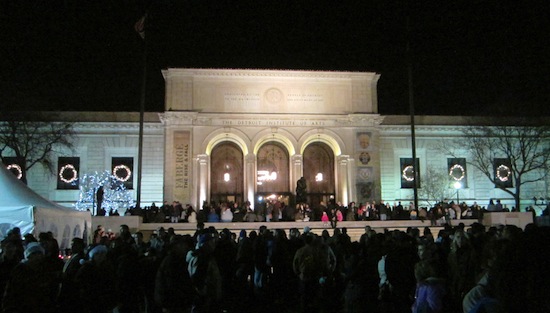 Noel Night visitors in front of the Detroit Institute of Arts (Scott McCabe, Trent Design)
Over on Canfield Street, City Bird had Santa Claus stop by for Noel Night while their sister shop, Nest, featured the Community Chorus of Detroit. Both stores are owned by Andy and Emily Linn, siblings and seventh generation Detroiters. The Linns opened City Bird in 2009 and found Midtown Detroit to be a great market for their unique, homegrown goods. Nest followed two years later. Both sell regionally made goods with an artistic flair but Nest focuses primarily on house wares.
Avalon International Breads has been a Midtown favorite for many since it first opened in 1997 but has recently seen tremendous growth. The organic bakery opened a second storefront last July, will be moving their flagship store closer to Woodward this Spring, and is planning a 50,000 sq. ft. expansion on East Forest St. in order to keep up with demand for their baked goods and to expand their product line. Not surprisingly Avalon had a line of people all the way out the door for most of the event.
Noel Night was originally created as a way to introduce people to everything that Detroit's cultural center has to offer. Fourty years have passed since then and Noel Night just seems to keep getting bigger and better. It's still a great way to kick off the holiday season but is now a great way to learn about Midtown as a whole and the many venues that are worth visiting year round.
REAL LIFE. REAL NEWS. REAL VOICES.
Help us tell more of the stories that matter from voices that too often remain unheard.