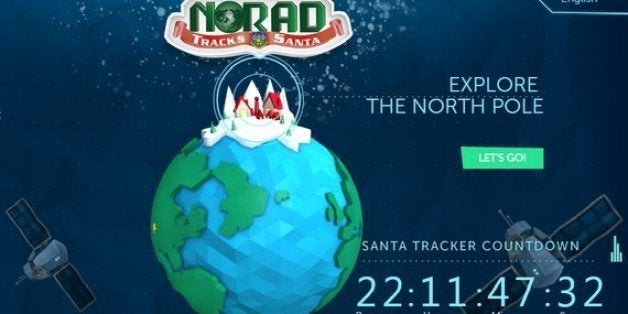 It could be my imagination, but it seems to me that the North American Aerospace Defense Command's NORAD begins preparations to track the "Santa Threat" earlier and earlier each year.
Not only that, but each year, our air and space defenders develop and use increasingly sophisticated sensors, tracking algorithms, models and communication systems to detect and track the "threat" in a timely manner and to communicate vital information to the American people -- especially to the young ones.
On December 1, NORAD mobilized all its traditional resources to address the "threat," but added a mobile version, a holiday countdown, new games, special apps and more.
For starters, the NORAD Tracks Santa website comes in eight languages, so there will be no confusion between the various nationalities that will be granting Santa safe passage as he crosses all the different Air Defense Identification Zones. The website is available in eight languages: English, French, Spanish, German, Italian, Japanese, Portuguese and Chinese.
Russian seems to be missing out, but, hey, the Russians do not listen anyway.
NORAD Tracks Santa says that its apps are available in the Windows, Apple and Google Play stores, "so parents and children can countdown the days until Santa's launch on their smart phones and tablets. Tracking opportunities are also offered on Facebook, Twitter, YouTube, and Google+. Santa followers can go to any of these sites and search for '@noradsanta' to get started."
NORAD's website also features Santa's elves in the North Pole Village and is introducing the newest elf and is asking children to help choose the perfect name for him. Watch the video below. Details can be found via NORAD Tracks Santa social media or in the "Name the Elf" video in Santa's North Pole Movie Theater, NORAD Tracks Santa says.

Starting at 12:01 a.m. MST on Dec. 24, website visitors can watch Santa make preparations for his flight. NORAD's "Santa Cams" will stream videos on the website as Santa makes his way over various locations.

Then, at 4 a.m. MST (6 a.m. EST), trackers worldwide can speak with a live phone operator to inquire as to Santa's whereabouts by dialing the toll-free number 1-877-Hi-NORAD (1-877-446-6723) or by sending an email to noradtrackssanta@outlook.com. Any time on Dec. 24, Windows Phone users can ask Cortana for Santa's location, and OnStar subscribers can press the OnStar button in their vehicles to find Santa.
While NORAD keeps adding bells and whistles to make its Santa tracking more timely and more accurate, it and its predecessor, the Continental Air Defense Command (CONAD), have been doing this for almost 60 years.
The story goes that, in 1955, a Colorado Springs-based Sears Roebuck & Co. advertisement for children to call Santa misprinted the telephone number. Instead of reaching Santa, the phone number put kids through to the CONAD Commander-in-Chief's operations "hotline." The Director of Operations at the time, Colonel Harry Shoup, had his staff check the radar for indications of Santa making his way south from the North Pole.
Children who called were given updates on his location, and the tradition was born.
Since that time, NORAD men, women, family and friends have selflessly volunteered their time to personally respond to phone calls and emails from children all around the world
And, once again this Christmas, NORAD is ready to track, escort and assist Santa as he makes his way to North American homes and to children throughout the world with a sleigh loaded with gifts for all those who have been good...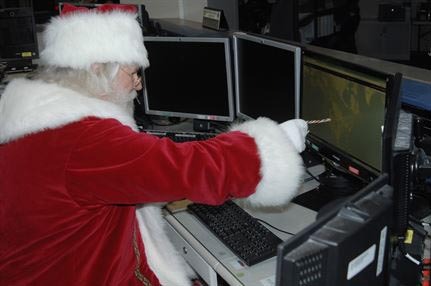 Santa Claus reviews his flight plan for his annual Christmas Eve trek across the globe in the NORAD and U.S. Northern Command Current Operations Center at Peterson Air Force Base, Colo. in this 2013 U.S. Air Force photo by Michael Kucharek.
But back to the technology.
While NORAD has been making tremendous improvements on the ground and in the air -- e.g. its fighter aircraft -- to track, escort and protect Santa, how about Santa's sleigh?
The Air Force Times' Flightlines asks the same question: "Has there been a date set for the next generation sleigh, and if so, is Rudolph out of a job?" and provides the following (non-)answer:

While the Air Force is focused on keeping prices down for its fifth-gen fighters, the service has to think about what comes next -- a daunting task given the budget cuts, which are set to return with a vengeance in fiscal 2016. But what capabilities could/should the next-gen sleigh have? Does stealth outweigh electronic warfare capabilities? Most importantly, will Santa have to pay each time a line of code is updated?
Perhaps Santa should stick to his traditional sleigh and trusted reindeer for a few more years.