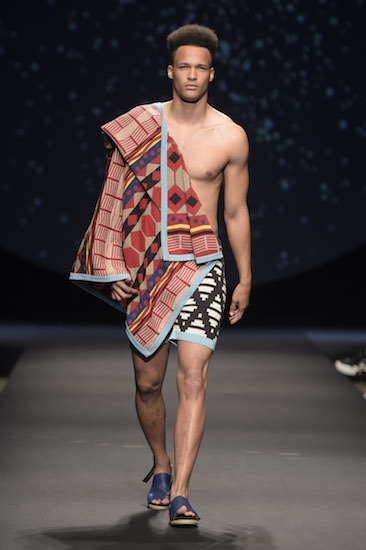 The most impressive show at this June's Pitti Uomo collections in Florence was a presentation titled "Constellation Africa". Parading down the runway were some of the best menswear looks I've seen in a long time, not just because the designs were perfectly wearable by men all over the world, but also imaginative, well made and fun beyond belief.
Behind this wonder of wax print tailored suits, traditional South African knits reinvented (see left, by MaXhosa by Laduma) and organic good looks from the continent we all most probably find our roots in, lies the ITC Ethical Fashion Initiative. And at the head of this vital organization is its founder, Simone Cipriani.
Think of the Ethical Fashion Initiative as the operational arm of the ITC's Poor Communities Trade Programme, which is a joint agency of the UN and the WTO. But that's just a whole lot of titles to try and describe the basic concept at its core: Helping humanity.
In the last couple of months, the way I shop has been revolutionized by a life-altering documentary I watched at the Festival de Cannes. Gone are my days of going to Zara and H&M to buy aimlessly, only to watch those cheap purchases sit in my closet, untouched. I now look at point of origin, and study designers' backgrounds to find out if what I am planning to buy has a conscience. Because if we hurt any of us in this world, we are hurting all of us in the end.
The Ethical Fashion Initiative encourages working cooperations between well-established designers and craftsmen and women in Africa and Haiti. The results can be magical, such as when personal favorites Sass & Bide went to Kenya in 2013 to create part of their collection, shown in the video below. Add in Marni, Vivienne Westwood and Stella McCartney, to name a few, and the mix becomes just the right amount of glamour and ethics to keep this fashionista happy.
I caught up with Simone Cipriani via email. He inspired me to find out more about his great initiative, through his class and kindness. As a lovely aside, Cipriani himself sent me an email thanking me for the piece I wrote back in June, highlighting "Constellation Africa" at Pitti Uomo. And that's what I mean by Class, with a capital "C".
Mr. Cipriani, what was the instant when you knew creating great fashion that also helped the less fortunate of this world was what you were meant to do?
Simone Cipriani: It happened when I saw the disasters of applying the mass production paradigm to a reality based on artisanal production and a social setting that is very different from what you find in Asia; big factories that risked spawning exploitation instead of providing jobs that bring a positive change in the lives of people. In the meanwhile, artisans where deprived of their market and of the possibility to use their skills. Margins are so low in mass-produced fashion goods that there were no real possibilities for artisans to engage.
When we (EFI) produced our first collection, for an Italian brand, it was an eye-opening experience. We were able to get artisans engaged in dignified work! This because the brand in question had margins that allowed us to work with artisans.
How long have you been involved in this "movement" -- ethical fashion -- which today has quite a few celebrity supporters?
How did the idea come about to make those beautiful, touching videos created by ITC with the slogan "Not charity. Just work" which introduce the world to the wide spectrum of ethical fashion associations that are possible, and necessary?
Cipriani: To establish a dialogue with consumers and brands. Consumers needed to realize it was not a charity that was asking them to buy, but a fashion brand based on pure work. We wanted consumers to realize that one can do good, simply by promoting equitable working conditions.
I loved your quote in one of the videos produced by EFI, equating Italian fashion, at its purest, to fashion coming from Africa today. You said that at its start, Italian fashion was about "artisanal production, slow movement and quality." Do you think we've lost some of that these days, with all the fast fashion the market is flooded with?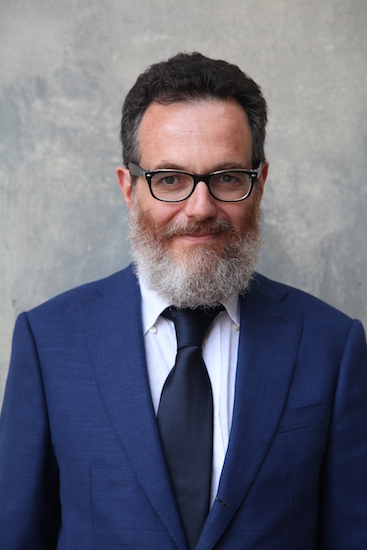 Cipriani: Indeed, I believe we lost a lot of it. Mass production and 'masstige' have endangered the survival of artisans everywhere. Italy used to be (and thanks God still is, to some extent) the product development base in the world of fashion. If you wanted to work in fashion, it was a place where you had to go. By gradually killing artisanal skills -- in order to industrialize production and increase profit margins -- we endangered this position. Wherever artisans are put aside, the society becomes poorer.
Is a strong, self sustainable African fashion industry possible? In how many years from now? And what will be the key points needed to make that possible?
Cipriani: Today, we have the phenomenon of global Afro-Politanism. This global African identity is not only confined to African markets, but also to global fashion. This has enabled several African brands to start selling on a larger scale outside and inside Africa (where the fashion market is currently booming). Nevertheless, to have a self-sustaining industry, we still need to work and invest in infrastructure for product development and production, to enable brands to compete at an international level. Many materials are still scarcely available in Africa, even the most basic ones. Just as an example, we (EFI) make shoes in Africa, and for this, we need to import threads, insoles, lasts etc.
What are your thoughts on African fabrics and materials becoming commonplace, part of the everyday clothes we wear? Could a wax print ever be as popular as a tweed, for example?
Cipriani: As I said before, this is the result of Afro-Politanism. More than a wax -- which is often produced outside Africa -- I think materials like bogolan (as an example) can become a sort of African tweed.
After the African continent, where is the next frontier for helping our fellow human beings through the wearable choices we make?
Cipriani: In terms of where we work, we have small projects in Haiti and in South Asia. The next frontier for helping... By shopping responsibly, by always asking to know the story behind products, one can improve the lives of a mountain of people all over the world. Even in Europe, even in Italy.
What do you feel is your greatest achievement at ITC? And your one regret?
Cipriani: The greatest achievement is the development of a global movement on ethical fashion. When we started we were almost alone, apart from some NGOs whose work was irrelevant in terms of market influence.
The biggest regret... To have lost the first small cooperative we created and supported in Kenya. It disintegrated and its members continue to work with the skills they acquired, but independently and on a small scale. Work is about people. Every single person lost is a blow and a regret.
Simone Cipriani, photo by Trevor Stuurman; MaXhosa by Laduma model by Giovanni Giannoni at Pitti Immagine, all images used with permission.