I've heard all the sayings.
"You never know how strong you are until you get in hot water."
"You're never given more than you can handle."
But the one that rings true for me is, "The only way out is through." And a dear friend adds, "there are no shortcuts." And there aren't. There is no way around the pain, the work, the effort the perspective shifts needed to pull ourselves out and through.

Kissing my boys and sending them off with their dad is tough. Not getting to be there for each and every moment sucks. My best-friend reminds me that this path is not for the faint of heart. That just because I am smiling and laughing doesn't mean that this choice and this path is free from challenges and obstacles and pain. But what path is?

Since writing my other pieces I have been asked again and again to alleviate the fear of the pain and the fear of the hard times, but I cannot. I once lived a life that was not fully honest and today I refuse to wear any wrapping paper. I tell them that whatever choice they make there is no easy path. That staying or leaving will both require work, sacrifice, fear and pain. That our children will be affected either way.
There is this delusion that if I stay it will be all better. Or if I leave it will be so awful. But it isn't so black and white, nothing is so simple.
I was reminded of this a few weeks back when my perfect, sweet, quiet son came to me and finally admitted (after I pulled it out of him) that he was sad that his parents don't live in the same house. That he was afraid to tell me. That he was scared I would be upset by his feelings. And as I sat there and heard my own heart break I did what I knew was right. I focused on the North Star and called his father so we could all talk about it together. And because we do our best to focus on the North Star (our three boys) my son was able to have both his parents help him through.
And as I processed the feelings and how powerless I was and how why couldn't I make this work so he would be free of pain I realized that what I was trying to do was to create a world where my son would be free of pain.
But that world does not exist. And then it hit me. The pain is the teacher. The pain is where we grow closer to God, closer to others, closer to our truest self. How my childhood was not free of pain and how that pain helped me to become who I am today. How my other son, who has potentially fatal medical conditions, taught me how to be the mother I am today through his trials. How the strongest and bravest I know are those who are walking through unimaginable hallways and how they only become more beautiful and real as they continue to walk.
I don't have a magical answer for what anyone should do in their struggle. I only know that the soul needs to grow and the soul needs light to do so. So I lean towards the light as I keep walking through. "The cure for the pain is in the pain." Rumi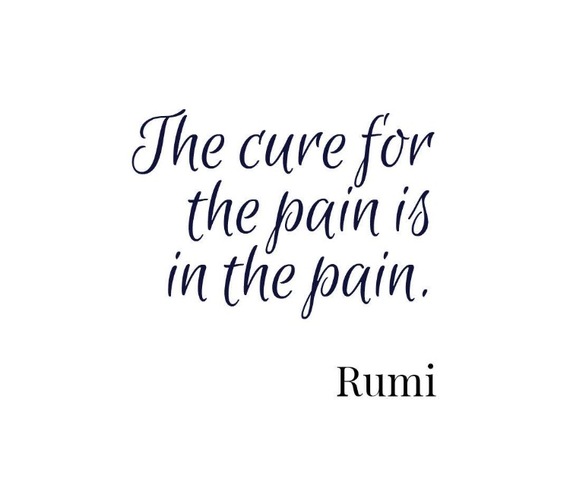 If you want to be notified about my upcoming podcast: A Beautiful Mess: Affirmations & Guided Meditations-let me know.