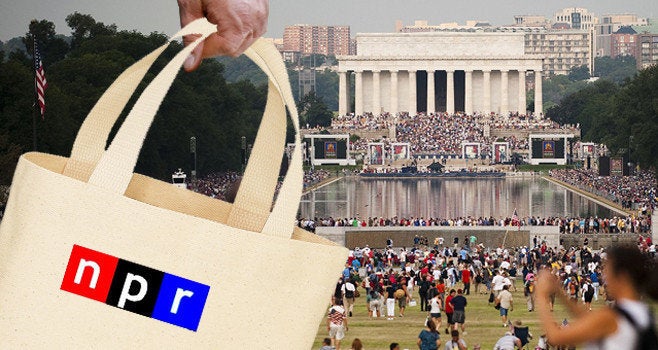 WASHINGTON -- In a rare move, National Public Radio President and CEO Vivian Schiller appeared at the National Press Club on Monday to make a public case against Republican efforts to cut federal funding for public broadcasting.
The NPR chief executive not only argued that her outlet fills a void left by a wave of cuts to private media companies, she claimed that public-radio listeners in rural areas would have no other access to news if their stations stopped broadcasts.
As for the bottom line, Schiller noted that while government funding is just one source of revenue -- approximately 10 percent, she said -- it is a "critical cornerstone" and its removal would seriously hamper the outlet's operations.
"We take this very, very seriously, it would have a profound impact, we believe, on our ability … to deliver news and information," she said during a question and answer session following her prepared remarks. "If in fact federal funding were cut … then we would be going backwards and retreating on this 44-year investment that the American people have made in this incredible institution."
During her prepared remarks, Schiller discussed in more detail how cuts could particularly hurt rural listeners:
Their government funding is a larger share of revenue -- 30 percent, 40 percent, 50 percent or more. These are areas where listeners may have no other access to free over-the-air news and information.

Modest as it is -- government funding is critical because it allows taxpayers to leverage a small investment into a very large one. It is seed money. Station managers tell me that 10 percent plays a critical role in generating the other 90 percent that makes their broadcasts possible.

The fact that we have four sources of revenue -- listeners, philanthropy, corporate and government -- helps ensure that public media is not beholden to any one source of revenue. Indeed it is through this diversity of funding that we are able to maintain our journalistic independence.
The idea that government funding is essential for NPR to maintain its journalistic independence may be a bit hard for conservatives to swallow, wary as they are of even remote media reliance on the government they cover.

But as Schiller noted, total federal expenditures aren't exactly a huge share of the federal budget. The House continuing resolution, which passed the lower chamber on Feb. 25, cuts funding by $86 million for the Corporation for Public Broadcasting, only a portion of which goes to NPR. And polls have shown that the public supports sending taxpayer money NPR's way.
Last week, two Republican senators introduced another bill to defund the Corporation for Public Broadcasting. President Barack Obama had set aside $451 million for public media in his proposed budget for fiscal year 2012.
Schiller's prepared remarks for the Press Club event appear below:
Popular in the Community