Few still doubt that today's National Rifle Association is nothing less than a trade association for the firearms industry.
But for those who do, its Report of the Secretary (listing board members who did any business with the NRA within a year in excess of $2,000) distributed at its "Annual Meeting of Members" last week in Louisville, Kentucky, offers the latest confirmation of this growing organizational and financial relationship, as seen in the excerpts below.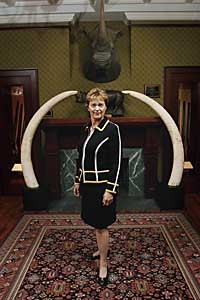 Sandra Froman (above) is an NRA board member and a past NRA president. And as of last December, she's also a board member of gun manufacturer Sturm, Ruger & Co.

And as the NRA's report notes, Sturm, Ruger definitely "does business" with the NRA. At last week's convention, the gunmaker made a contribution of four million dollars to the NRA Institute for Legislative Action, the organization's political arm. This recent check from Ruger is just a fraction of the tens of millions of dollars that the NRA has received from the gun industry.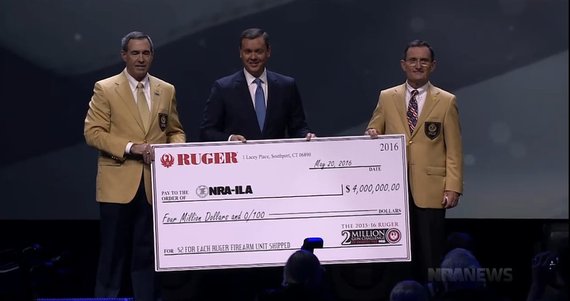 And while Froman's appointment to the board of a gun company may represent a new trend in the symbiotic relationship between the NRA and the industry, these days the presence of firearms industry CEOs on the NRA's board is merely business as usual.
There's assault weapon and 50 caliber sniper rifle manufacturer Ronnie Barrett:

Ammunition and firearm accessory vendor Pete Brownell (Brownell is also NRA First Vice President and is teed up to be NRA president in 2017, meaning that soon the NRA will actually be headed by a member of the gun industry):

As well as ammunition manufacturers Steve Hornady and Robert Nosler:


The remaining board members listed on the form include former NRA President and executive director of the Unified Sportsmen of Florida Marion Hammer, who received $172,000. Former Washington Redskin Dave Butz, who received $150,000. And former rock star and just-reelected board member Ted Nugent, who received $50,000 plus travel expenses for his presentation at the 2015 annual meeting in Nashville.

Because apparently, those epithets don't come cheap.