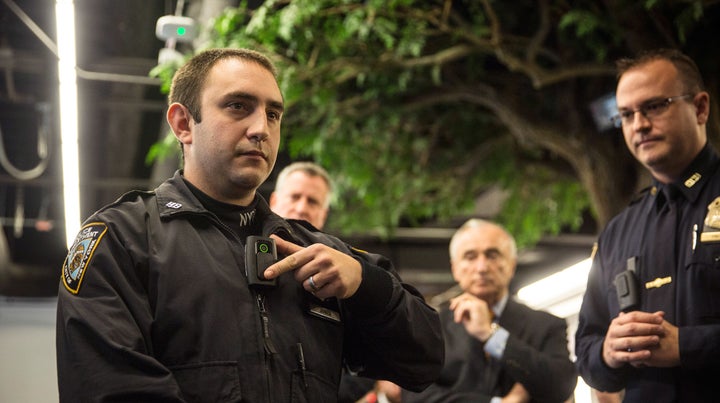 New York City police officers are about to be paid more for holding themselves accountable.
As part of sweeping contract negotiations between the city and its largest police union, the city is offering a 1 percent pay increase to those officers required to wear body cameras, according to The New York Post.
The Patrolmen's Benevolent Association has argued that body cameras are an "encumbrance" and that officers should be paid more if they're forced to endure body-cam training and the stress of being recorded. In the meantime, the NYPD is still delaying its compliance with a federal court order from 2013 that requires the city to implement a body camera program.
That delay ends next year. One thousand body cameras will be deployed in 2017, a spokesman for City Hall told The Huffington Post, and that number is expected to grow to 5,000 in 2018. (The NYPD employs some 35,800 officers.)
City Hall wouldn't comment on the union negotiations.
The Patrolmen's Benevolent Association acknowledged the pay offer while lashing out at the city in a statement on Wednesday.
"Body-worn cameras present serious concerns for the rights and safety of both police officers and the public, and those concerns need to be addressed before the cameras are widely deployed," said union President Patrick J. Lynch. "While paying police officers for wearing the cameras will not resolve these issues, it would at least signal a recognition of the increasing duties and burdens that NYC police officers have been asked to assume without any additional compensation."
Police unions generally have cited higher stress levels, greater job complexity and concerns over the privacy of both officers and civilians as arguments against wearing body cameras. But advocates for the reform contend that police unions are simply delaying to block technology that can hold their members to higher standards of transparency and accountability.
Even paying officers more won't necessarily equate to greater transparency. There's a nationwide debate raging over how much body camera footage should be released, who should spend resources to edit those videos, and whether the footage should be subject to public records requests. Several jurisdictions have simultaneously passed police body camera laws and blocked all footage from public access.
In any case, body cameras in the NYPD are inevitable. They'll eventually be required for all of the force's 20,000 patrol officers, The New York Post reports.
Popular in the Community