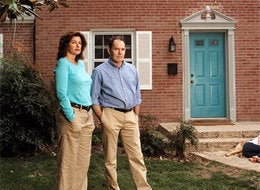 Remember the harrowing story of Edmund Andrews, the New York Times economics reporter who got himself into a debt nightmare and defaulted on his mortgage? He has a book out about it and a big excerpt in last week's Magazine. He's also all over radio and TV.
The central tension of Edmund's story is the gulf between his attitude toward his money problems (understandable panic) and the attitude of his new wife Patty (whatever). This tension is made more unsettling because Patty seemed to be responsible for much of the overspending.
The marriage tension aside, Edmund's story is told as a got-carried-away could-have-happened-to-anyone saga that many Americans can relate to, especially in an era in which "everyone was doing it." But as the Atlantic's Megan McArdle has discovered, there are key details that Andrews is leaving out.
Specifically, Andrews' wife Patty has had this problem before. Twice.
At the end of his book's harrowing account of mortgage mistakes and credit card crises, Edmund Andrews writes: "While our misadventure had certainly been more extreme than those of many other Americans, our situation was not all that unusual." And indeed the book reads like the story of an American Everyman, easily sucked in to the alluring world of easy credit as he struggled to blend a new family. The terrifying implication is that it could happen to you -- to anyone who leads with their heart and not their head.

But en route to that moral, it turns out the story has been tidied up a little. Patty Barreiro, Andrews' wife, has declared bankruptcy twice. The second time was while they were married, a detail that didn't make it into either the book or the excerpt that ran in last Sunday's New York Times Magazine.

Andrews' desire to shield his wife is understandable -- hell, laudable. No decent person wants to parade their spouse's financial trouble in front of the world. But this is material information that changes the tenor of his story. Serial bankruptcy is not a creation of the current credit crisis, and it doesn't just happen to anyone, particularly anyone with a six figure salary.

In September 1998, California bankruptcy court records indicate that Patty and her first husband declared bankruptcy... The bankruptcy code requires filers to wait 8 years after a previous Chapter 7 discharge. [In 2007], barely four months after she became eligible, Patty Barreiro filed again. And the filing shows some suggestion of strategic debt management...

Serial bankruptcies can, of course, happen to anyone with enough bad luck. But they usually don't. And when they do, they usually hit people with marginal incomes that leave no margin for error in the budget. Most people, even in LA, are able to build a sustainable budget out of an income in the low six figures.

Moreover, pesky bad luck isn't really the picture painted by either filing. Rather, Ms. Barreiro seems to have spent most of the last two decades living right up to the edge of her income, and beyond, and then massively defaulting. If you structure your finances so that absolutely everything has to go right, it's hard to blame the mortgage company when you don't quite make it.

Lots more details in McArdle's story at The Atlantic >
Needless to say, these details change the story. I understand why Andrews omitted them, but I also feel more than a little misled. The real Edmunds story is about the warped behavior produced by love, not money.
UPDATE: Ed Andrews responds to Megan McArdle:
It is hard to believe that anybody would accuse me of trying to airbrush a story in which I recount the cringe-inducing details of my calamitous plunge into junk mortgages.
But Megan McArdle, a blogger for the Atlantic, accuses me of omitting crucial information: namely, that my wife, Patty, was involved in two bankruptcies, one in 1998 with her former husband; and one in 2007, while she was married to me. McArdle says this is "material information that changes the tenor of the story," and then accuses Patty of "serial bankruptcy."
These bankruptcies did occur, but they had nothing to do with our mortgage woes. They were both tied to old debts from before we were married or bought a house. They had nothing to do with my ability to get a mortgage; nor did they have anything to do with our subsequent financial problems.
Since Patty had been so brave in letting me tell our own story so candidly, I wanted to spare her the public exposure on these older woes. But that is now impossible, so here is the story:
The first bankruptcy in 1998, five years before Patty and I got together. It occurred because Patty's former husband, a producer of TV commercials in Los Angeles, didn't file income tax returns for five years. Patty, who was a stay-at-home mom and wasn't earning money, was blindsided. She had been signing returns, but he hadn't actually been filing them. Because her husband's business income was reported on their personal tax returns, she had to join him in the bankruptcy filing.
All that happened in 1998, and it obviously had nothing to do with the story in Busted. It never even occurred to me to mention it.
Patty's second bankruptcy stemmed from a loan she received from her sister, while Patty was still living in Los Angeles. At the time, she was caring for four children, working for very modest pay, and receiving almost no child support from her ex-husband. (Despite multiple court orders, he remains chronically delinquent on untold thousands of dollars.)
When Patty couldn't repay, her sister followed her east and sued her. I offered to pay off the loan by withdrawing money out of my 401k, but I wasn't allowed to because the purpose didn't qualify as a "hardship." Without an alternative, Patty had no choice but to seek bankruptcy protection.
None of this has any connection to our story. It had nothing to do with Patty being a spendthrift, which she isn't. It had no bearing on my ability to take out a mortgage, and it had nothing to do with our financial problems.
Fortunately or unfortunately, BUSTED is a simple story: we took out a mortgage we couldn't afford, earned less than we hoped and couldn't bridge the gap.
Related
Popular in the Community