If Sasha and Malia were hoping for a snowy White Christmas, they were probably disappointed.
But who needs flurries and Rudolph when you've got sunshine and palm trees? The Obamas are on their fourth annual Hawaii Christmas vacation, spending the holidays in Barack's home state with family and friends.
Although the payroll tax drama held him up in Washington an extra week, the president joined Michelle, Sasha and Malia on Friday in time for the foursome to attend Christmas services.
The family looked summery and relaxed on Sunday as they made their way to the Marine Corps Base Kaneohe Bay Chapel on the island of Oahu. FLOTUS broke out her white Sophie Theallet sundress, last seen on the family's 2009 trip to Ghana.
Malia also chose a white dress paired with fun gold T-strap shoes. Sasha went for prints with a dark sundress featuring bright stripes around the hem. All three Obama ladies also had brightly colored cardigans in hand.
But, like the British royals, Christmas is all about costume changes. After Sunday services, Michelle switched into a neon cardigan (last seen during her UN visit in September) and a printed Comme des Garcons skirt (and Barack swapped out his polo for a sky blue button-down) for a visit with service members and their families.
Barack chatted with the children about their Christmas presents (asking one little girl, "Do you like American Girl dolls?" We do, we do!) There were plenty of adorable politician-with-baby photo opps to be had, but the cutest was when eight-month-old Cooper Wall Wagner, son of Captain Greg Wagner, took a hunk of Obama's face into his little baby hands.
See the Obama family's stylish Christmas photos below.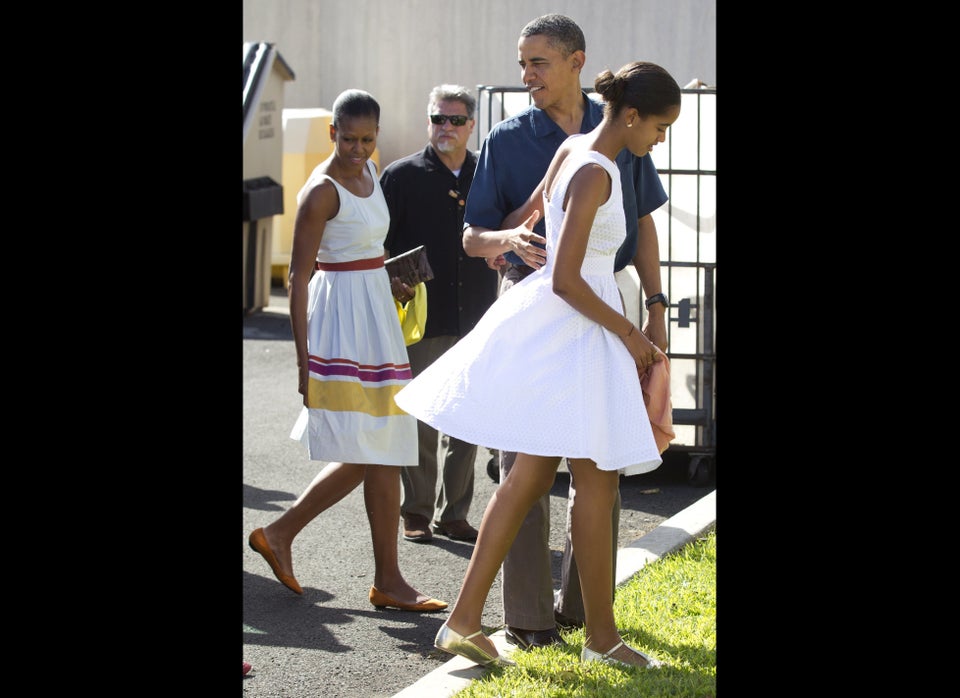 Obamas in Hawaii on Christmas 2011