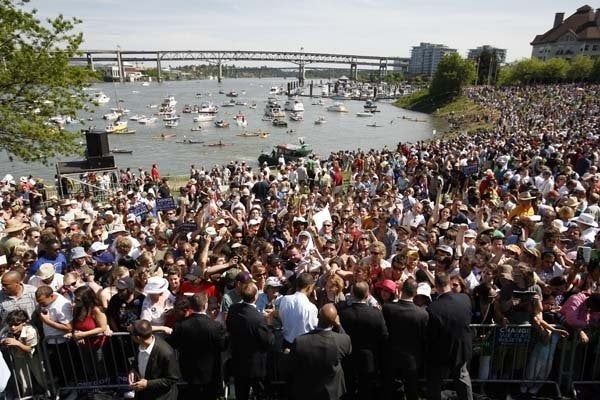 The Washington Post reports from Obama's rally in Portland, Oregon:
Sen. Barack Obama has seen his share of large crowds over the last 15 months, but his campaign said they have not approached the numbers gathered along the waterfront here right now.

The campaign, citing figures from Duane Bray, battalion chief of Portland Fire & Rescue, estimated that 75,000 people are watching him speak.

The scene suggests this is not an exaggeration. The sea of heads stretches for half a mile along the grassy embankment, while others watch from kayaks and power boats bobbing on the Willamette River. More hug the rails of the steel bridge that stretches across the water and crowds are even watching from jetties on the opposite shore.
The crowd covers the lawn here at Tom McCall Waterfront Park, from the streetside entry gates down to the Willamette River. Portland fire officials estimate 60,000 people are packed inside the park proper and another 10-15,000 are watching outside the gates. Spectators are lining the bridge behind Obama and watching, bikini-clad, from boats on the river.

The stump speech is Obama's standard riff - 30 minutes long and counting now, despite the sun beating down on the candidate. He's added a few Oregonian flourishes, drawing big cheers when he said the country can learn from Portland's commitment to mass transit and bicycle lanes. The biggest applause came when he denounced the Iraq war; Oregon is a hotbed of anti-war activism.

At one point, someone in the crowd shouted an expression of love at Obama. He broke his speech for a moment: "I love you too," he said.

"If you vote for me on Tuesday," he said, "We won't just win Oregon. We'll win this nomination, we'll win this general election. And you and I together, we'll change this country, we'll change the world."

Seventy-five thousand people seemed to like the sound of that.
Here's a slideshow of scenes from the rally:
Support HuffPost
The Stakes Have Never Been Higher
Popular in the Community