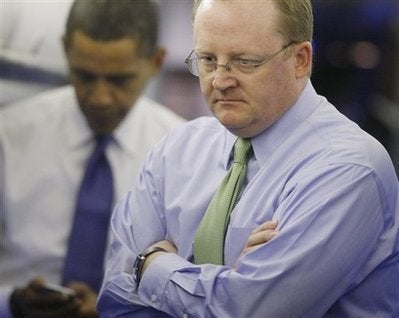 Robert Gibbs, Obama's designated press secretary, conducted a short radio interview on Sunday, in which he insisted that any forthcoming stimulus package would fund programs that were immediately operative and not long-term investments.
"When he met with the governors a few weeks ago, they were very much wanting his help in making sure that we were cutting through red tape and the projects that we are looking to fund are, as the governors said, shovel ready," Gibbs said. "They are not into projects that have to sit on the shelf for a long time, but, instead are projects that can be funded and put people back to work immediately. That is what is key for an economic stimulus plan."
The remarks aren't politically surprising. There is little will in the political world for planning far down the road. Moreover, the Obama administration has stated its intent to spend, regardless of the deficit, in order to get the economy moving again.
But what is interesting about Gibbs' remark is how cognizant it is of the financial wave the Obama team is up against. In pure economic terms, things are likely get much worse before they get better. On Sunday night, "60 Minutes" touched on the incoming round of new home foreclosures that are likely to result from a bump in interest rates.
Making matters worse, the Obama team is unlikely to have many partners in confronting this task. State governments are in as bad -- if not worse -- shape than their federal counterpart. Already, bitter pills are being swallowed. In New York, on Monday, Gov. David A. Paterson is set to propose a $4 billion package of taxes and fees on a whole host of non-essential items. The Empire State's deficit has ballooned to $15 billion. In California, the budget crisis could extend to $40 billion.
With local politicians unable to help much, the Obama team is left with virtually no margin for error. The stimulus package is not a silver bullet -- nor has the incoming president claimed it to be one. Obama has stated on several occasions that he expects economic struggles to continue into the early years of his administration. But the economic gurus on his staff seem to understand that any money spent must be done wisely and with the promise of strong returns.
Popular in the Community