 Students from Georgetown University, George Washington University, members of the foreign press and other sightseers gathered in front of the executive mansion.
Aarti Sardana, 22, a recent George Washington graduate, celebrated President Obama's 2008 victory and the 2011 death of Osama Bin Laden outside the White House. "There's no feeling like this. It's why I went to G.W. I can't live here and not do this."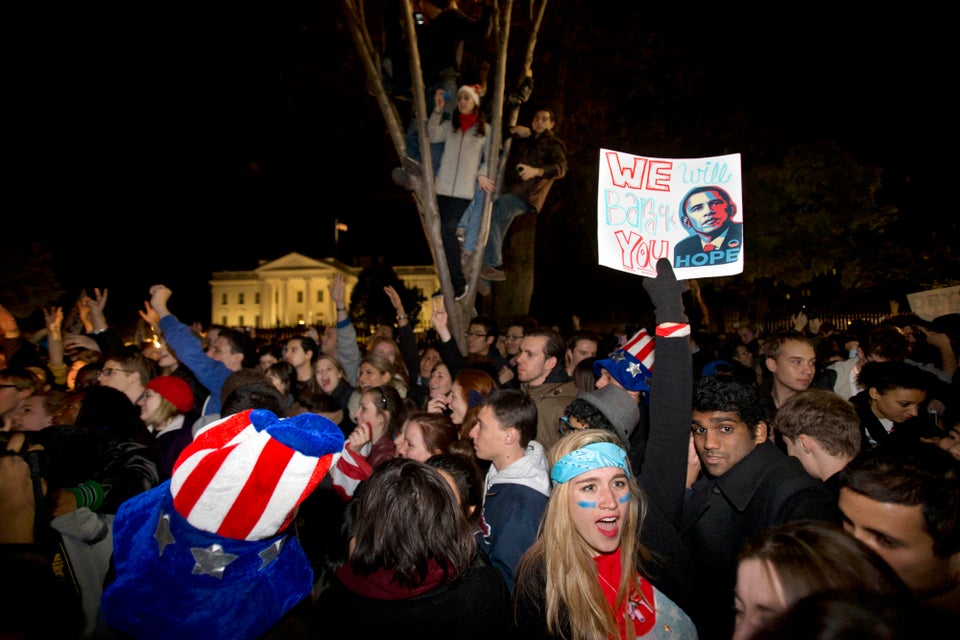 2012 Election Night White House Celebration
Virginia Yuan, a 30-year-old recent Georgetown business school graduate, moved to the nation's capital four years ago from Los Angeles, but said that this was her first celebration outside the White House. "My friends and I were watching the returns a few blocks away. Once it was called we hopped in a cab and rushed right
over."
Aidan Hussin, a 20-year-old George Washington University political science major said he was not only celebrating Obama's apparent victory, but the first election he was eligible to vote in. "I'm estatic to be down here. I'm getting a feeling of history."
The "die-hard" Obama supporter volunteered for the Obama campaign at age 16 and based his decision to attend college in D.C. around Obama. "I wanted to see everything we accomplished. I'm so proud. I hope he can deliver on his campaign promises."
People continued to gather outside the executive mansion more than an hour after the apparent Obama victory projection was made major news networks.
But some of the revelers have class in the morning. Heard loud and clear over chants of "U.S.A." and "Obama" was an unnamed George Washington University undergraduate screaming to her friends: "I legitimately have a paper due tomorrow!"

Popular in the Community