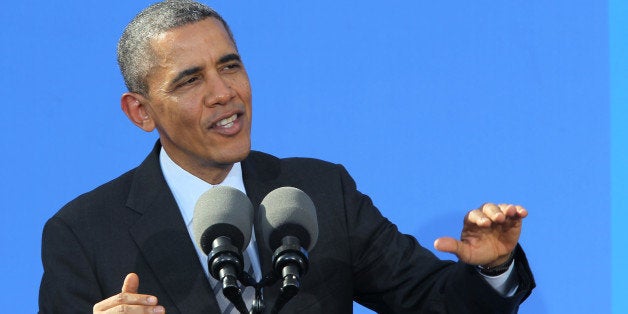 After Thanksgiving comes Black Friday. After Black Friday comes ... Obamacare Saturday?
Saturday is the deadline for President Barack Obama to make good on his vow that HealthCare.gov, the online portal to health insurance enrollment in more than 30 states, will be much improved by the end of November, compared to its bad first month and somewhat better second month.
"We're now poised to gain health coverage for millions of Americans," Obama said during a Tuesday speech in Glendale, Calif., outside Los Angeles. "The website is continually working better, so check it out."
Saturday represents the unofficial start of what could be the first major wave of health coverage enrollments across the nation. A mad rush may ensue as consumers scramble to sign up for health benefits, testing the administration's technological fixes and offering a clearer glimpse of how the first year of Obamacare will turn out. A deadline looms on Dec. 23 for people to choose a health plan that will be in place on Jan. 1.
"There is a fair amount of pent-up demand and, assuming that the websites are working better, I think people will sign up in large numbers in December," said Jon Kingsdale, a Boston-based director at Wakely Consulting who was the executive director of the Massachusetts health exchange when it launched in 2007.
In the meantime, consumers like Michael and Danice McGrath of Illinois are stuck in a "holding pattern," Michael wrote in an email to The Huffington Post.
"We're trying to use the Obamacare online marketplace and it's just not working," he wrote. The McGraths are among those whose current policies can't be renewed because they don't meet the Affordable Care Act's standards. "I'm an Obama supporter (still am) who is extremely frustrated because this 'fumbled rollout' was so utterly avoidable and has given enormous ammunition to his political opponents," he wrote.
The enrollment period for next year runs until March 31. After that date, consumers can only use the exchanges if their life circumstances change, like if they get married, have a child or move to a different state, until the beginning of the 2015 sign-up period on Nov. 15, 2014.
Behind those disappointing early results are signs that enrollment could spike soon. During the same time period, 1.5 million people completed applications for tax credits to cut their insurance costs and more than 200,000 more had applications pending. And sign-ups appear to be accelerating in states like California and New York that are running their own insurance exchanges.
"These are people who persevered through a lot to get to that point, so I have to believe they're motivated to sign up for insurance and are likely to come back," said Larry Levitt, co-executive director of the Program for the Study of Health Reform and Private Insurance at the Henry J. Kaiser Family Foundation in Menlo Park, Calif.
HuffPost readers: Do you plan to try HealthCare.gov or a state-run health insurance exchange website in December? Tell us about your experience -- email jeffrey.young@huffingtonpost.com. Please include your phone number if you're willing to be interviewed.
Health and Human Services Secretary Kathleen Sebelius told local and state government officials that it's time to send their constituents back to the HealthCare.gov website. "I would urge you and your folks on the ground to not hesitate to recommend that people go to HealthCare.gov and get signed up," she said during a conference call Tuesday. And Organizing for Action, the successor of the president's campaign operation, is urging families to talk about health coverage during the Thanksgiving holiday.
Currently, the website can handle 25,000 simultaneous visitors, Julie Bataille, a spokeswoman for the Centers for Medicare and Medicaid Services, said during a conference call with reporters Wednesday.
"We have a lot left to do still over the next few days, including additional hardware upgrades and software fixes," Bataille said. "To be clear, Nov. 30 does not represent a relaunch of HealthCare.gov. It is not a magical date. There will be times after Nov. 30 when the site, like any website, does not perform optimally and our work will continue."
During the rocky first two months of the exchanges, health insurers and advocates scaled back their outreach, promotion and marketing, because enrolling via HealthCare.gov was so unreliable. Administration allies and health insurers will start gearing back up for these activities soon, and their efforts will be crucial to boosting enrollment and winning over consumers who are skeptical of the exchanges, Levitt said.
"The outreach campaigns between now and the end of the year are critical. It's now a bigger hill to climb than it even was in the lead-up to Oct. 1," Levitt said. "It's not just informing people about their options and encouraging them to enroll, it's kind of overcoming the perception of this as being messed up."
HealthCare.gov may already be performing well enough for consumers to shop for coverage, said DeAnn Friedholm, the Austin, Texas-based director of the health reform campaign at Consumers Union, the publisher of Consumer Reports. "We're hearing stories from people who are being able to get through fairly easily to the point of at least being able to review the plans," she said.
These potential troubles aren't a reason to hold off on shopping for and enrolling in health coverage, though, Friedholm said. "The longer you wait, the greater the chance is you will be stuck, as the Dec. 23 date is quickly approaching," she said.
This post has been updated with additional information from the Centers for Medicare and Medicaid Services.
Calling all HuffPost superfans!
Sign up for membership to become a founding member and help shape HuffPost's next chapter
BEFORE YOU GO
PHOTO GALLERY
Health Care Reform Efforts In U.S. History