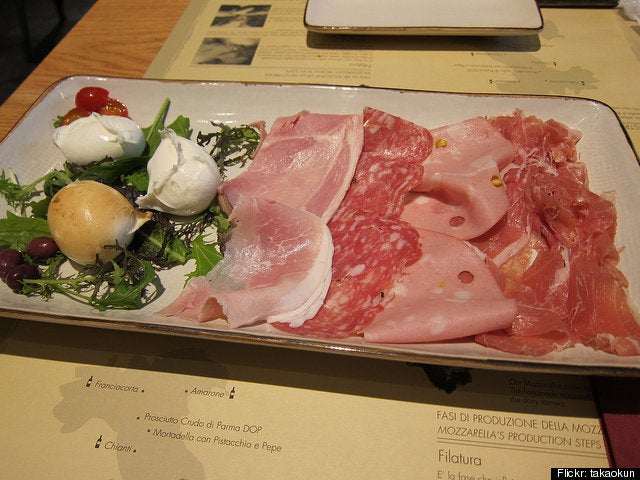 The seductive voice with the lilting Italian accent was unmistakable - my dear friend Luciana Paluzzi Solomon was calling to tell me about an amazing mozzarella bar that had just opened in Century City. I told the former James Bond Girl (she played the Spectre assassin in Thunderball) that I had been tracking OBIKA since it had originally opened in Rome and then in New York. "Well, we're going back on Sunday night with the owners and some friends, so come join us...it's really incredible." My friend's words are my command, so at the appointed hour I drove over to the Westfield Shopping Mall (10250 Santa Monica Blvd., Century City (310) 556-2452), with its AMC 15 theatres and multitude of stores, followed the green light to an open parking space near the Gelson store, and ascended to the second floor where, adjacent to the Borders book store, was the striking new location of this rather remarkable, oh so Italian dining experience. (Once the lingerie store called Frederick's of Hollywood, it has been completely transformed into one of the coolest, most inviting locations in the center.)
A little background from General Manager Gregory Cohen informed me that Obika is the brainchild of Silvio Ursini, who debuted the first one in 2004 in Rome by fusing the Neapolitan celebration of Mozzarella di Bufala with the reverence for ingredients and style which characterized Japanese cuisine. Think of an Italian cheese-and-smoked meat version of a cool Japanese sushi bar and you have some idea.
Raimondo Boggia is the owner of the franchise in the Western U.S., and will be opening more Obikas in the city.
This night I was with Ursini's longtime collaborator, Raimondo Boggia, president of a company called B Ventures USA, which has the rights to open them in many Western U.S. states. "Obika has 14 locations in five countries," he told me, "including London, Kuwait, Tokyo and New York at the IBM Building on Madison Avenue." I inquired as to the hours, and his charming, internet-savvy wife Nilde said they would be open daily for lunch, 'aperitivo hour,' and dinner. Three hour complimentary parking is included. "We deliver our food to offices in and around Century City at present," he added, "and of course we have a big take-out trade." When asked what the name meant, he laughingly said, "It's Neapolitan for it's about time, or here it is," or words to that effect. He mentioned off-the-cuff that they will be opening shortly on the sixth floor of the Beverly Center, and I suggested they look into the Santa Monica 3rd Street Promenade.
Platter of smoked meats: Prosciutto, salame, mortadella, speck.
The Classica Mozzarella is flown in three times a week direct from Italy.
I mentioned that Nancy Silverton had joined with Mario Batali to open Osteria Mozza in 2007 and placed a mozzarella bar right in the center of the space; he said, "Imitation is the sincerest form of flattery; she saw our original in Rome and was dumbstruck by the idea, following up as soon as she could." What's the attraction of a mozzarella bar? Hey, I like this rather bland cheese...but a whole restaurant devoted to it? I quickly discovered that it was more, much more, than just a cheese bar. For one thing, Luciana explained to me that the pasta they were serving was the exquisite Pasta di Gragnano, the latter being the home of the best dry pasta in Italy, made with a special local variety of durum wheat and extruded/shaped with ancient bronze dies which give it its rough texture, then dried slowly in the balmy sea air of the town; the resultant pasta has a distinctive nutty, chewy quality. (Goodbye, DeCecco, my heart is with Gragnano.)
Homemade Ricotta Cheese and Spinach Ravioli with sage and butter sauce.
Obika imports its Mozzarela di Bufala Campana DOP from Italy three times a week, so diners in Southern California are eating mozzarella that is just as fresh as diners in Rome or Milan, perhaps even fresher. In addition, they offer an array of imported meats which intrigue and please me equally well. I am a huge fan of great mortadella, and here the Mortadella di Bologna IGP is large slices of the cooked pork sausage, pink in color, very fragrant, with a rich taste thanks to the pieces of fat giving sweetness to it. Speck is a slightly smoked prosciutto typical of South Tyrol, very fatty with a spicy and smoky scent, just delicious. Of course, the prosciutto they serve is excellent, Prosciutto Crudo di San Daniele DOP, from mountainous Northern Italy. The rest of the larder is equally impressive: salami, Parmigiano Reggiano (it takes eight quarts of milk from cows fed only grass and hay to make one pound of cheese), and a Carasau bread from Sardinia called 'carta da musica' because of its thin and crispy circular sheets.
The Fried Vegetable Sampler is wonderful.
Platter of Smoked Wild Alaskan Salmon.
The menu is extensive, interesting, and I am just beginning to explore its infinite varieties, which I will report on in future epistles. You'll note that I haven't used the much-maligned word 'artisanal' once, but if it ever was fitting, this is the occasion. Raimondo chatted with me and our other companions, Gary Winnick and lovely wife Karen (author of the wonderful children's nook, Lucy's Cave), and Michael Solomon, that he had met Silvio when both worked at Bulgari, the very upscale Italian jewelry designer, and this dining venture was many years in the work, refined and tooled until they were satisfied it was a singular, worldly experience. Maria Clemente's Studio Labacs designed all 14 Obika Mozzarella Bars, while architect Stephen Jones (Spago, Anisette) implemented the design here. This night we sat at a round table beside the long light wood communal bar sporting decorative glass-crystal containers containing the mozzarella and marinated vegetables. I was told the cheese is kept at a constant temperature in a brine solution. The thrice-weekly cheese delivery includes smoked affumicata, creamy stracciatella di burrata, and the delicate classica all made with milk from water buffaloes. You can sample them alone or served alongside the meats I've mentioned, as well as specialty rolls with either ham and radicchio, bresaola and arugula, or smoked wild Alaskan salmon. Non-cheese plates include warm crostini with a delicious spicy sausage pate from Calabria; the fiery flavor comes from 'peperoncino' hot chili peppers. My favorites this night included the homemade spinach/ricotta ravioli and a hearty bowl of Gragnano Schiaffoni Pasta with its Mozzarella di Bufalo and a dollop of sweet tomato sauce. Luciana gave me a taste of her trofie pasta with basil pesto while her husband, Michael, shared his Grilled Eggplant Parmigiana. All desserts are made in-house, and a tasting of three delicious sweets is only $10.
Chocolate Almond Cake, Tiramisu, and Ricotta Mousse with Honey, Orange Peel and Pine Nuts.
Drink-wise, they have a full bar, with some interesting martinis, as well as Italian beers and a wine list heavy with Tuscan/Campania/Sicilian wines. I enjoyed a rare Sicilian red.
OBIKA is a restaurant 'to dine for,' to make a bad pun. But yes, it is an extraordinary and delicious example of Italian dedication to detail, fun and frolic, and exuberant enthusiasm for food in its infinite varieties. Ciao for now, I'm off to Obika!
Popular in the Community