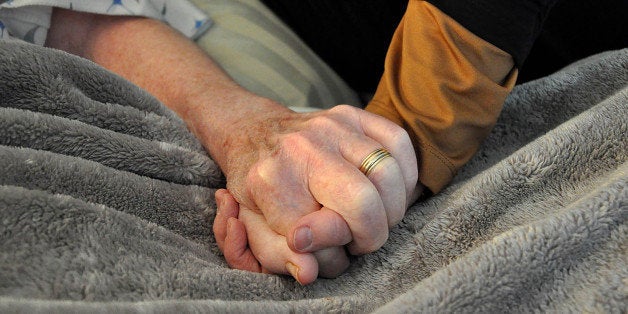 When Mrs. L was in the end stages of congestive heart failure at age 91, she made it clear to her daughter and caregivers that she wanted to die in the Bronx apartment where she had lived for nearly fifty years--not in the hospital. Her daughter was nervous about being able to handle her mother's death in the home, both emotionally and logistically, and wondered if the hospital wouldn't be a more appropriate place when the time came.
Over the course of her mother's final five weeks of life, the daughter worked closely with hospice professionals, who listened to her apprehensions and educated her about what she could expect. They discussed how the disease was likely to progress, what symptoms her mother might experience, and what the daughter--along with the hospice team, who was available for around-the-clock support--could do to keep her mother as comfortable as possible and at home.
"We created a blueprint for moving forward," explains Luis Leighton, a registered nurse with the Visiting Nurse Service of New York's Hospice and Palliative Care Division. "I painted a picture of what the disease entails and what might happen over time. She may lose a lot of weight, the appetite may eventually go away, and in the end, what the daughter most needed to do was just to be present."
Many studies show that the vast majority of Americans, when considering end of life, say that they would prefer to die at home rather than in the hospital. And, while numbers are moving upward--the percentage of people age 65+ dying at home rather than in an institutional setting has risen from 15% in 1989 to 24% in 2007--most Americans still die at odds with their wishes: that is, in a place other than the place they call home.
Among our goals in hospice care, which brings quality of life to end of life for both patient and families, is to understand each individual's goal for the final months and final moments, including place of death. We then bring all the resources, expertise and support of our hospice team to bear on helping people achieve those goals.
To Call 911 or Not to Call
I was talking with Luis and other hospice workers recently about what happens when families call 911 during the dying process, and how that can affect the last moments of life. He started with Mrs. L's story. "This is a success story," he said. "She specifically mentioned that she did not want to go to the hospital, that it would have robbed her of the time she had left with her daughter. But I think if we hadn't educated the family, they would have called 911 in distress."
By contrast, Luis remembers another client, in final stages of renal failure, whose changes in breathing alarmed her family and prompted them to call 911. They also called Luis, but the call to 911, by mandate, necessitated action by law enforcement and first-responders. "I got to the apartment and saw the ambulance outside," Luis recalls. "The police and EMS were crowded into the apartment. The family was in upheaval. The daughter was not able to grieve the passing of her mother at the moment because she was answering questions from the police. It was sad."
It was also very human. "Sometimes, even after everything we do to work with the family, that anxiety takes over," Luis says. "The daughter said she wished they hadn't called 911 and that their mother had just passed in the home surrounded by the family." The family is longing to hold on a little longer, and there is a natural human instinct to do something.
New Yorkers, after all, are people of action, and the city has many excellent hospitals that provide life-saving care all the time. This can sometimes color expectations for family members not ready to move away from curative care, notes Joel Karlin, VNSNY Hospice social worker. "We have people coming to us from the foremost hospitals in the world and saying, 'This didn't work, try something more.' Or, 'I read online...'" he says. "Even when death is very imminent, some people still hope for cure."
There are some for whom dying at home is not possible or desired, and our goal here is to help them identify and get to the place of their choosing. One such place is VNSNY Haven Hospice Specialty Care Unit, an inpatient unit located in a dedicated wing of Bellevue Hospital providing specialized end-of-life care in a setting that promotes comfort and dignity. Joel recalls one patient who had young children and did not want them to associate the home with his death. At the very end of life, the hospice team helped him arrange support for his children and transportation for him and his wife to Haven, where he died peacefully hours later.
'Normalizing' End of Life
We often hear from family members that they find great value in our Guide for Family Caregivers, detailed information on how to handle such common end-of-life symptoms as breathing problems, pain, changes in behavior and sleeplessness. The piece details several signs that may signal a loved one is transitioning from life to death, such as no appetite or urine output, and changes in breathing sounds and patterns.
We encourage people to be a calm presence, to hold the loved ones hand, to call in others who wish to be present, as well as call Hospice for support. Hearing is the final sense to go, so we encourage family members to continue speaking to their loved one, reassuring that everything is all right.
"What we are trying to do is normalize what they are going through," says Joel. Death, after all, is not an aberration but a universal end we all one day meet. "We want the family members to know what the very end of life looks like and what they can do when the time comes. What can they do? Literally, just hold your loved one's hand."
Sometimes it's hard to understand how such a seemingly small gesture could ever be enough, but what our hospice workers see time and time again, is the power of just that single act: holding a hand, and letting go.