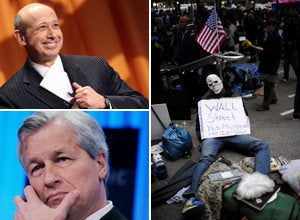 As protesters continue to camp out in Manhattan's Zuccotti Park and other locations around the world, some activists have found a new venue to occupy: inboxes.
When visitors come to the site, they can click on executives and board members from a myriad of different banks and an e-mail form pops up with instructions including: "Give your message a relevant, passionate title" and "Remember, be polite!" In a note at the bottom of the site, the activists behind the site write that they have the contact information for the bank execs, but that they can't share it due to legal constraints.
But some think the protesters should lay off the big bank officials. New York City Mayor Michael Bloomberg -- a billionaire himself -- chided the protesters for picking on Dimon after they marched on his home, the Observer reported.
The Occupy Wall Street movement, which started in Zuccotti Park on September 17, aims to protest income inequality and corporate greed among other things. The protests have spread across the country and around the world.
Related
Popular in the Community