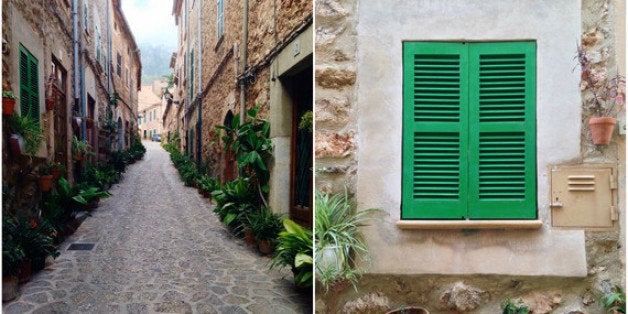 Fog rests atop the blue-green mountains as the winding road comes into view of the rustic, sandstone village of Valldemossa. Colorful vegetation lines the steep and narrow streets, and the scent of wood-burning fireplaces fills the air. Light rain mists against the dramatic backdrop of the Serra de Tramuntana mountain range, providing an atmospheric ambience to a quiet afternoon.
This is not the image that came to mind the first time I pictured Mallorca, the largest of the Balearic Islands in the western Mediterranean. Mallorca may be a popular destination for lovers of sun, sand and beach resorts, but it has much more to offer, including beautifully-preserved and unspoiled landscapes.
I recently took a short getaway to Valldemossa and Deià in northwestern Mallorca. In the off-season, these are the perfect places to spend a few days relaxing amid lush, green countryside and glorious autumn foliage. The incredibly picturesque settings of these small villages have garnered them a place on many a summer tourist itinerary when the streets are congested with tour buses, but they are stunningly tranquil at this time of year.
Nestled a few kilometers apart within the Serra de Tramuntana, Valldemossa and Deià are only about half an hour from the capital Palma de Mallorca. The area has rich and varied history, and Valldemossa's name dates back to the Moorish conquest: "Vall de Musa" (Valley of Musa, a Moorish ruler).
Valldemossa provides a great base for hiking and is famous for its Chopin connection, while Deià has long been home to expat artists and provides sweeping sea views from its hilltop setting. Here are a few things to look forward to if you decide on a visit:
Wander the charming streets of Valldemossa and try the local speciality
Just about every street in Valldemossa looks something like a fairytale. While you're there, stop into a cafe and enjoy coca de patata, a soft potato roll you can dip in deliciously thick hot chocolate. Since the Serra de Tramontana is the rainiest region of Mallorca, I was happy to hide from a brief downpour while enjoying this warm and delicious treat.
Pay a visit to Chopin's former quarters
Frédéric Chopin and his lover George Sand spent the winter of 1838-1839 in this 13-century Carthusian monastery (now the Royal Charterhouse), and as a result, the city's name has become linked with that of Chopin. At the former monastery, you can see the room in which Chopin stayed and the piano he played. Its beautiful gardens are a pretty sight as well.
Go for a hike in the Serra de Tramuntana mountains
Awarded UNESCO World Heritage status in 2011, the Serra de Tramuntana range is rugged country, far from the image of beachy, developed Mallorca. I didn't have time to go for a lengthy hike, but Valldemossa is a great base for exploring these mountains and I'm looking forward to spending more time in them on my next visit.
This tiny cove is a nice 20-minute walk from Deià, and the rocky cliffs surrounding the water make it feel like a hidden treasure. Cala Deià can be very touristy in the summer, but we enjoyed the views in near-emptiness in this off-season with hardly anyone else in sight.
Pay homage to literary figures
Resting atop Carrer es Puig (which seems to be the only main street in Deià) is a beautiful cemetery where English writer Robert Graves (I, Claudius) is buried. I always enjoy a visit to a cemetery, and this one is particularly lovely with views of the olive trees dotted along the mountains as they slope into the sea. "La Casa de Robert Graves" is just a short walk away if cemeteries aren't your favorite. American author Anais Nin also visited Deià and wrote a story set here.
Flights: British Airways, Iberia, and KLM are among major carriers flying to Palma de Mallorca from the US and Europe. Since flights from the US to Palma require at least one connection, consider adding it on to Europe trip through budget airlines RyanAir or EasyJet. Just don't forget to check baggage restrictions on budget airlines.
Lodging: Since I'm a budget traveler, I like to stay in an Airbnb rental as a way to save money, have the chance for an authentic experience, and meet locals. So far, it's worked out well for me every time.
Get around: If you don't want to hire a car or a taxi, you can reach Valldemossa or Deià by taking bus L210 from the capital Palma de Mallorca. The same bus also connects the two villages.