Art for Every Home
Associated American Artists: 1934-2000
Grey Art Gallery, New York University
I recognized the bathing suit immediately. It was the one that I tried on sometime in the 1950s, in a cramped changing booth at the dry goods store on Park Avenue in Long Beach, NY, my hometown. I remember distinctly that it didn't fit, the boning in the bra standing at least an inch away from my thin, undeveloped chest. I settled for an unknown brand, a suit that had splashes of yellow daisies and was much less elegant and much less expensive.
I knew nothing about the Catalina Swimwear and Sportswear Company then, although I had seen their ads, with male and female models sporting suits made out of the same fabric. Only decades later, did I learn that from 1952 to 1956, Catalina promoted suits made from Signature Fabrics, sewn from textiles made by Associated American Artists (AAA).
Using the slogan, the "easiest way to collect fine art...and pretty compliments," Signature Fine Art Fabrics pitched their ads to artistic women who sewed their own clothes. "There's a whole gallery of new, exciting originals...all on fine combed Sanforized cotton, with the artist's name and design title on the selvage," the ad read. You can find them at fabric counters in the U.S. and Canada. Fabric counters, ah, the thought of them stirs up memories of bolts of cloth and rulers, threads everywhere. Now, gone.
Currently up at New York University's Grey Art Gallery until July 9th, Art for Every Home: Associated American Artists, 1934-2000, is a compelling exhibit that illuminates how AAA brought art collecting to the middle and upper-classes in America. Divided into five chronological sections, The Dawn of an Enterprise, Art for Commerce, AAA and World War II, Modern Art in Your Life, and "Pretty as a Picture": Fashion and Furniture for the Masses, the show was organized by Elizabeth G. Seaton and Jane Myers for the Marianna Kistler Beach Museum of Art, Kansas State University, Manhattan, Kansas. After it leaves Grey, it will travel to Syracuse University Art Galleries, where it will be on view from January 26 to March 26, 2017. Another venue was cancelled when the American Textile Museum in Lowell, Massachusetts closed down.
"It's fascinating to see how traditional painters and sculptors transformed their craft by experimenting with less conventional mediums like textiles and ceramics," says Lynn Gumpert, director of Grey Art Gallery. "The Associated American Artists was ahead of its time not only for the types of artwork created but also in terms of its business acumen. It's been exciting to see students learn about these innovative marketing techniques and corporate commissions which go back to the 1930s and 40s, but still resonate today!"
Launched in 1934, after the trials of the Great Depression, AAA was founded by Reeves Lewenthal, who wanted to help artists support themselves by expanding the art market. The idea was to produce and distribute original, signed prints in editions of 250, to be sold for $5 each. Within one year, AAA produced their first mail-order print catalogue which continued for 49 years, and which was known for selling mail-order prints of such artists as Thomas Hart Benton, John Steuart Curry, and Grant Wood.
Although smoking was discouraged in my home (with ash trays wiped out seconds after smokers ground their butts there, producing a horrible smell), I most certainly remembered the print ad campaign for Lucky Strike cigarettes which ran in newspapers and popular magazines. The ad featured James Chapin's Boy, That's Tobacco, an oil on canvas from 1942, which was commissioned by the American Tobacco Company. In the painting, a peaceful, farmer (with a hint of a smile) gazes at the golden, oversize tobacco leaf in his hands, against a backroad of golden fields and blue sky. Evidently, Lewenthal was a master at attracting business clients who not only included Lucky Strike but also Maxwell House Coffee. One ad for the coffee featured Luigi Lucioni's View of Route 7 in western New England with the tag line, "And It's Maxwell House wherever you go."
By the late 1950s, under the leadership of Lewenthal's successor Sylvan Cole Jr., AAA began to produce museum-quality exhibitions and catalogues for its New York Gallery, located first on Madison Avenue in 1936 but relocated to 663 Fifth Avenue in 1956. Susan Teller reflects on the years, 1973-1988, that she spent working at the gallery in an essay in Art for Every Home, the catalogue accompanying the exhibit, distributed by Yale University Press.
According to Teller, there were one-person shows of the estates the gallery represented, including artists Stuart Davis and Lyonel Feininger; exhibits of other established artists such as Isabel Bishop, and exhibitions of old master prints, Japanese woodcuts, and work by young contemporary artists. "When I first arrived at the gallery in the fall of 1973," Teller wrote, "The Elegant Ladies, an exhibition of intaglio prints of women by Edgar Chahine, Paul Helleu, Manuel Robbe, and James Tissot, had just closed This exhibition remained a favorite of Sylvan's and was forever held up as the ideal summer show."
The same can be said for Art for Every Home at the Grey Gallery. It is the ideal summer show. Closing on July 9th, it is not to be missed.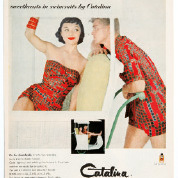 Catalina advertisement showing his-and-hers swimsuits in AAA artist Lamartine Le Goullon's Sudan design for Signature Fabrics.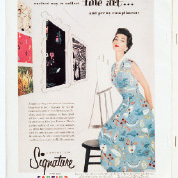 Signature Fabrics advertisement showing Vogue dress pattern (#8253) made from Anton Refregier's 1953 Happy Harvest design.
Georges Schreiber, Country Rhythm, from the series Country Fragrance, 1952, Associated American Artists for Riverdale Fabrics, Cora Ginsburg LLC, New York.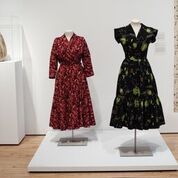 Installation shot: Nick Papananias.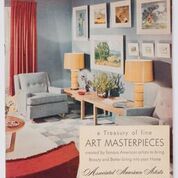 A Treasury of Fine Art Masterpieces Created by Famous American Artists to Bring Beauty and Better Living into Your Home, NY: Associated American Artists, 1951. Private Collection.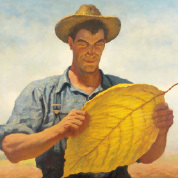 James Chapin, Boy, That's Tobacco, 1942, Oil on canvas, Associated American Artists for American Tobacco Company, Virginia Tech.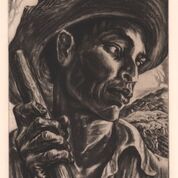 Irwin Hoffman, El Jibaro, Puerto Rico, 1940, Etching. Associated American Artists, Syracuse University Art Collection, NY.
Related
Popular in the Community