UNWRITTEN LAW'S "CELEBRATION" EXCLUSIVE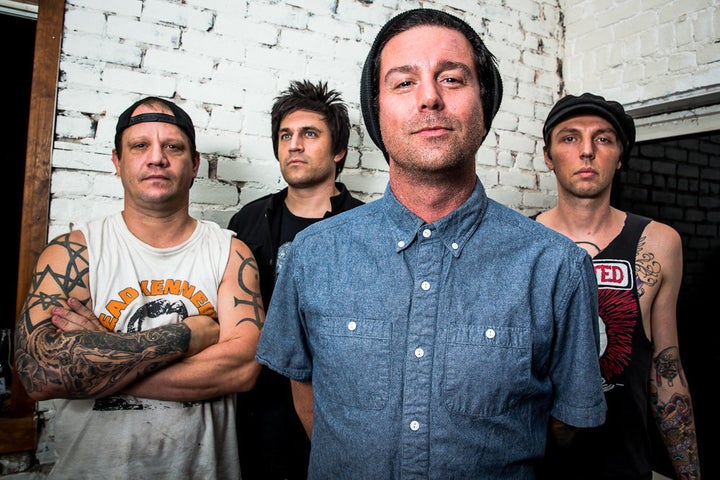 According to the Unwritten Law camp...
"Formed in San Diego in the early '90s, Unwritten Law has been an internationally acclaimed rock/alternative band with multi-platinum releases like Elva, Unwritten Law, and Live and Lawless. Acoustic is the band's eighth studio album and will be released April 1, via Cyber Tracks, owned by NOFX's guitarist, El Hefe, and wife Jen Abeyta."

"I'm very excited to release this new album with Unwritten Law," says El Hefe. "I've always respected Scotty as a singer, and I have to say this is the best I've heard him sing. He sounds hungry."
The below is Acoustic's kickoff track, "Celebration," its original incarnation associated with the Here's To The Mourning project.
All dates are with Fenix TX except for the shows marked
March
9 - Pomona, CA @ Glass House
10 - Los Angeles, CA. @ The Palladium (with Pennywise)
11 - Scottsdale, AZ @ Pub Rock Live
13 - Flagstaff, AZ @ The Green Room (No Fenix TX)
15 - Kansas City, KS @ Riot Room (No Fenix TX)
16 - Nashville, TN @ City Winery (No Fenix TX)
18 - Austin, TX @ SXSW
19 - Dallas, TX @ So What?! Music Festival
20 - San Antonio, TX @ 502 Bar
22 - Houston, TX @ Warehouse Live Studio
24 - St. Petersburg, FL. @ The State Theatre
25 - Cape Canaveral, FL. @ Millikens Reef
26 - Fort Pierce, FL @ The Inlet
27 - Cape Coral, FL @ Dixie Roadhouse
28 - Jacksonville, FL. @ Freebird Live
29 - Atlanta, GA @ Masquerade
30 - Baltimore, MD @ Soundstage
31 - Philadelphia, PA @ Underground Arts
April
1 — Boston, MA @ Middle East Downstairs
2 — New York City, NY @ Marlin Room (Webster Hall)
4 — Pittsburgh, PA @ Stage AE
5 — Cleveland, OH @ The Grog Shop
6 — Columbus, OH @ A&R Music Bar
7 - Chicago, IL @ Lincoln Hall
8 — Omaha, NE @ Slowdown
9 — Denver, CO @ Marquis Theatre
10 — Colorado Springs, CO @ The Black Sheep
11 — Salt Lake City, UT @ In The Venue
12 — Reno, NV. @ PB & J's
13 — Las Vegas, NV @ Backstage Bar
14 — Long Beach, CA @ The Federal (No Fenix TX)
15 - Santa Ana, CA @ The Ritz (No Fenix TX)
16 — Santa Cruz, CA @ The Catalyst (No Fenix TX)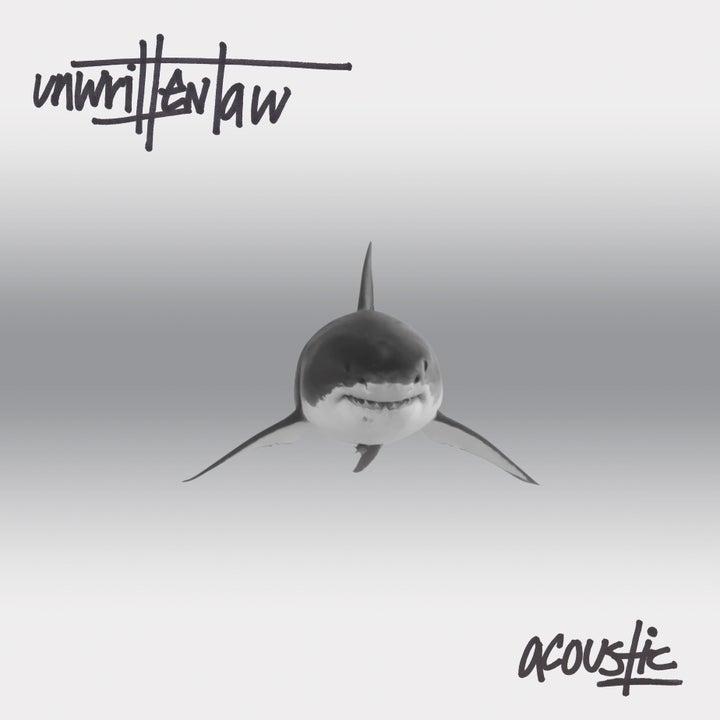 1. "Celebration" (Originally "Celebration Song" Here's to the Mourning, 2005)
2. "Nevermind" (Swan, 2011)
3. "Oblivion" (Originally "Welcome to Oblivion" The Hit List, 2007 (also on Live and Lawless, 2008))
4. "Huartbreaker" (Originally performed by John Legend and MSTRKRFT)
5. "Up All Night" (Elva, 2002)
6. "Seeing Red" (Elva, 2002)
7. "Teenage" (Originally "Teenage Suicide" Unwritten Law, 98)
8. "Starships" (Originally"Starships and Apocalypse" Swan, 2011)
9. "Shoulda" (Originally "I Shoulda Known Better" Live and Lawless, 08)
10. "I Like The Way" (Here's To The Mourning, 2005)
11. "Save Me" (Originally "Save Me (Wake Up Call)" Here's To The Mourning, 2005)
12. "Cailin" (Unwritten Law, 1998)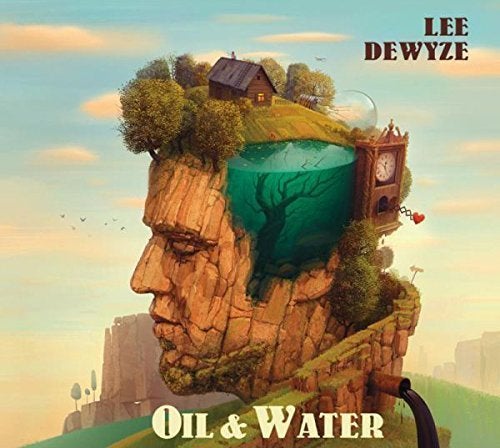 A Conversation with Lee DeWyze
Mike Ragogna: Lee, your new album Oil & Water seems to be saying that your ideal of life and the way you're actually living it are contrasting at this point in time. Is that what you're experiencing right now?
Lee DeWyze: I feel that is true at times, yes. An example would be "Oil & Water." It deals with a balance of life and love. Having to leave your loved one in pursuit of something you're at times not even sure about. I wanted to make an honest album. Many of the songs will probably mean different things to different people...that's the beauty I feel in this record. We've all felt loss, we've all felt longing, we've all questioned whether the things we're doing are worth it. I'm a family man. I'm an emotional person. I wear my heart on my sleeve, and on my albums.
MR: There's a mournfulness in your music and lyrics. What is at the root of that? Is it reflectiveness, musical influence, or current life events?
LDW: At the core of it, my music is really a reflection of me in any given moment. I suppose I write most of my music when I'm alone, late at night, or lost in my thoughts. It's very point and shoot for me. I feel something, and then I put it in a way that translates to music. A melody. A lyric. I find solace in releasing those things in a song. It's almost therapeutic. Being on the road, dealing with everyday struggles of a songwriter in this day in age, dealing with having to leave home a lot, traveling. There's lots to think about. Am I a sad guy? No. Lol. I have an amazing wife, family and friends. Everyone has internal struggles, I just have the unique position of being able to write them into songs. Sometimes it's about me, sometimes it's about something I've seen, or heard. But it always comes from an honest place.
MR: You were inspired by great artists such as Simon & Garfunkel and Cat Stevens. Do you ever feel them creatively looking over your shoulder as you're writing and if yes, how often do you have to shoo them away? Do you sometimes get intimidated by great artists' works during your creative process?
LDW: That's a good question. I guess I would say no. I don't feel them "looking over my shoulder." I do however, recognize the quality and standard those great songwriters set in place. At times, I'll wonder "If I lived in that era...." I do at times have to shoo that away. Wanting my music to mean as much to others, as theirs did to me. But that's always my goal. I really try not to place an expectation on what I'm doing, but I can't always help it. I WISH those guys were over my shoulder. Then again, that would be extremely intimidating. Lol.
MR: Your latest emphasis track is "Learn To Fall" and another has been "Safe." On that latter one, you want to make the person feel safe yet you have the windows and doors open. Just how safe are you making it for this person whose hands are shaking and is falling apart? After all, the person's leaving. Maybe you're unconsciously trying to stop them. Is that what you're doing Lee?!
LDW: That's an interesting interpretation. "Learn to Fall," for me, is a song about hope, and finding yourself. How one deals with obstacles and at times wanting to "give up." Safe, well. That one deals with dealing with a "different" sort of obstacle. I love hearing everyone's views on this song.
MR: What do you think is going on spiritually and emotionally with your generation and how do you think it's manifesting in relationships, approaches to life, etc.? Do you feel its gotten a fair shake? I ask this question because I don't think it has. There, my two cents.
LDW: Well, I feel now a days it's very easy to be distracted by things that don't really matter. Gotten a fair shake? I think we live in a different time. What love means to one may be different to another.
MR: What was Oil & Water's production process like? What dictates the balance of "contemporary" versus "classic" approaches that you take?
LDW: To be totally honest. It's an album built around and here it is again, honesty. In the moment. And no point did I say, "Well, there's been two slow songs, let me do an upbeat one." It was plain and simply an expression of the things in my, and others lives. A much more introspective record than any other I've made by a long shot.
MR: Are there any particular performances that became highlights for you? What do you think is the climax song of the album?
LDW: I love performing, or course. Anytime I get to play new music live, is a highlight. Well, to name a few of my favorites, "Stone," "Learn To Fall," "Oil & Water," "Safe"... Hard to pick just one!
MR: Your original "Blackbird Song" was featured in the world's most popular television show, The Walking Dead. It also blew-up Spotify. Since you've done it all now, have thoughts of retiring crossed your mind?
MR: You're also a bit of a philanthropist, aren't you.
LDW: I'd like to think so. I always feel giving back is of course important. Especially when I'm in a position to bring certain things attention that need it, or to lend a voice to something whether it be music, or just simply speaking about it. I'm always interested in how I can help others.
MR: So what are you looking for? Your songwriting and philanthropy reveal a deeper soul than someone who is just trying to be famous and make a lot of money. What is Le DeWyze's mission?
LDW: My mission, is to write music that means something to someone. To make songs that have a deeper connection with people. When I write music. It's because I love it, and it's a part of me. And my goal is always to be able to connect, and make someone feel something. That's what music is all about for me.
MR: What advice do you have for new artists?
LDW: Always be ready to make decisions on what you're willing to do, and not do. Don't think you're the only person out there trying to make it in music. Embrace it, it's a journey. Some quicker than others. Connect with people, be honest, talk with other artists. If you're happy with what you create? Own it. It's your career, no one else's. Put people around you trust, and learn to trust those around you. The music industry is a tough place. It's competitive, and at times frustrating, at times amazing and beautiful. All of those things make up a career, and who you will become as an artist. Lastly, be yourself. Be genuine. It comes across. The end.
MR: Notice I haven't brought up your American Idol win...yet? Okay, what are your thoughts about that experience looking at your life at this point?
LDW: I will always appreciate, respect, and be thankful for my time on Idol. Idol is however, not currently at the forefront of my career. I'm not an American Idol winner who writes songs. I'm a songwriter who won American Idol. I will always be a part of that family, and I'm proud to say that. It's given me the opportunity to get out there in a very special way. And sometimes, it's like "did that really happen?" With everything there is an upside and a downside. Being taken seriously as a songwriter, and as an artist coming from a show like American Idol, as rare as it is, can at times be a struggle. I understand that. There can be a stigma attached to someone who "wins a show." To truly understand me and what I do as an artist and songwriter, it takes listening to the music. Which is why I'm so excited about "Oil & Water". It really shows people what I do and I'm about. It's why things like The Walking Dead mean so much. Idol let people see who I am in a truly amazing way. My music lets them know who I am.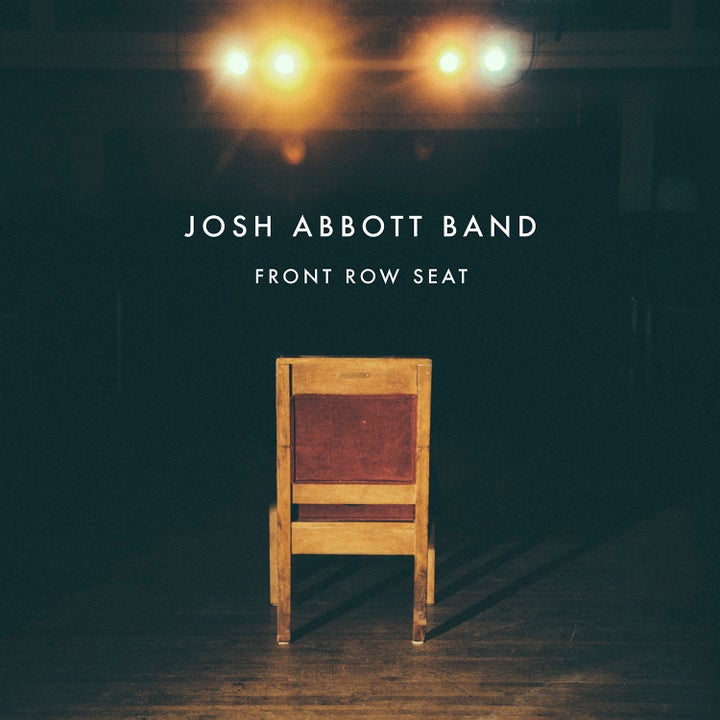 A Conversation with Josh Abbott of the Josh Abbott Band
Mike Ragogna: Josh, your project Front Row Seat debuted at #1 on Billboard's Independent Album Chart back in November 2015. Now that the dust has settled a little, what are thoughts about what's been happening for you and your band since then?
Josh Abbott: Honestly I wish we had waited to release the album in January. I feel like this album is truly a strong album and easily our best to date and warrants more attention than perhaps it got being such a late 2015 release. Being #1 Independent is fantastic but our goals are much higher. So my focus now is being the turtle, not the rabbit. Perhaps as 2016 develops, our singles find commercial success, and word-to-mouth increases, we can find more accolades.
MR: So what's your secret origin story?
JA: I hazed Austin David [banjo player] until he would join. Honestly, this band really formed from two separate college friendships: Austin and I being fraternity brothers; and Preston and Eddie being college buddies. Our group of four really launched us in 2008 and we grew from there.
MR: What got you into this crazy world of entertainment?
JA: I've always felt like I would be "someone," I just wasn't sure what arena it would be in. Luckily for me, I picked up a guitar at some point in college and found inspiration.
MR: You could have chosen other genres, why country and what do you think you and your band adds to the field?
JA: I appreciated the cultural pride represented in "Texas Country" and thought it was a natural fit. Everyone loves music that they can relate to and being a west Texas college fraternity member, Texas country felt right to me...that and I have absolutely no rap flow.
MR: If you were to take a tour behind the scenes of the making of Front Row Seat—see where I'm heading here—what would that tour look like?
JA: It truly should've been documented more than we did because you see a band mature and figure out who they are. For the first time in our history, we were all very comfortable and confident in the studio. We weren't nervous or stressed. It was very organic and we felt like a band that knew what we were doing there.
MR: What goes into the actual songwriting process?
JA: Willie Nelson says "three chords and the truth." You have to be honest and sometimes that doesn't paint a pretty picture of yourself; but if you want to grow as an artist and create art, sometimes it has to resurrect itself from your most personal struggles and intimate memories. Also, don't force it. I see songwriters who write every day or at least 4 days a week. Perhaps it works for them but personally as I have matured, I realize how precious your art is and if you can't remember a song you wrote last week, you're not creating art that is meaningful.
MR: How much angst and personal challenges go into it?
JA: Again, all of it should. Express yourself. Vent through your lyrics, cry through your melodies, smile during the hook. Make it mean something.
MR: Do any songs completely change by the time you get them into the studio and do you ever workshop and new material on the road before taking it into the studio?
JA: It varies; sometimes we craft a song in sound checks before recording; I'm more of an advocate of waiting until being in the studio and letting the inherent magic of that setting birth the song that needs to present itself.
MR: Who were some of your favorite recording artists?
JA: The list is long, but my favorite band ever is The Beatles. Their sonic and lyrical evolution from beginning to end inspires me. All of them went on to have individual careers as well. Those are both aspects of our band that I hope transpire.
MR: Do you hear them in your music, even after all these years?
JA: There are traces here and there of modern influences such as Pat Green, Wade Bowen, and Randy Rogers Band. The twin guitar outro on "Amnesia" was inspired by John Mayer's "Slow Dancing In A Burning Room." Death Cab for Cutie influenced my lyrical approach in "Ghosts" and "Anonymity" as well as a lot of songs we haven't recorded yet.
MR: What are your thoughts about current country music?
JA: It's important to note that as an art, it is therefore subjective in nature. No one's opinion is the "truth"; so we can all be inspired by different types. That said, I hope country music will move away from the following: rapping, banjos, loops, men in leather pants, and songs about moonshine.
MR: Can you still remember the first time you heard yourself on the radio?
JA: Lubbock, 2007. Our demo version of "Buried Me" was played by a local station there and I was pretty pumped! All of my friends and family were excited too; I knew it was just the beginning.
MR: What was that like for you?
JA: Euphoric curiosity; like the first time I had sex: it was incredible, it went by fast, and I knew I wanted to do it again.
MR: What advice do you have for new artists?
JA: Respect other artists even if you don't enjoy their art. Be quick to listen and slow to speak--something I was not and I still regret. Don't take for granted the people that love you...another mistake I made.
MR: What would like to ultimately have contributed to country music and do you think you're on that path now?
JA: I want to be considered one of the most successful independent country music bands in history and build a bridge between the Texas scene and national radio...absolutely.
JA: Absolutely! Some days can be a beatdown but we don't take for granted how fun our "job" is. When it stops being fun, I'll move on.
Popular in the Community