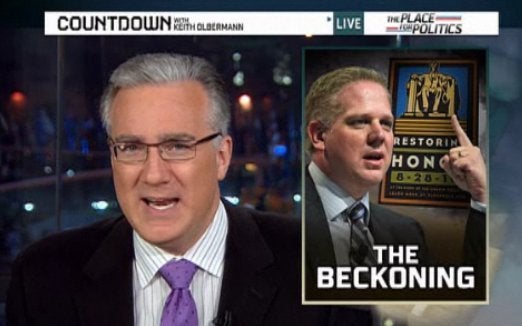 Keith Olbermann claimed he was worried about Glenn Beck's sanity after Beck said that he wanted to let "the spirit" speak through him at his "Restoring Honor" rally at the Lincoln Memorial this Saturday.
On Wednesday's "Countdown," Olbermann mocked Beck's assertion that the rally will be an apolitical call to restore American values and to honor the armed forces, noting that Sarah Palin and conservative blogger Erick Erickson will both be speaking. He then played a clip of Beck on his radio show, talking about the speech he was planning for the rally:
BECK: I'm only writing a few bullet points. And I am doing that so I don't get in the way of the spirit, in case he wants to talk...if you would just pray that I would be able to hear because sometimes--sometimes he's screaming at me and I still can't hear it.
"All right, he thinks someone--we assume--he said the spirit. We're assuming it's the almighty screaming at him," Olbermann said to Think Progress editor Faiz Shakir. "Is he OK?"
"No, of course not," Shakir responded. "The guy is insane."
WATCH:
Popular in the Community