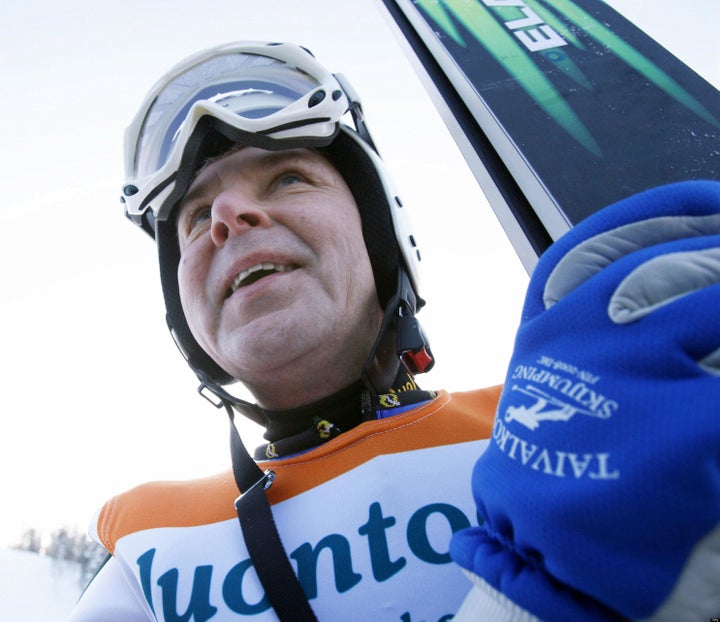 How petty is the International Olympic Committee?
That will be the key question Oct. 24-26 in Acapulco when the IOC once again takes up the issue of whether to approve women's ski jumping for the Winter Olympic program.
Women's jumping didn't make it onto the program in 2010 despite a powerful push that continued until a couple of months before the Games. The International Ski Federation (FIS) organized a world championship, which always gives a sport more credibility in the IOC's eyes, and gave its Olympic bid a thumbs-up by a 114-1 margin in May 2006. Six months later, the IOC said no. That roller-coaster ride was documented in a film.
Advocates for the sport pressed onward and went to court in Canada, the 2010 Games' host, to argue that including a single-gender sport when both genders were interested in competing was a violation of Canadian law. The court agreed that the IOC was discriminatory in how it applied its statutes but found Canadian law could not compel an international organization to abide by its laws. (Soccer fans following the ChampionsWorld lawsuit against MLS and U.S. Soccer might find that argument of interest.)
From the court: "There will be little solace to the plaintiffs in my finding that they have been discriminated against; there is no remedy available to them in this Court."
The arguments against including women's jumping were always a bit murky. IOC President Jacques Rogge made reference to the sport's "technical merit" but couldn't come up with much of an answer when advocates pointed out how many women were participating and how far they were flying.
The IOC could always lean on a statute, erratically applied and eventually removed, requiring a sport to have two world championships before it could be included in the Games. Women's jumpers got their first championship in 2009, won by American Lindsey Van. With women's jumping remaining on the Nordic world championship agenda for 2011 and 2013, the IOC can't base an argument on that statute any more.
So why would the IOC have opposed women's ski jumping at all? And could they possibly continue to oppose it now?
One possibility is expenses. While the U.S. women hold fund-raiser after fund-raiser to finance their travels for competition, the U.S. men barely have any money as well. Ski jumping might be healthier overseas, but sponsor resources are finite. That argument could explain why a few male ski jumpers could worry about their finances, but it would hardly withstand scrutiny if it were publicly aired.
Another is the Games' slow crawl toward modernization. The IOC gave a hint of its thinking in adding skicross, a rough-and-tumble ski discipline straight out of the X Games, to the 2010 program. The relative lack of international participation in the sport -- the USA sent no women to compete -- didn't dissuade the IOC. A sport with the potential for collisions makes for sexier television than the ancient art of finding perfect timing and form to fly farther through the air.
But no one's moving to remove men's ski jumping, with its devoted fan base and proud history, from the Olympics. Adding women's ski jumping to that isn't the same as adding a new sport like karate -- a red herring occasionally tossed out by those defending the IOC's record. Any Winter Olympic host will have ski jumping facilities, and adding another event on those facilities is hardly as extravagant as demanding that Rio conjure up an adequate golf facility for the 2016 Games. Women's ski jumpers aren't demanding a radical revision to the program. They're demanding that the IOC live up to its promises of gender equity.
The big question, though, is how much the IOC will resent being embarrassed in the Canadian court system and the media. Canadian Dick Pound, a longtime IOC higher-up, poses that possibility in an MSNBC video. (His comments start around the 7:38 mark; earlier, he raises the red herring of other sports that have neither men nor women in the Games, ignoring the gender issues of having a sport for men but not women who compete at a competent level.)
A few American and Canadian women's ski jumpers turned up at Whistler for the 2010 Games, with American Alissa Johnson adroitly handling a series of interviews while watching her supportive ski-jumping brother, Anders, competing in his second Olympics. The signs seemed positive: Russia, which hosts the 2014 Games, was investing in a women's team.
We'll soon know whether all that progress -- Russia's investment, World Championships and a new World Cup circuit starting next year -- will pay off in an Olympic event or whether the IOC will have fresh reasons to say no.
Popular in the Community