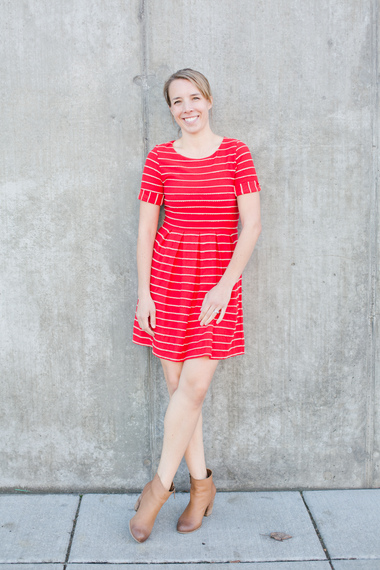 Last month, I kissed my little girls goodbye and boarded a plane to sunny San Diego to spend four days away at a conference.

I won't lie. The time away was hard. I missed their little hands and voices. I missed being with them. I even missed being needed by them. Plus, I had to deal with the guilt that comes whenever I leave, especially when our phone calls and Facetime dates ended with tears and questions of "when will you be home?"
And yet, I know with certainty that attending the conference was the right thing to do because everything I gained by leaving home was worth the sacrifice of spending time away from my girls.

Because I was willing to leave, I had the chance to room with four amazing women and help each other brainstorm new ideas for our businesses (not to mention stay up late laughing until we cried). I had the chance to deepen a friendship with a woman and mother who is becoming a wonderful mentor. I got to engage with inspiring speakers who shifted my thinking and introduced me to new ideas that are already improving my business and my life.

These things were possible because I was willing to say yes to something that made me uncomfortable. I was willing to let myself feel a little guilty and then move forward and meet my needs anyway. I was willing to ask for the help I needed to make that time away possible. And I was willing to let someone else take care of my daughters differently than I would take care of them while I was away.

So today I want to ask you: what is something you've avoided doing because it will require you to leave home for a weekend, a day or even just a few hours? Can you think about that thing and open yourself up to the possibility that it could be good for you? Can you visualize the benefits of giving yourself that time and space away?
And, most importantly, can you stay focused on those benefits when you take that time away and the hard stuff comes up? (Because we all know it will.)

If you can, I promise something good will come of it. And your kids will be ok -- they might even be better for it. Because when you take time away for personal growth of any sort, they'll have the opportunity to see you as a whole person with needs of your own. They'll get to see you fulfilling your "other" calling. And they'll get to see you stretching yourself in a way that shows them that your role as their mom is not the only thing that defines you.
Ashley Gartland is a life coach and mentor for moms who want to be present moms and find fulfillment outside of motherhood so they can use their innate talents to make a difference in the world.