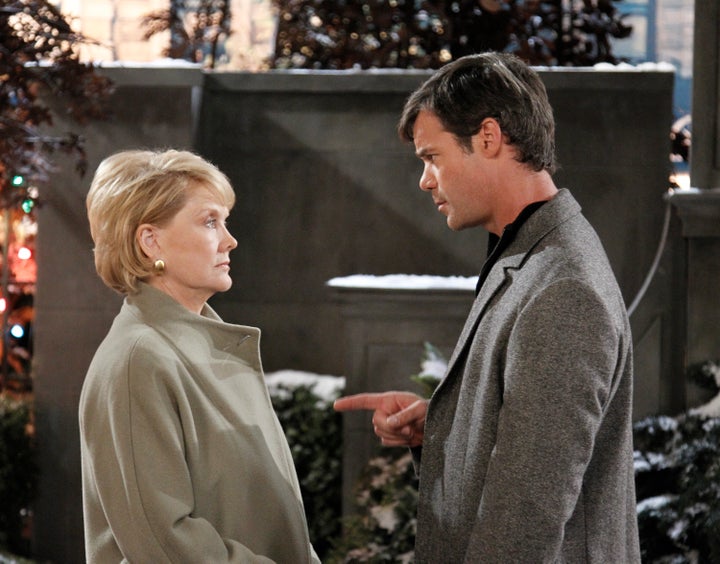 It's almost time to say goodbye to Victoria Lord and the rest of the Llanview gang, but before "One Life to Live" signs off for good in January, SOAPnet is planning an all-day marathon on New Year's Day.
Starting at 10 a.m. EST on Jan. 1, SOAPnet will air episodes featuring notable "One Life to Live" alumni and memorable moments.
"One Life to Live" signs off ABC on Fri., Jan. 13 at 2 p.m. ET. After leaving ABC, the soap, along with "All My Children," was supposed to move online to a new web home provided by Prospect Park. However, the plans never came together, despite highly publicized deals with various cast and crew members and Prospect Park.
The schedule for SOAPnet's "One Life to Live" tribute is below. Episode descriptions provided by SOAPnet.
10 a.m. Episode #1979-2719 (original air date 3/6/79) -- On the witness stand, Karen stuns everyone by admitting that she was a prostitute.
11 a.m. Episode #1987-4786 (original air date 3/9/87) -- In Argentina, the boat Tina was on, goes over the waterfall. Distraught Cord takes out his anger on Max. Kate feels it's her fault; Gabrielle tells Max that she can get along just fine without him.
12 p.m. Episode #1988-5077 (original air date 5/13/88) -- The Buchanan clan goes back in time to the old west for Clint and Ginny's wedding; Asa and Cord can't figure out why pictures of Bo are missing.
1 p.m. Episode #1992-6035 (original air date 2/7/92) -- Jake is devastated as Megan dies in his arms.
2 p.m. Episode #1993-6404 (original air date 7/15/93) -- "OLTL's" 25th Anniversary show: Viki and Dorian are locked together in a secret room; In the hospital, Tina sits by Cord's bedside and reminisces about their history; Luna is adamant that Max is alive.
3 p.m. Episode #1994-6750 (original air date 11/28/94) -- Viki leaves her wedding and walks in on Dorian's affair with Joey; Powell holds Todd at gunpoint; David asks Tina to accept his proposal and secretly marry him.
4 p.m. Episode #1995-6996R (original air date 11/14/95) -- Todd and Blair are married and celebrate with a private wedding reception; Marty and Patrick sleep together; Kelly asks Joey to help her lose her virginity.
5 p.m. Episode #1995-7012 (original air date 12/8/95) -- Viki realizes she killed Victor Lord, or rather, her multiple personality, Tori did. Meanwhile, Dorian is arrested for his murder.
6 p.m. Episode #2001-8530B (original air date 11/16/01) -- All of Asa's wives turn out for his "funeral." Adjusting to the news that she's a Buchanan, Natalie makes an angry appearance at the service.
7 p.m. Episode #2002-8654 (original air date 5/14/02) -- One of the show's live episodes -- Niki is desperate to get out of Viki's marriage to Ben; Blair confronts Todd for lying to her that her baby died; Natalie warns Jen about Al. Angry Al tells Max he wants nothing to do with him; Antonio defends Keri to his mother re: her financial issues.
8 p.m. Episode #2005-09492 (original air date 8/22/05) -- In the hospital after being rescued from the pit, Natalie shares her feelings with John; Jess tries to tell Nash that she's not Tess, but Tess takes over; Rex thanks Evangeline for saving Natalie.
9 p.m. Episode #2006-9686 (original air date 5/29/06) -- As he awaits his execution, an emotional Todd gives final goodbyes to his loves ones. Meanwhile, John has the evidence to prove Todd innocent, but can he get to the prison in time?; Antonio pleads with Tess, as he tries to get through to Jessica.
10 p.m. Episode #2008-10309 (original air date 11/10/08) -- After Starr gives birth to Hope, she bonds with Blair and Marcie; Todd decides not to steal the baby, but Bess does instead; Viki saves Natalie and Jared from the bomb in the secret room; John reveals to Marty that it was Todd who raped her.
11 p.m. Episode #2010-10701 (original air date June 7, 2010) -- In front of friends and family, Bo and Nora are married by David.
Related
Popular in the Community