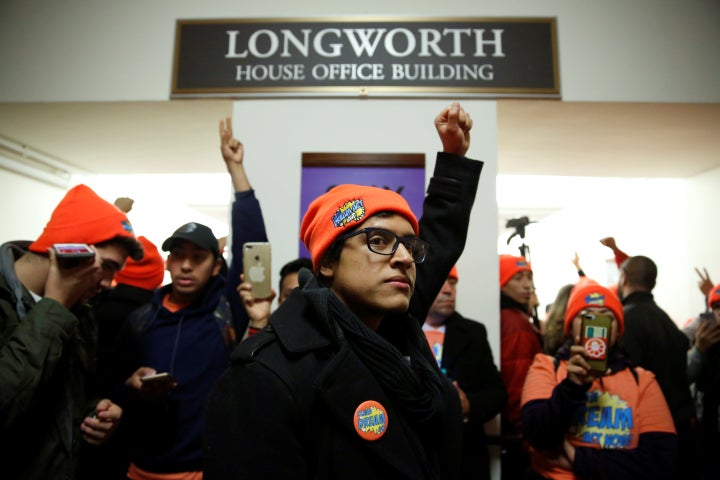 Of course, Trump himself put Dreamers in danger of deportation when he ended the Deferred Action for Childhood Arrivals last year, setting March 5 as the arbitrary deadline for Congress to find a solution to the crisis he manufactured.
In a little over two weeks, the deportation protections, work permits and driver's licenses granted to 800,000 Dreamers are set to begin expiring by the thousands. This is it: Either Congress figures out a solution to protect Dreamers or leaves them as prey for Trump's supercharged deportation force.
With the deadline looming, Congress continues to show its ineptitude. Americans in both parties seem to agree on protecting Dreamers from deportation and allowing them to become U.S. citizens. However, there is almost no real consensus on what type of immigration concessions Democrats in Congress should give Republicans in exchange for granting legal status to 1.8 million young immigrants in the country, myself included.
Republicans want to significantly cut legal immigration to the United States, do away with the diversity visa lottery and pour billions of taxpayers dollars into border and interior security. This translates to more Border Patrol and Immigration and Customs Enforcement agents to deport as many immigrants as possible. Anything short of this racist ransom demand is deemed unacceptable to Republicans or the White House. It's almost as if they were determined not to solve the problem Trump created by ending DACA. On the other side of the aisle, Democrats are looking for ways to meet Trump and Republicans in the middle.
It is a sad predicament to be in as a Dreamer, since a fight over immigration is not a fight about partisan politics. It is a fight about my life.
Whatever Congress decides over the next several days will undoubtedly affect the lives of millions of aspiring Americans across the country. All we are asking is for the federal government to grant them a piece of paper so that they can do what people with pieces of paper already do: work hard to ensure that this country can continue to thrive and prosper.
Unfortunately, politicians at all levels of government refuse to acknowledge this simple fact and instead try to demonize those in our community who look or sound different from them.
"A fight over immigration is not a fight about partisan politics. It is a fight about my life."
In my home state of Florida, the mayor of Tallahassee recently stood up to Florida House Speaker Richard Corcoran (R), decrying the Legislature's efforts to pass an anti-immigrant measure that would open the floodgates for racial profiling and redirect limited local law enforcement resources toward the federal responsibility of immigrant enforcement. The mayor, Democrat Andrew Gillum, reminds us that those who are willing to work hard can earn a place in America with the help of elected leaders who are willing to lead.
On the same day, a Republican lost a Florida House election to a Democrat after using some of the same racist and anti-immigrant tactics that Ed Gillespie used during his failed bid to become Virginia's next governor. The district in question is Florida's 72nd, which is considered to be widely conservative. It's another reminder that xenophobia is not what most Americans are craving.
Both of these scenarios, coupled with the congressional impasse on protecting Dreamers, point to one of the most significant failures in politics at the moment: the inability to legislate and meet our nation's needs. Trump's constant criticism, of politicians and their proposals, has also sunk any viable deals.
There are several, and I mean several, proposals in Congress that could save the Dreamers from deportation. None of these proposals is perfect, and neither side gets everything that it wants. But that is what compromise and, dare I say, bipartisanship is all about.
I even stood by a measure that I still firmly disagree with ― something that was not easy to do as a longtime advocate for immigration reform ― so that the cause of justice and freedom for all Dreamers could move forward, and we could fight for fair immigration reform that restores our reputation as an inclusive, not destructive, nation.
In politics, you must understand the field you are playing in, and the Trump field is loaded with land mines from end to end. That is why I supported the so-called Rounds-King amendment, which included $25 billion in funding for border security and the construction of Trump's racist border wall, and it prohibited green card holders from sponsoring their adult children.
Passage of the Rounds-King amendment would have allowed this debate to move from the next stage of the fight: a showdown in the U.S. House. Instead, the White House and the Republican Party have shown us that their only interest is to use Dreamers as hostages for their un-American immigration agenda.
We, as a country, should be disgusted with the poor showmanship that our elected representatives are exhibiting. Some, like the junior senator from Texas, are flat-out lying to constituents about the amount of support that exists for fixing our nation's broken immigration system. Others, like the junior senator from Florida, continue to do nothing on behalf of the millions of immigrant families that are asking for his support.
Inaction, like that being exhibited by the adults tasked with resolving the issues facing our country, will only get us closer to what we don't want to see on television screens or social media feeds: Dreamers being rounded up and dragged out of their homes by ICE and Border Patrol agents.
That is why, once politicians begin pointing fingers at each other, we must remember that this debate has little to do with political parties and everything to do with the lives of people who want to earn a chance to continue to enrich the communities, states and nation they call home.
Juan Escalante is an immigrant advocate and online strategist who has been fighting for the Dream Act and pro-immigration policies at all levels of government for the past 10 years.