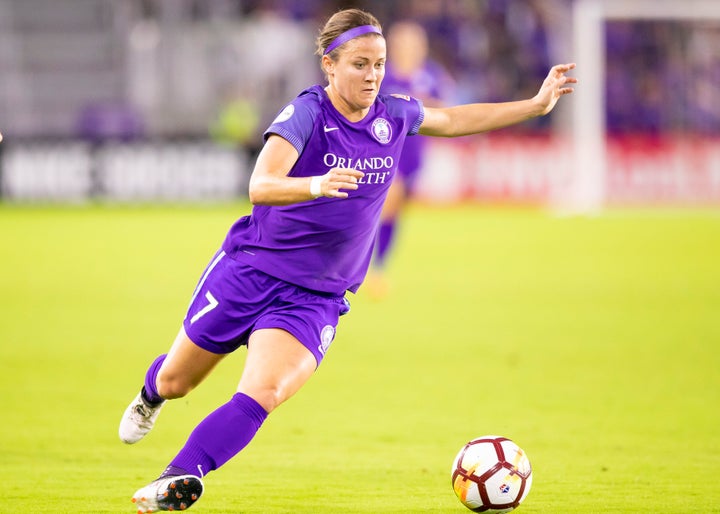 On Saturday, the Orlando Pride marched onto Portland's field and, for the first time ever, beat the Thorns, 2-1. In front of a crowd of 17,115, Orlando's Christine Nairn, from 25 yards out, bounced the ball off her chest and to the ground, where she sliced it across the field with a high, bending arch, just past the goalie's fingertips and into the net. She silenced the crowd and gave Orlando their go-ahead goal, securing the team's first win over Portland, a dominant force in the National Women's Soccer League (NWSL).
As I've argued before, if you limit yourself to just men's sports, you're missing out on a lot. Nairn showed us that again this weekend.
"Sports fans need to broaden their sporting horizons."
And you're about to miss out on a lot more. It is the front end of the NWSL's sixth season, the longest-running women's professional soccer league in the United States. The WNBA will start its 22nd season this weekend. We are less than a week from the start of the French Open, which is followed this summer by Wimbledon, the hard court season, and then the U.S. Open. The teams that will compete in the NCAA softball tournament later this month have been announced. And later this summer, for the first time ever, the Women's Baseball World Cup will be played in the United States.
The difficulty, though, is that there is no comparable media infrastructure for women's sports as there is for men's. Speaking recently on the feminist sports podcast, "Burn It All Down" (of which I am a co-host), Washington Mystics superstar Elena Delle Donne said, "I believe that it's hard to be a fan of the WNBA because you can't see us. It's hard to know when our games are on. You have to be a really dedicated fan to find us."
Delle Donne is right, but a part of improving women's media coverage is following the coverage that does exist. Be that dedicated fan. To do that with the way sports media is set up today, you are going to have to do some work.
"It's not fair that to be a fan of women's sports, you have to put in so much work just to watch a game."
Meg Linehan, social media manager for NWSL Media, says the league has a lot of tools for people who want to follow it.
"We have live highlights on Twitter, Facebook, Instagram, pretty much as they're happening," she says. You can stream the games, there is an NWSL Media Association, the Twitter account has different lists you can follow, some for the teams, others for active players. Tune in on Saturdays to Lifetime, starting at 3:30 p.m. Eastern time, for the NWSL game of the week.
"You have to take that first step yourself in adding all of those things and opting in to those accounts on your feed," she says, because you aren't going to get this coverage from more mainstream outlets (though Nairn's goal did make ESPN SportsCenter's Top 10 over the weekend).
Lisa Borders, the president of the WNBA, told HuffPost that fans of sports need to broaden their sporting horizons and check out their league. "Give it a shot," she says. "Seek out a game to actually attend if you're in a market where there is a WNBA game or WNBA team. And seek out watching the experience on ESPN or on Twitter where we've been live streaming games now." The WNBA League Pass is less than $20 for the entire season.
Borders also talked about the new She Is initiative, of which the WNBA is a part. National Pro Fastpitch, Canadian Women's Hockey League, National Women's Hockey League, Women's Professional Lacrosse League and the U.S. Tennis Association are also all involved. She says it is "basically women supporting women," working together to promote each other and women's sport in general.
"The way that fans can be engaged," Borders says, "is they can retweet what's going on at She Is. They have a hashtag; it's #sheis. So people can elevate that hashtag and use it and by virtue of the volume that helps spread the awareness of what we're doing."
"When women in sports have a higher platform, they serve as powerful role models for dismantling systems long held only by men."
If you can get to a game, be it collegiate, semi-professional or professional, do it. Listen to podcasts (some ideas: "2 Drunk Fans" for soccer, "Locked on Women's Basketball," "WNBAinsidr Show" or "Around the Rim" for basketball, "WTA Insider Podcast" for tennis). Find the sites and people doing the work and read them: Swish Appeal, The Equalizer, Victory Press, High Post Hoops, Mechelle Voepel at espnW and Natalie Weiner at Bleacher Report. Sign up to get The IX newsletter delivered to your inbox three days a week.
For many, chasing these things down and finding a community with other fans will help them more deeply enjoy a game they already love. But supporting women's sports and becoming more engaged with them should matter to people who aren't currently fans too.
One of the biggest arguments used against creating more coverage or paying players more is that the audience isn't big enough to justify either. Sports play a powerful role in our collective imagination and so when women in sports have a higher platform, they serve as powerful role models for dismantling systems long held only by men. There are plenty of us trying to stand up for women, and here's a way to champion equality in your leisure.
It is not fair that to be a fan of women's sports, you have to do this work. We need much more sustained coverage for women's sports, and sports media needs to do better. For the moment, though, this is what we have. So, do what you can today. Don't miss out.
Jessica Luther is a freelance journalist, author and co-host of the feminist sports podcast "Burn It All Down."
CORRECTION: An earlier version of this article misstated how many seasons the WNBA has been playing. The league is entering its 22nd season this weekend.
Related
Popular in the Community