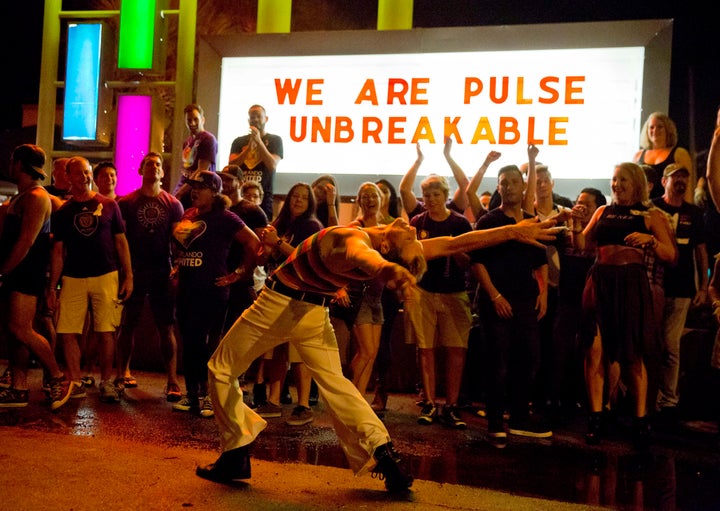 ORLANDO, Fla. -- A week after its tragedy, Orlando's LGBT community is just starting the healing process.
But it shouldn't have surprised anyone that the LGBT community here shows strength and grit in the face of adversity. It's a tight-knit crew that's always been ready to jump up and offer its support, no matter what the cause.
Prior to the tragedy at Pulse, activists like Loc Robertson -- who's been a bartender at Parliament House resort for 20 years -- were working to raise money for cancer survivors. He organized two national drag pageants to raise money for The Barber Fund, an Orlando-based organization that supports cancer patients and their loved ones.
The Barber Fund and groups like it are now shifting their focus to Pulse.
"I've been amazed to see how many fundraisers and outreach programs and straight communities have all reached out. It's incredible," Robertson said. "But Orlando, we've always worked together. Everyone is in the same boat, and we're all going through this together."
That feeling of togetherness permeates the entire city. It's why the Orlando Shakespeare Theater didn't ask questions when the Westboro Baptist Church showed up over the weekend and instead built angel wings that would block the protesters from the funeral processions:
Meanwhile, the performance community has rallied around Pulse. As the Blacklist Babes Cabaret practiced for an upcoming burlesque show at a home outside of town last week, they were in a state of mourning and remembrance. Several of the group's members had performed at the nightclub and said the shooting shattered their world.
"It makes us want to go out and perform as big as we can and sing as loud as we can," said music director Justin Scarlat. "We still get to do every day what those 49 cannot do anymore. We want to tell their stories; we want to make sure that they're not forgotten because these people are our family ... We want to make sure we're performing for them."
The nightclub was a cross-section of Orlando's LGBT community: performers, dancers, party animals and friends.
"That's what Pulse was -- just a huge melting pot of lots of different performers," said choreographer Marisa Quijano. "A lot of our performer friends were involved in the Pulse community. We hung out there, we performed there ... It was so open to everyone."
Just a day after the shooting, Justin Townes, a 25-year-old Orlando native who was performing at Stonewall, Orlando's sister bar to Stonewall Inn in New York City, said he was ready to help in any way he could.
He was a bit restricted at the time, however, because he was wearing a merman costume, swimming in a human-sized fish tank at the popular gay bar.
"Need a friend? A hug? A place to stay? We got it for you," Townes said. "This has been a very hard learning process. It's an eye-opener ... But Orlando has more love than hate right now."
He said it would be hard to find someone who isn't grieving for some time -- but it'll also be hard to find someone without a support network in this city.
"Now our community is different," he said. "On the other hand, this incident is going to show what pride is all about -- love and equality ... You can't look at someone because of how they dress or who they love or their religious beliefs. As long as there is respect and love, that's all that matters."
Popular in the Community