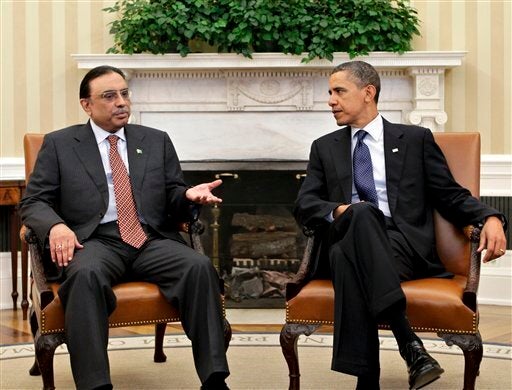 WASHINGTON -- Pakistan has long subscribed to the Claude Rains school of diplomacy.
Like the corrupt police chief the actor played in the classic 1942 film Casablanca who famously declared he was "shocked, shocked" to find gambling in a casino, the government in Islamabad has long publicly denied it allows U.S. military forces to operate within its borders.
But as the assassination of Osama bin Laden at his palatial fortress compound in a military garrison town not far from the capital demonstrates, the script has changed. The troubled marriage of strategic convenience between the United States and Pakistan conceived out of the rubble of the 9/11 attacks is teetering on the brink of dissolution.
"This ended where it began -- amidst the ambiguity of Pakistani pledges of support and cooperation and a reality that at minimum suggests otherwise," said Bruce Hoffman, a terrorism expert at Georgetown University. "It was a convenient myth to believe that bin Laden was holed up in a cave in some isolated mountain range cut off from civilization ... It makes complete sense that he would be there ... obviously receiving help and assistance from multiple quarters that enabled him to live a life in comfort and, until yesterday, security."
Sunday's commando raid that killed bin Laden deeply embarrassed Pakistan's leaders. Observers agree that Pakistani intelligence either should have known he was hiding in plain sight but didn't, or it did and chose not to let U.S. officials know. Either way, the Pakistanis don't look like a competent or credible U.S. partner in the fight against al Qaeda, the Taliban, and other militant groups still very much alive in the wake of bin Laden's demise.
"It's a very, very difficult relationship that's under a lot of stress," Lee Hamilton, vice chairman of the 9/11 Commission, told The Huffington Post. "You cannot disengage from Pakistan -- they're too critically important for us in Afghanistan." Pakistan is also the world's fifth largest nuclear power, according to recent reports.
President Barack Obama and Secretary of State Hillary Clinton took pains to note the close ties between the two countries since 9/11. They vowed that cooperation would, as Clinton put it, "be just as important in the days ahead because even as we mark this milestone, we should not forget that the battle to stop al Qaeda and its syndicate of terror will not end with the death of bin Ladin."
Still, many pointed out that in the days leading up to the operation, no one in the U.S. government apparently trusted Pakistan President Asif Ali Zardari, his military or his spies in the Inter-Services Intelligence (ISI) agency enough to give them a heads up about it.
"This is not the first time that the United States has shown a lack of confidence in the Pakistani government," former Defense Secretary William Cohen told HuffPost. Cohen noted that when President Bill Clinton ordered cruise missile strikes against bin Laden training camps in Afghanistan near the Pakistani border in 1998, "we could not confide in them beforehand without the risk of compromising the mission," he said.
Former State Department spokesman P.J. Crowley recalled that Hillary Clinton said in October 2009 that "it was hard to believe that someone in the Pakistani government did not know [bin Laden's] whereabouts." Given Sunday's events, he said, "Pakistan needs to help us address this point. Someone had to know. Someone was either protecting him or protecting those who sheltered him."
Pakistani leaders tried to put a good face on the news, though it took them six hours to compose a response after Obama's announcement.
"It is Pakistan's stated policy that it will not allow its soil to be used in terrorist attacks against any country," the foreign ministry declared. "Pakistan's political leadership, parliament, state institutions and the whole nation are fully united in their resolve to eliminate terrorism."
The statement, coming amid reports that bin Laden had been living in luxury in Abbottabad since 2005, was met with skepticism in Washington.
"The relationship was in a tailspin, in crisis," said Daniel Markey, a Pakistan expert at the Council on Foreign Relations. "This event has the potential to make things worse -- or conceivably help us move out of that" by showing the government in Islamabad that the U.S. hasn't lost its will to dismantle al Qaeda and like-minded groups. "It could go either way."
Before Sunday, the former scenario seemed more likely. The always fraught diplomatic relationship deteriorated sharply in recent months as Pakistani officials distanced themselves from their covert U.S. partner. Public sympathy for extremist groups remains solid in Pakistan even as resentment against the United States has risen.
Many Pakistanis have tired of U.S. drone attacks that they say violate national sovereignty and have killed too many innocent civilians. Their anger grew exponentially in recent months after a CIA contractor, Raymond Davis, was blamed for killing two men on a motorbike in Lahore in an incident that caused a diplomatic uproar.
And last month, Adm. Michael Mullen, chairman of the Joint Chiefs of Staff -- whom Hamilton said has practically been "commuting" to Islamabad to coordinate operations with his military counterparts -- publicly criticized the ISI for maintaining ties to the Haqqani militant group that has been linked to al Qaeda.
The notion that the ISI that nurtured and armed the Taliban in Afghanistan long before the Twin Towers fell was linked with terrorists was hardly news. The public lashing was. It underscored just how frayed relations had become.
And that was before the bin Laden killing raised alarm bells on Capitol Hill, where lawmakers are unlikely to want to fork over up to $3 billion a year in aid to a suspect partner.
"Before we send another dime, we need to know whether Pakistan truly stands with us in the fight against terrorism," said Sen. Frank Lautenberg (D-N.J.), a member of the appropriations subcommittee that oversees foreign operations. "Until Congress and the American public are assured that the Pakistani government is not shielding terrorists, financial aid to Pakistan should be suspended."
Cutting off diplomatic ties is another matter, though.
A State Department official who spoke on background with HuffPost said that while "the easy temptation is to suggest this drives an enormous wedge into the relationship," both sides are taking caution not to jeopardize counterterrorism and intelligence-sharing efforts that are still bearing fruit.
"The idea that [bin Laden's killing] means it's more or less over, we can go home now -- that's a reaction I have not heard" in the diplomatic headquarters in Foggy Bottom, the official said.
Still, much will hinge on what happens in neighboring Afghanistan as U.S. troop levels begin to draw down, and whether Afghan President Hamid Karzai can reconcile with the Taliban on both sides of the porous border. "It's a little too early to tell," what the long-term prognosis for the relationship is, the official said.
Richard Haass, president of the Council on Foreign Relations, said "things will be awkward" for some time. "It will remain one of the most fraught and difficult bilateral relationship that exists in the world today," he said.
Related
Popular in the Community