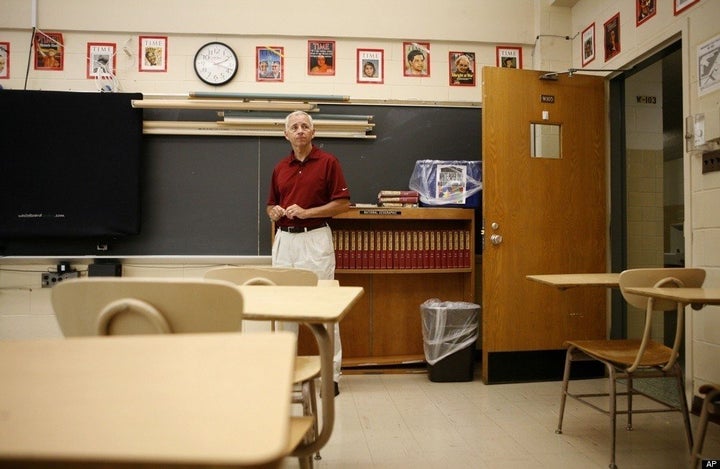 When Christine Yarzabek, a first-grade teacher in Hershey, Pa., heard that Osama bin Laden had been shot and killed, she was at a loss.
"9/11 happened before my students were even born," she said. "It makes it hard to truly tell them in an appropriate way what is going on."
Yarzabek teaches 22 six-year-olds from various backgrounds. Her class includes English language learners, including Spanish-speaker Alejandro, who told Yarzabek that bin Laden should have been imprisoned, rather than killed. It also included Adwaith, of India, who understood exactly what was going on.
How was she supposed to handle the situation?
As pundits, national security experts and news outlets try to analyze the ramifications of bin Laden's death, teachers across the country face the challenge of teaching a dramatic event in real time. Under pressure of Advanced Placement exams and state tests, they are curtailing their curricula to address the news of the day -- a story they simply couldn't ignore.
This set of circumstances puts the teacher in a critical role, said Margaret Berci, an expert in K-12 Social Studies who works in the education department at the College of Staten Island. "One of the major challenges is to make sure we do not indoctrinate," she said.
Berci advised that when faced with controversial news events, teachers should present different sides and perspectives before allowing students to draw their own conclusions. "A teacher should guide them through the decision-making process, whether they are in kindergarten or grade 12," she said.
But for Yarzabek's cohort of early elementary-school teachers, the questions are more numerous: How much do six-year-olds, born into a post-9/11 world, know about the War on Terror? And how does one translate a violent news story into a lesson fit for first graders?
On Monday, Yarzabek addressed those who were aware of the news individually. "It would be good if they went to jail for all of their lives instead of having to be killed," Alejandro told her in one of these sessions. Another student, Ethan, recounted the events by saying he heard that the "bad man" died because he was "the one who planned exploding the twin towers." Adwaith described a terrorist as "a really bad person who hates our country."
Yarzabek said she wanted to wait a day before discussing the news in class. She wanted to give parents time to present it to their children in their own way, and to give herself time to process it. "More of my kids will come in tomorrow with questions," she said. "They're not just babies -- they're curious about everything."
She remembered being ushered from her high school psychology class into a prayer service held by her Catholic school when the first plane crashed into the World Trade Center on September 11, 2001.
"I think about the intense emotion I felt then," she said. "I not only want to teach the event, but tap into their emotions."
Moving forward, she might use an animated movie made by the educational website BrainPOP that explains the history of September 11th -- and was updated to reflect bin Laden's death -- using a narrated cartoon. She might assign a writing exercise about loss, ask her students to draw pictures, or hold group discussions. She's still figuring it out.
Teachers of upper grades can assume a higher level of awareness among their students. Julie Caccamise, who teaches Model United Nations and social studies electives in Washington D.C.'s Woodrow Wilson Senior High School, said she felt the event presented "a really important opportunity to give my students a chance to be open about their feelings." She also helped her class make sense of a seemingly infinite trove of sources of information.
Students in Caccamise's class, including senior Nathan Kohrman, 18, grew up near the site of the September 11th attack on the Pentagon and witnessed the aftermath firsthand. "It was a Berlin Wall moment, a pivotal moment that people don't see happen in their lifetimes," Kohrman said.
He sat as Caccamise offered a forum for mulling over the ramifications of bin Laden's death. Caccamise contextualized the events that shaped the city her students grew up in. She then allowed her students to ask questions of their teacher and each other. Students pondered whether or not bin Laden should have been taken into custody, rather than killed, and discussed the value of life. Caccamise said she was surprised by her students' "depth of awareness."
Meanwhile, in Portland, Ore., far from Ground Zero, Dan Anderson gave both his modern world history and his philosophy, ethics, and comparative religion classes at Grant High School a lecture on terrorism and the Middle East. He presented a PowerPoint slideshow that explained bin Laden's biography, and al Qaeda's history and legacy.
"My first impression is that...most of them have no clue anymore who al Qaeda is and who Osama bin Laden was," he said. "He's some kind of mythic figure to them." The students, he said, seemed engaged, muttering "uh huh" as they finally received explanations of terms that pervaded the news during their upbringing.

As soon as he heard the news, William Chamberlain, the current events teacher at Noel Elementary School in Noel, Mo., knew he would make bin Laden a featured topic in his class this week. "These kids grew up hearing his name and knowing his role, but it's a difficult thing to address," he said. "I think that initially they'll be chanting USA, USA with everyone else, but I want to push them past it to think about the national and international implications."
Some teachers are using multimedia to turn news stories into lessons. Cole Deibele, who teaches 9th grade civics and 11th grade U.S. history at Monticello High School in Monticello, Minn., showed his class a biographical video about bin Laden, held a short discussion about it, read an article about his death out loud, and showed a CNN clip explaining where bin Laden had been living. Afterwards, he prompted students with questions about why bin Laden's death matters and its effects.
One student asked: "Why, as a largely Christian nation, are we celebrating the death of someone?" It was a tough question to tackle, Deibele said.
"We talked about that it isn't really a celebration but more an event that is bringing closure to many Americans who are mourning the events that occurred on 9/11," he wrote in an email.
WATCH (Alejandro, a first-grade student in Christine Yarzabek's class, shares his thoughts on the killing of Osama bin Laden):
Jessica Prois contributed reporting.
___________________________________________________________
Watch: How to Tell Our Kids About Osama
___________________________________________________________

Popular in the Community